By Alessandro Seren Rosso – THW Staff Writer
Jukka Ropponen is a Finnish goalie coach with 25+ years of experience working in Finland, Russia, Sweden, Switzerland, U.S. and Canada. He not only runs goalie camps all over the world with some of the world's top goalkeepers, but he also has a personal goaltending business that can be reached at www.goaliepro.com
Hello Jukka. What can you tell us about your June 2009 goalie camp? Who was there, and with whom you directly worked?
Early this month I conducted my main camp here at Espoo, Finland along with 10 other coaches plus staff. We had a sold out event as we do have every summer since we only take 24 goalies. These goalies are older than most of the other camps as we draw them up top level junior A kids. As coaches we had a very interesting cast of characters this summer. All together we had coaches from 5 different countries including Austrian national team goalie Bernd Brückler (last season Espoo Blues and Next season at KHL with Nizhny Novgorod Torpedo), Yona Fioravanti (ex Minnesota Wolverines goalie coach) and Clint Elberts from U.S. and also new coaches learning our systems from Czech Republic and Estonia plus our regular Finnish staff.
In your company's website appeared a very interesting interview with Austrian goalie Bernd Bruckler (http://goaliepro.com/fi/resurssit/tv/#videoId=7049239), who has just been signed by KHL team of Torpedo Nizhny Novgorod. What will be the challenge for him, a part dealing with a kind of unique culture with an obvious language barrier?
Brücks is very international type of a person that can adjust to different conditions very well, so I don't see too much of a problems from "culture shock" plus his Finnish fiancée will move there with him. The issues are more on the game itself as he has several technical issues that need to be worked on during the summer to get him ready for KHL.
In the interview he said that he will have to work on a number of fundamentals and also on breakaways, as he thinks he's going to face a lot of them. Did you suggest it to him or was it a thing he's aiming to himself?
We started to work together again in May and the first thing we did was a very thorough analysis of his game and technique. Based on that analysis I created us an agenda for the summer months and of course we talked about this together and agreed what to work on and what needs improvement. Breakaways was one item on the agenda, but before we can really start working on those we had a few fundamental changes we had to do for his balance, hand positioning and movement before breakaways can be addressed.
Is there any other goalie from less typical countries that could make it through the Elitserien, the KHL or even the NHL? A name that crossed my name is Robert Kristan from Slovenia, but after an year in the Elitserien he came back in Slovenia and played Allsvenskan last season.
I have seen several young goalies that have the needed tools and desire to make it to the big leagues, but in order to do that they need to get some brakes in the process. What I mean that these kids have to move to other countries to play better hockey and get better coaching. Look at Alexander Salak who just signed his first NHL deal (will most probably play next season at my old hometown for Americans AHL team). Couple of seasons ago he was very rough goalie at 2nd level of Finnish pro hockey and now he has contract with Tampa Bay, thanks to his goalie coach Urpo Ylönen, who worked with Salak at TPS organization for the last 2 seasons.
What do you think have been some of the better innovations in goaltending equipment in the last few years?
Biggest innovation lately has been the modern butterfly style pad (original Vaughn Velocity). Since that pad came out every single manufacturer has created their own version of the same concept pad.
Last season the biggest new thing has been Brians Zero G product line and its innovative usage of new type of lightweight foams. For example Brians new chest / armpads don't have plastic plates anymore and all protection is created with different density foams that are shaped to the proper form.
What do you beleive are some of the most valuable and often overlooked training exercises and practices (i.e. stretching, practice, etc.) that you would recommend?
I am a big believer on alternative dryland & strength training. It has really been valuable to my goalies to use these alternative methods and instead of lifting heavy weights & using machines. With the exercises using balance boards, swiss balls, medicine balls, small weights etc we can engage the whole body and train all those small muscles that we would not touch otherwise. Most of these type of exercises programs are done in conditions where we make the environment off balance and goalie has to work on his balance, core, all small deep muscles as well as the particular muscles we are working on with each drill. Here's a good example of hockey training, specifically goalie squats using swiss ball: http://goaliepro.com/fi/resurssit/tv/#videoId=6782219
What do you think of Konstantin Barulin of CSKA, is he the real deal or just a PR project from Bykov and Zakharkin as of last year?
I really have not seen enough of Barulin so that I would qualify to comment on that.
In Russian hockey things are growing quickly. After the creation of the KHL they now created a new panrussian junior league, the MHL, and they also ran a draft. Do you think they are going in the right direction?
Getting the best juniors to play against each other is a good move in general. Tougher competition will drive the development of all players that make it to that league. Better the competition and less easy games is always a good idea.
Draft can work, but is the league really ready for this? A lot depends on the financials if they can make it work.
There is a still the perception that goaltending development is behind in Russia? What do you think? Please talk about how it has improved and what have been the key influences.
What I have seen, this is still the case. Of course there is more effort and emphasis to make the situation better, but it will take years and requires a systematic youth hockey coaches training program as the country has to build a foundation to make permanent improvements. You can't fix things from the top if the foundation is not working.
I was running a goalie coaching clinic at Russian Hockey Academy last January and it was a pleasant surprise how interested these coaches were to start make things better and give their goalie more focus and help. (See pictures of the event: http://goaliepro.com/fi/uutiset/2009/pietari_tammi09.php)
One of the improvements has been the influence of foreign goalies and goalie coaches that have been working at KHL and also with their farm teams. It's good that these people (like Ilari Näckel at Lokomotiv Jaroslav) are there to show example to local people what can be done.
Out of all the guys that are under 20, who do you see as the brightest upcoming goalie talent?
Most promising is probably the 91 born Swedish Robin Lehner of Frölunda.
You worked with Semen Varlamov in the past. Now, everyone was expecting big things from him, but probably not so early. Seeing him as Caps' starting goalie for this year's playoffs was a surprise for you too or you saw that coming?
I wasn't surprised to see him taking over the job. As I stated last year Varlamov is the most talented Russian goalie I have seen in many years. If he continues his development at current rate he will be NHL star soon. I think a lot of people thought that I did not know what I was talking about when I praised him so high earlier. I am really happy for him.
Now we talked a bit about the bright performers, but is there anyone who disappointed you? I, personally, expected more from Ak Bars' Wade Dubielewicz.
I agree on Wade's performance, but on the other hand I was happy to see Finnish Fredrik Norrena win the KHL title after a rough season. It was also very disappointing that things did not work out for Mika Noronen at Torpedo.
Another name who usually turns a lot of attention is Ray Emery. What do you think about his acting of the season, both on and off the ice?
Ray is Ray, what else can be said. I dealt with him quite a bit early last season to help him get his custom gear to Russia and got to know him a bit in the process. He is very talented athlete who is far away from reaching the peak of his potential. I really hope to see him mature as a goalie and show people what he can really do at the net.
What do you think about the concept of the Champions Hockey League and its first year?
I am a bit biased to answer this, but it is very easy to say that in my book it was a fantastic experience. Of course that nice medal after winning Metallurg at the final game helps a lot! (Laughs)
In all seriousness it was the best run league / format that I have been involved with. All arrangements worked great, most of the time building were packed with people, TV coverage and internet coverage was superb and the level of the games was great. I really feel bad that CHL will on hiatus next season, but maybe this gives us (ZSC) an opportunity to defend our title when the league is back again as we all hope.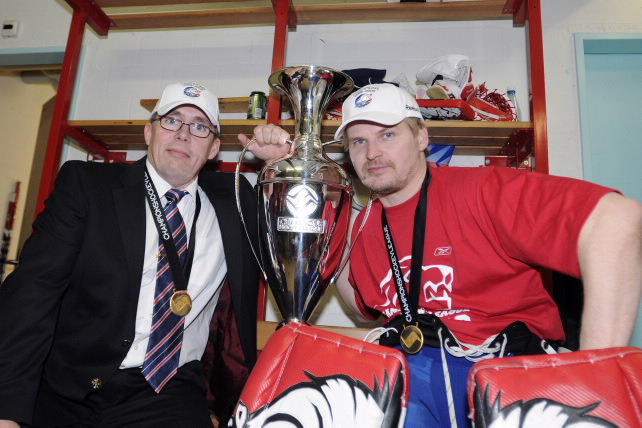 Surely you followed the World Championships, where the final match was once again Russia against Canada. But for which side did you cheer?
As a coach I really don't cheer or root for anyone if I don't have a stake at the game. I just observe and enjoy the great game.
Do you have any plans to do work in other countries than Finland and Switzerland next season?
We have some discussion going on again on goalie clinics at Russia and possibly some other Eastern countries, but no firm agreements yet.
I have also been talking with Estonian ice hockey federation about giving them some help next season as I am often there in business and it would be nice to help their hockey program as well.
Now let's play a bit. Let's imagine that we can build the perfect goalkeeper, which goalie fundamentals would you take out of who?
Lets look at few key areas for this, but once again I am biased and of course the list will have quite a few Finns as us coaches trust the people we know best and also have worked with:
Competitiveness: Pasi Nurminen
Confidence: Patrick Roy
Flexibility: Hannu Toivonen
Consistency: Vladislav Tretjak
Save technique: Niklas Bäckström
Ability to read the game: Tony Esposito (have to include my old hero to the list)
Stickhandling: Ari Sulander
Skating: Mikka Kiprusoff
Imagine this scenario: Alexander Ovechkin is skating towards the net for a breakaway against your team in the last minute of Stanley Cup's game seven, and the score is of course tied. Who would be your goalkeeper in such a situation?
Sulander has always been the go-to guy in the big games for me and he is also excellent in breakaways plus he has the patience to for the forward to make the first move.
Last question: what are your working plans for the summer?
We are just starting the 2nd phase of our summer workouts this Friday when Sulander arrives from Switzerland back to Finland for summer. We will work out every week with a small group of goalies on and off the ice throughout the summer here at Espoo.
Next week Nikke Bäckström will join us as he will return to Finland this weekend and just 2 days ago he got a clearance to start full workouts after his hip surgery. This is good news as we have a very good chance to get him in shape by the season opener as he has been healing faster than expected.
Other goalies that will be at our workouts are Bernd Brückler, Antti Härmä (KooKoo, Finland) and Jan Ropponen (RIT, USA).
Once the others leave for their teams in August we will continue 1-on-1 sessions with Bäckström here in Finland.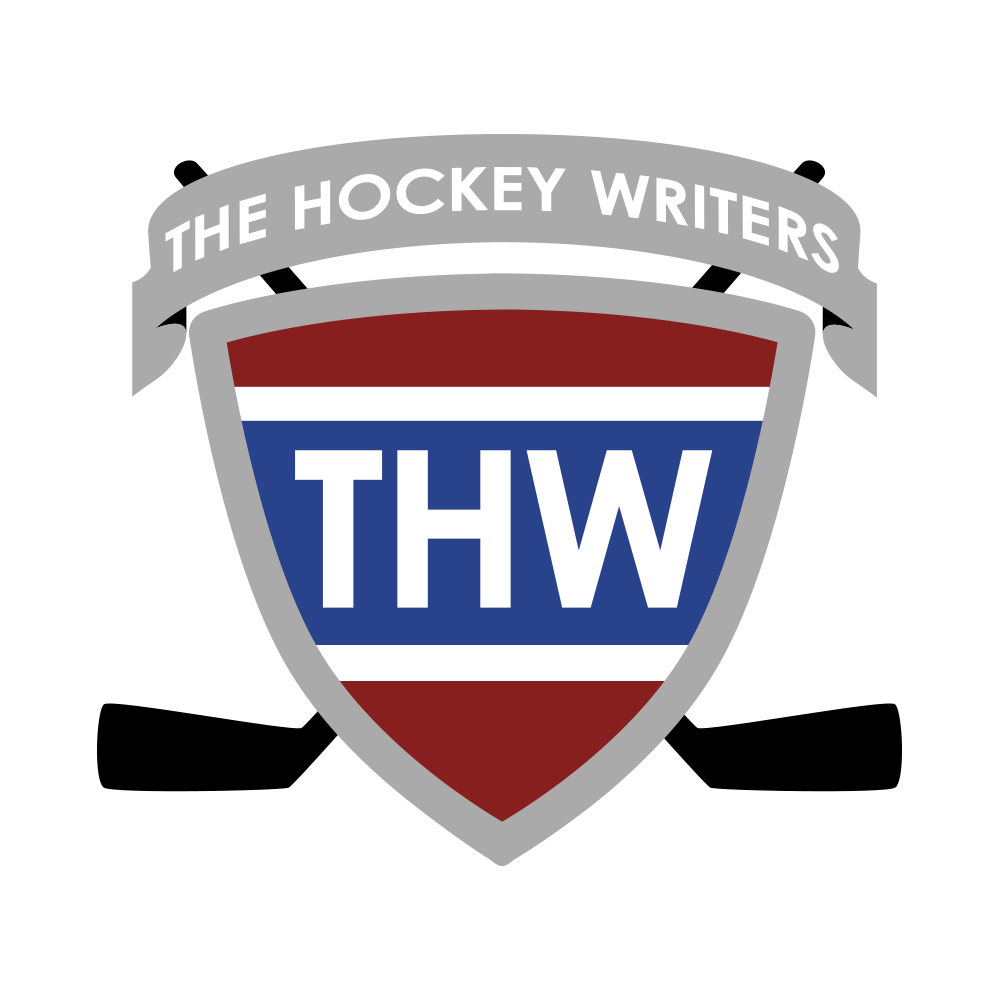 The Hockey Writers is:
1) A top-tier hockey media company delivering a top-notch, in-depth look at the NHL
2) A collective of some of the best hockey writers anywhere
3) A multimedia provider with daily podcasts and YouTube shows
4) Well-respected and widely-cited NHL prospect and draft resource