Christopher Ralph is a hockey writer with a focus on prospects and the entry draft, as well as the Leafs' correspondent here at THW.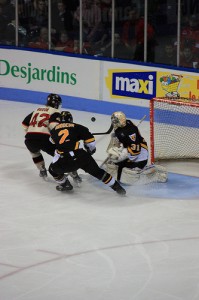 This is my mock draft, not to be confused with The Hockey Spy`s Draft Rankings. In the mock draft I take a stab at who I think NHL teams will pick with their respective draft picks. The draft rankings were my thoughts on the best player available at each position. The following notes put my rankings in perspective compared to other rankings out there.

With respect to scouting services such as CSB, Gare Joyce states in his book 'Future Greats and Heartbreaks', CSB's preliminary  and mid-season ranking are of more use to professional NHL scouts. A quote from Blue Jackets' (at the time) head scout Don Boyd sums up the value of CSB rankings quite nicely:
"It's like a road map for us. That is, a list to cherry-pick from – names to chase down and see. The final list is useful for the media and the fans, but by the time it's issued NHL teams are more concerned about the lists offered up by their own scouts in the field."
The following is Round 2 of the Mock Draft.  Please click on each individual player, for my detailed Full Potential Prospect Profile.  There, you will notice some differences between my rankings versus the mock draft.
*Jakub Silfverberg`s link is not my profile as I rated the Top 60 only.
Round 2

31

NY Islanders
Drew Shore
RW
6'3″
194
3/29/91
USA U-18 (USDP)
USA

32

Tampa Bay
Richard Panik
C
6'3″
189
2/7/91
Trinec
Slovakia

33

Colorado
Simon Despres
D
6'3″
208
7/27/91
Saint John (QMJHL)
Canada

34

Atlanta
Stefan Elliott
D
6'1″
186
1/30/91
Saskatoon (WHL)
Canada

35

Los Angeles
Ethan Werek
C
6'0″
170
6/7/91
Kingston (OHL)
Canada

36

Phoenix
Jordan Caron
C
6'2″
196
11/2/90
Rimouski (QMJHL)
Canada

37

NY Islanders (from Toronto)
Olivier Roy
G
5'11"
163
7/12/91
Cape Breton (QMJHL)
Canada

38

Dallas
Carl Klingberg
F
6'3″
196
1/28/91
Frolunda
Sweden

39

Ottawa
Tomas Tatar
C
5'11"
176
12/1/90
Zvolen (Slovakia)
Slovakia

40

Edmonton
Ryan O'Reilly
C
6'1″
191
2/7/91
Erie (OHL)
Canada

41

Nashville
Zach Budish
RW
6'2″
210
5/9/91
Edina HS
United States

42

Nashville (from Minnesota)
Eric Gelinas
D
6'2″
190
5/8/91
Lewiston (QMJHL)
Canada

43

San Jose (from Buffalo)
Joonas Nattinen
C
6'2″
174
1/3/91
Jyvaskyla
Finland

44

Florida
Marcus Johansson
C
5'11"
185
10/6/90
Farjesta
Sweden

45

Atlanta (from Montreal from Washington from Anaheim)
Matthew Clark
D
6'3″
205
10/17/90
Brampton (OHL)
Canada

47

NY Rangers (Compensatory)
Tyson Barrie
D
5'9″
165
7/26/91
Kelowna (WHL)
Canada

48

St. Louis
Sami Vatanen
D
5'9″
163
6/3/91
JYP Jr. (Finland)
Finland

50

Toronto (from NY Rangers)
Philippe Paradis
C
6'2″
190
1/2/91
Shawinigan (QMJHL)
Canada

51

Carolina (from Los Angeles from Calgary)
Taylor Doherty
D
6'5″
210
3/2/91
Kingston (OHL)
Canada

52

Tampa Bay (from Philadelphia)
Jerry D'Amigo
LW
6'0″
189
2/19/91
USA U-18 (NTDP)
United States

53

Vancouver
Cody Eakin
C
5'11"
180
5/24/91
Swift Current (WHL)
Canada

54

New Jersey
Robin Lehner
G
6'3″
220
7/24/91
Frolunda Jr. (Sweden)
Sweden

55

Washington
Kenny Ryan
RW
6'0′
190
7/10/91
USA U-18 (NTDP)
United States

56

NY Islanders (from Boston)
Alex Hutchings
C
5'10"
170
11/7/90
Barrie (OHL)
Canada

57

San Jose
Chris Brown
C
6'2″
191
2/3/91
USA U-18
United States

58

6'1″
185
3/16/91
USA U-18 (NTDP)
United States

59

Chicago
Mikko Koskinen
G
6'5″
187
7/18/88
Blues (Finland)
Finland

60

*Detroit
Jakob Silfverberg
C
6'0″
183
10/13/90
Brynas
Sweden

61

Pittsburgh
Ben Hanowski
RW
6'2″
198
10/18/90
Little Falls HS
United States
Chris is THW's senior draft/prospect analyst and a Managing Editor. Watch for "The Next Ones" Prospect Profile series, exclusive rankings, mock drafts, as well as the annual THW NHL Entry Draft Guide. Follow @ChrisRalphYQ on Twitter as he infiltrates, dissects and analyzes all happenings of hockey prospects and the NHL entry draft. Email: cralph[at]thehockeywriters[dot]com