After signing Mikhail Grabovski and Nikolai Kulemin, Islanders fans undoubtedly felt some relief as Garth Snow was able to land two pieces that figure to be an important part of New York's offense for the upcoming hockey season. While the signings of Grabovski and Kulemin certainly bolstered the Isles' offensive depth and made the team more formidable on paper for the '14-'15 NHL season, there is still one particular hole to fill for New York, and that would lie on the team's defensive front.
With many free agent defensemen having already chosen their next teams – and signed their contracts – the Islanders might have to resort to the trade market in order to land the defenseman that they have been seeking this offseason after being spurned by Dan Boyle and some other defenders. Having an abundance of offensive players and prospects in the pipeline, it certainly wouldn't be surprising to see the Isles find a trading partner with a team that has a surplus or availability of defensemen, and there are some teams out there that could definitely fit the bill.
Let's Make A Deal!
Anaheim Ducks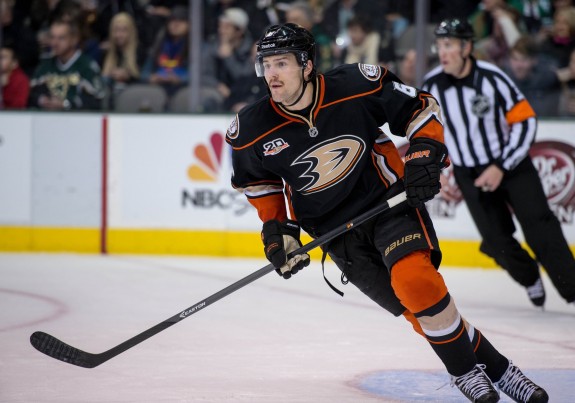 The Anaheim Ducks acquired Ryan Kesler via a trade with the Vancouver Canucks during the early stages of the summer and could have something that the Islanders would want. Trading for Ben Lovejoy during the '12-'13 NHL season, the Ducks have certainly enjoyed the responsible play that Lovejoy brings to their defensive front.
As a member of the Ducks, Lovejoy has only recorded 28 points (5 Goals, 23 Assists) in 110 games played for Anaheim, but the defender's value lies in his ability to be a sound and reliable stay-at-home defenseman. Of course, the Islanders do have individuals such as Brian Strait to fill the slot of stay-at-home d-man, but Strait's ability to stay healthy could still be a concern for a team that needed a defensive defenseman in various situations last season.
Despite not scoring a bunch in his two seasons in Anaheim, Lovejoy racked up the hits (289) and blocks (189) for his team. Being a player that isn't afraid to sacrifice and use his body, Lovejoy might just be a rearguard whose style of play appeals to New York's GM and the identity that he has been trying to build with the Islanders.
With Lovejoy only making $1.1 million and the Ducks having an ample amount of salary and cap space, it wouldn't be a stretch to suggest that Anaheim could be willing to bolster their offensive depth with the likes of players such as Josh Bailey or Michael Grabner. Of course, players such as Corey Perry, Andrew Cogliano, Ryan Kesler, and Ryan Getzlaf will continue to power the Ducks' offense, but with defenders such as Sami Vatanen and Hampus Lindholm hoping to make an impact sooner rather than later, one has to think that Anaheim will have to make someone from their defensive corps expendable at some point in time.
Calgary Flames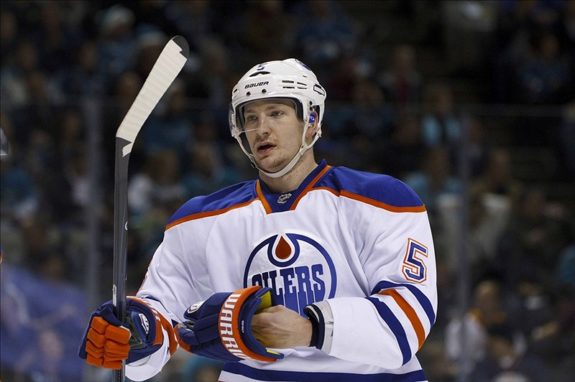 Much like the Anaheim Ducks, the Calgary Flames have some salary and cap space to entertain a trade for Bailey and/or Grabner – the only question is if Brad Treliving will be willing to deal any of his six defenders to the Islanders. While the Flames do have a $18 million-plus in terms of salary space, their defensemen all make at least $2.125 million per year – a number that the Islanders could take on without a problem.
In particular, Ladislav Smid's name stands out when looking at Calgary's defenders. Standing tall at 6′ 3″ and weighing over 200 lbs., Smid is much in the mold of a defensive defenseman that the Islanders could use to stabilize their defensive core. Since the '10-'11 NHL season, Smid has recorded at least 145 hits and 118 blocked shots in every season that he has played in.
Sure, Smid won't amass a plethora of points or help out much on the offensive side of things for New York, but his defensive prowess can certainly be utilized by an Islanders defense that was overworking individuals such as Andrew MacDonald last season. T.J. Brodie's name also strikes some interest as a potential trade option, but with a breakout season (81 GP, 4 Goals, 27 Assists) during his '13-'14 NHL campaign, it would be unlikely that Treliving would deal Brodie with his prospects and potential so high.
The Flames are definitely stockpiled with individuals that can play the left wing, but they could use someone with Michael Grabner's speed. David Jones definitely has the upside to be playing right wing on Calgary's top line, but the intangibles that Grabner brings with his speed and PK efficiency cannot be understated. Whether or not the Flames and Islanders could become trade partners will largely depend on if Brad Treliving will be willing to part with – and eventually replace – one of his six defenders, but the asking price must also be right for Garth Snow as he would be taking on a decently-sized salary by attempting to acquire any of the Flames' blue-liners.
Making Space?
Chicago Blackhawks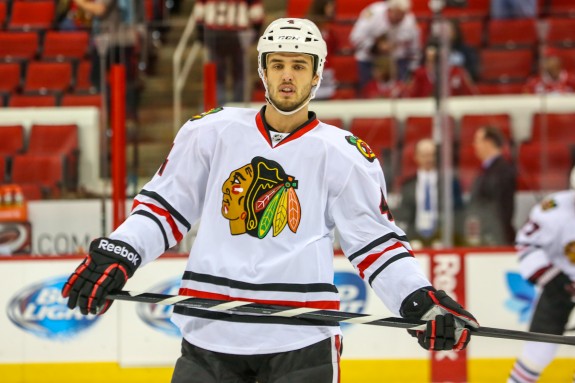 The Blackhawks could very well be the toughest trading partner for the Islanders, but they do have a defenseman, or maybe even two, that the Isles could use. With very little salary and cap space at their disposal, the Blackhawks and Stan Bowman will have some decisions to make so that they can give Jonathan Toews and Patrick Kane their desired money – something that could mean moving certain players from their roster.
Niklas Hjalmarsson is currently signed to a long-term contract (through the '18-'19 NHL season), and could possibly be obtained by the Islanders – but the price could very well be a steep one that the organization is not willing to pay. Seeing as how the Blackhawks will have to shed salary, any move involving a trade for either Bailey, Grabner, and/or a prospect would likely involve the Hawks dumping a player first.
Of particular note in such a scenario would also be the fact that every Blackhawks defender – with the exception of Nick Leddy and David Rundblad – have a no-trade or a no movement clause in their respective contracts. Not having an NTC or NMC to maneuver around could help the Islanders better navigate the trade waters with Leddy as Snow might look to improve his team by acquiring more of a skilled skater and puck-mover.
Leddy might only be 6'0″, but the defender has put up some impressive numbers on the offensive side of the puck (16 Goals, 70 Assists) and has been an ironman for Chicago by staying healthy and playing in every single regular season game for the Blackhawks over the last three seasons. Unlike the other defenders mentioned in this post, Leddy won't sacrifice the body that much, but that is not what his game is predicated on as he is more of an offensive defenseman than anything else.
Trading for a Chicago defender might be a tall order compared to other teams that have more financial leeway, but with an impending salary/player dump looming, there are undoubtedly some Blackhawks players that can be had at the right price at this point in time.
Boston Bruins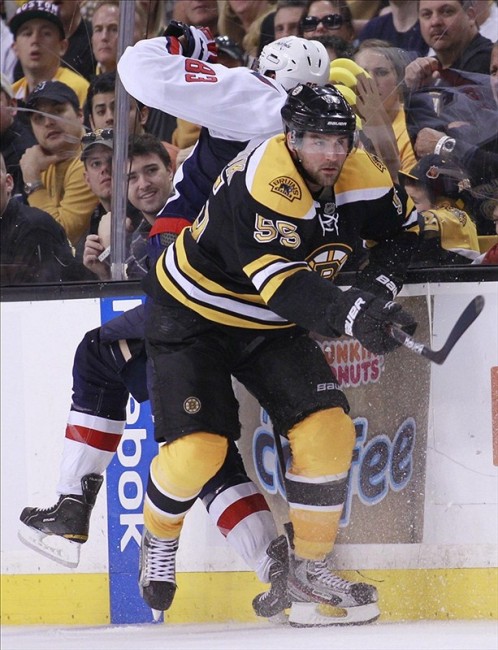 Much like the Chicago Blackhawks, the Boston Bruins are also in a financial situation that might require them to trade away one of their prominent defensemen. Peter Chiarelli already made it obvious that the Bruins will not go into the season with nine d-men, and with the Bruins having a surplus of defensemen and a deficit of right-wingers, the Islanders might be an ideal team to trade with.
Assuming that the Bruins will put Marc Savard on Long Term Injured Reserve once again, Boston would be looking at a little over $4.6 million that they could work with in order to address their restricted free agents (Torey Krug, Matt Bartkowski, & Reilly Smith). Having an abundance of d-men on their active roster, one could reasonably assume that players such as Zdeno Chara, Dennis Seidenberg, and Dougie Hamilton will not be up for grabs via the trade market.
Adam McQuaid and Kevan Miller will likely be coveted by the Bruins as well, but someone such as Johnny Boychuk might be a player that Boston could be willing to part with in order to acquire a top-six right winger – and this is where the Isles would figure into the deal. Parting ways with Michael Grabner might not sit well with some, but the Bruins could use someone with Grabner's speed in their top-six rotation, not to mention the dimensions that such a player could add to a team's penalty killing units.
Signing Reilly Smith would give the Bruins a true right-winger, and trading for Grabner would only further solidify Boston's needs. On the other hand, obtaining Johnny Boychuk would help the Islanders on the defensive front. Last season, Boychuk was tasked with added responsibilities when Dennis Seidenberg was sidelined for an extended period of time, and he performed quite admirably – showing that he could step up his offensive game while being relied on primarily for his defensive acumen.
Grabner and Boychuk's price tags ($3 & $3.366 million respectively) would probably cancel each other out in a straight-up deal, but Chiarelli's asking price for Boychuk could be the deal-breaker. With only one year left on his contract – and Boychuk looking at a substantial pay increase – it would be highly doubtful that Garth Snow would offer a large package (Grabner & a prospect) in order to acquire the defenseman. Unlike Blackhawks defenders, Boychuk's modified NTC expired on May 31st of this year, and wouldn't be a hindrance if the Islanders and Bruins decided that they could address each other's needs via a trade.
Will They Stay? Will They Go?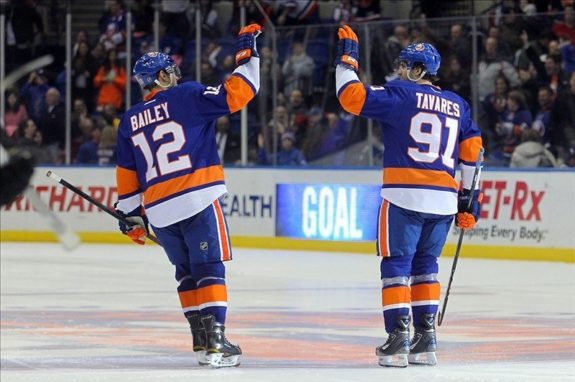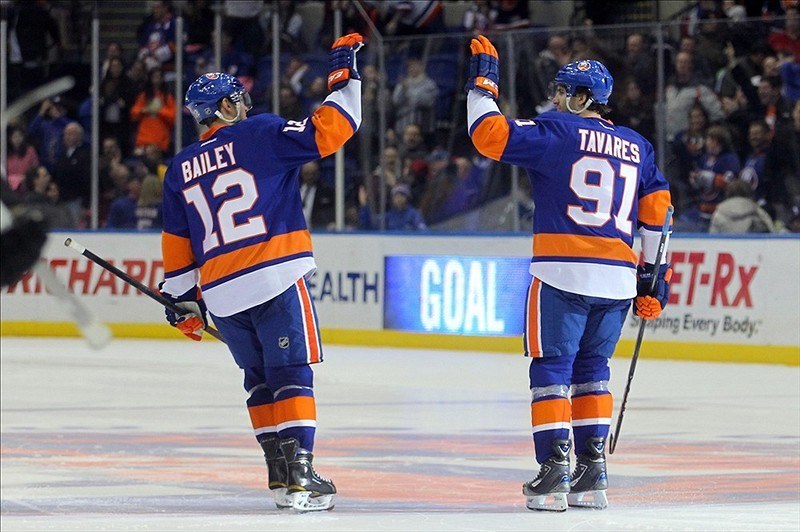 As it currently stands right now, the Islanders have a number of forwards on their roster after signing Grabovski and Kulemin to their respective contracts. Despite having a good amount of depth at forward, an abundance of left wingers, right wingers, and centers would inevitably mean that one of the Isles' forwards would be getting the short end of the stick in terms of playing time – be it with the established players (Bailey or Grabner) or up and coming prospects (Lee, Nelson, & Strome).
At some point in time, a franchise has to trade their established or budding players in order to make the team better in the long run. Whether or not Josh Bailey, Michael Grabner, or a slew of other Islanders prospects will still be with New York or in its organization by the time that the upcoming NHL season kicks off is anyone's best guess, but what is known is that the Islanders have a multitude of options to improve their team via the trade market – and only time will tell who will remain with team and which new faces could be making an impact with the team come October.