The draft lottery results are in, and for the New York Rangers, they fell short. Assuming nothing changes between now and then, come draft night this June, the Blueshirts—who finished with the eighth-worst record this season—will be drafting ninth overall after falling back one spot in the lottery.
But given general manager Jeff Gorton's own words, something could change between now and then to alter the Rangers' disappointing fate.
Rangers Will Probably Try to Move Up in Draft
"We were hoping to win the lottery, that would have been great, but we always planned on drafting around eighth," Gorton told The New York Post on Saturday night after learning his club would fall to ninth. "We're pretty confident [we are] going to get a good player at nine … if we're still there."
A shot at first overall—a right earned by the lowly Buffalo Sabres—is as long a shot as there can be. For a club as down on their luck as the Sabres have been for years, the opportunity to draft superstar defenseman Rasmus Dahlin this summer is one they're unlikely to pass on. Not even for the collection of later picks the Rangers could offer, including the Boston Bruins and Tampa Bay Lightning's selections this year.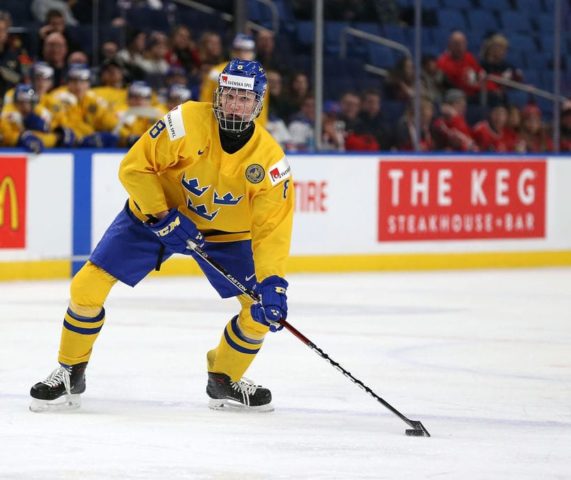 Equally unlikely, though to lesser degrees, is the idea of acquiring the ability to select either Andrei Svechnikov or Filip Zadina, who should be chosen with the second and third-overall picks owned by the Carolina Hurricanes and Montréal Canadiens respectively. Both teams are starving for star-quality offensive players to build around – an issue of more importance than selling either stud prospect for whatever collection of assets the Blueshirts might offer.
But beyond these essentially immovable positions, there could lie an opportunity to achieve Gorton's goal of improving his club's chance at an impact prospect. "We'll have various conversations leading into the draft," said Gorton, who acquired the seventh overall pick from the Coyotes last year in a draft day blockbuster trade. "There are a number of different scenarios we'll consider."
Two of those scenarios are likely to involve the Ottawa Senators and Arizona Coyotes—franchises the Rangers are familiar trading with—who each secured the fourth and fifth overall spots respectively. Either could offer Gorton and his Rangers a path to a top-five pick. One they could use to select from a group of quality youngsters just shy of the Dahlin-, Svechnikov-, or Zadina-types, but still more valuable than the names expected to fall to the nine hole.
Hi everyone,

With the new draft order in hand, here's a look at how much value each team is expected to add at the draft.
Mtl, Buf, and Det stand to add a lot.
Bos, Nsh, and Cgy stand to add the least. pic.twitter.com/Yi0YlFiluO

— Sean Tierney (@ChartingHockey) April 29, 2018
That group should include names like forward Oliver Wahlstrom, and defensemen Adam Boqvist, Evan Bouchard, Noah Dobson, and Quinn Hughes. Not to mention Brady Tkachuk. Logically, one of those six players will fall to the Rangers should they stick with the ninth pick, but if they really wish to select one of them more than any other, they'd need to move up to assure they get their man.
For players like Bouchard, Hughes, and Boqvist, that's a price probably worth paying. Regarding Tkachuk, however, it's unclear if paying the price to move up four or five slots to select him would ultimately be worth it. His combination of size, strength, and physicality are surely valuable, but perhaps not at the cost of passing up on more skilled options.
Standing Pat Won't Damn Blueshirts Chances
If the price of buying up proves to be one too expensive for Gorton's tastes—certainly a realistic scenario if there ever was one—standing pat would be disappointing, but not unproductive. As far as the draft goes, no volume of mock attempts to project it's outcome can account for the sheer number of variables that can throw any prediction on its head. Fantastically talented players have fallen in the past, and could again this June. Perhaps even to allow the Rangers to land their coveted game-breaker.
"If we [stay where we are], we're going to take the guy we feel will eventually be the best player, not necessarily the player who might be the most ready to contribute next year," Gorton said. "We're looking for assets, looking for the best players. I'm not a believer in picking by position."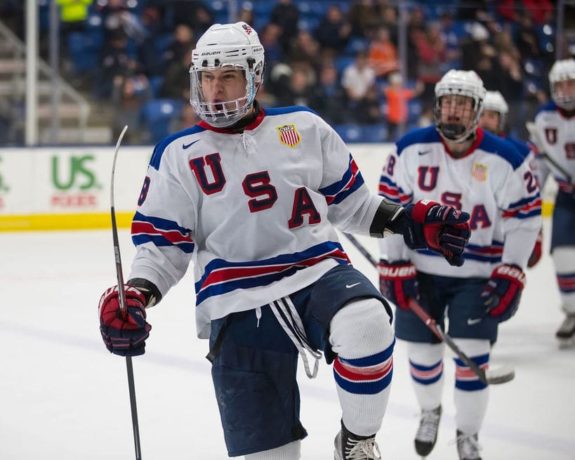 Some mock drafts, in fact, like Craig Button's most recent one for TSN, project Wahlstrom—categorized by Button as "an elite scoring winger who can beat you with his quick release, velocity and accuracy"—to fall into their laps at ninth overall. Would he be a consolation prize? You bet. But almost certainly one helluva good one.
According to THW's own Mark Scheig:
Wahlstrom has the potential to become an elite power forward in the league. His overall combination of size and skill makes him one of the more appealing options. He has a lot of Mikko Rantanen in him. If he reaches that potential, you have a potential 80-point scorer playing on your top line.
That kind of outcome could overcome their mildly disappointing outcome, no?
The fact of the matter is, winning the right to select Dahlin—an impact defenseman who would have dramatically improved the rebuilding Rangers' fortunes as early as next season—was always a pipe dream. They owned just a six percent chance at that opportunity. "It would change our course," Gorton told The Post earlier in the day before learning of his club's eventual fate. "It would accelerate things."
It sure would have, but it's not a scenario the Rangers need to account for any longer. Instead, they can now turn their sights on moving up, should the opportunity present itself, or accepting their fate in the hopes that projections like Button's prove accurate.
But regardless of the outcome, by the end of the first night of the draft, the Blueshirts are likely to be quite happy with their lot. Should all else fail, the "worst case scenario" of failing to secure a top-five pick could just mean Gorton makes calls with each of this three first-rounders.
A quick glance at the current state of the NHL playoffs could be all the inspiration needed to hold course. The Boston Bruins, who made three consecutive selections—defenseman Jakub Zboril, left wing Jake DeBrusk, and right wing Zachary Senyshyn—in the 2015 Entry Draft are just three wins away from the Eastern Conference Final after all. Adopting a similar strategy of simply making the picks you own could award the Rangers a similar outcome down the line – another scenario that would help them to forget this temporary setback.