The Winnipeg Jets didn't call up defenseman Sami Niku just to plug a hole in their roster or sit in the press box. They were looking to the future. With the Jets being a little banged up on the back end and with Niku having a stellar first AHL campaign, his recall made perfect sense. It was also a chance for the organization to see the future of their blue line a bit early. Not too early, however.
Niku has risen from a curiosity, taken in the seventh round of 2015 to a top-tier defensive prospect. With 16 goals and 54 points in 76 games, he finished second scoring among AHL defensemen and was named the league's defenseman of the year. Not bad for his first season in North America.
The young Finn also jumped up to the NHL for a game against the Montreal Canadiens on April 3. He played with poise and confidence, moved the puck well, and put himself on the scoresheet with his first NHL goal.
#NHLJets Defenseman Sami Niku of Finland scores in his first NHL game on his first shot. Back on October 6, 1988 another Jets rookie from Finland Teppo Numminen, scored in his first NHL game on his first shot. Both Niku and Numminen's goals came in the 3rd period.

— Joe Pascucci (@Pascucci015) April 4, 2018
The strong debut was important, not only to show his ability at the NHL level but also to give the Jets a taste for next year. Make no mistake, Niku's first NHL game was an early audition for a roster spot in 2018-19. His entire season has been in fact. While it's too early to say what the team's defense will look like, he made a pretty good first impression. There's not much doubt now whether he'll be ready.
Niku a Perfect Modern Defenseman
The NHL has largely moved away from the big, nasty, but immobile defenders who dominated the game in years past. About ten years ago, the idea of the skilled but slender Niku on the back end would've induced eye-rolls. Now it seems all but a certainty.
Hockey is gravitating toward smaller defensemen who can skate and shoot while passing the puck efficiently up ice. You see this everywhere from Junior-A to the pros. The best defensemen in any league aren't the biggest and the nastiest anymore. This bodes well for Niku. His size is a bit underwhelming at six feet tall and around 190 pounds, and it wouldn't hurt him to pack on some muscle. That said, his size won't keep him from playing big minutes in the NHL.
His puck skills are what set him apart. He moves the puck calmly even when under pressure, and his passes are largely on the tape. For a team with as much skill up front as the Jets, a defenseman who can get the puck up to the forwards quickly is essential.
Paul Maurice on Sami Niku's debut: "We did not see a lack of confidence with Sami." #NHLJets

— Scott Billeck (@ScottBilleck) April 5, 2018
Niku was small when the Jets drafted him, and they knew he'd need time to develop in Finland. They gave him that time and he rewarded them by growing a bit more every year. This year has been his biggest leap forward yet.
The jump to the AHL, to the North American style of play in a new city and on a new team, is no small one. He just made it look that way. From day one with the Moose, his skills have been on full display. His development curve just keeps going up.
Niku's Future Spot
With the Jets in need of help on the blue line, it won't be long before Niku plays full time. Toby Enstrom's career appears to be winding down and the Jets needed help on the left side even when he's healthy. This represents a big opportunity for Niku. With none of the Jets' other prospects pushing for a spot on the left side, he has a great chance at a roster spot next year.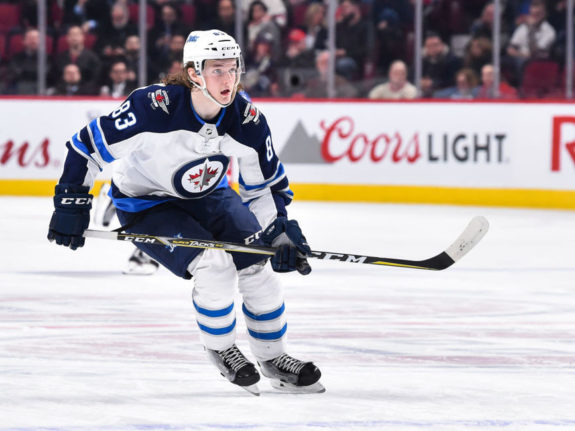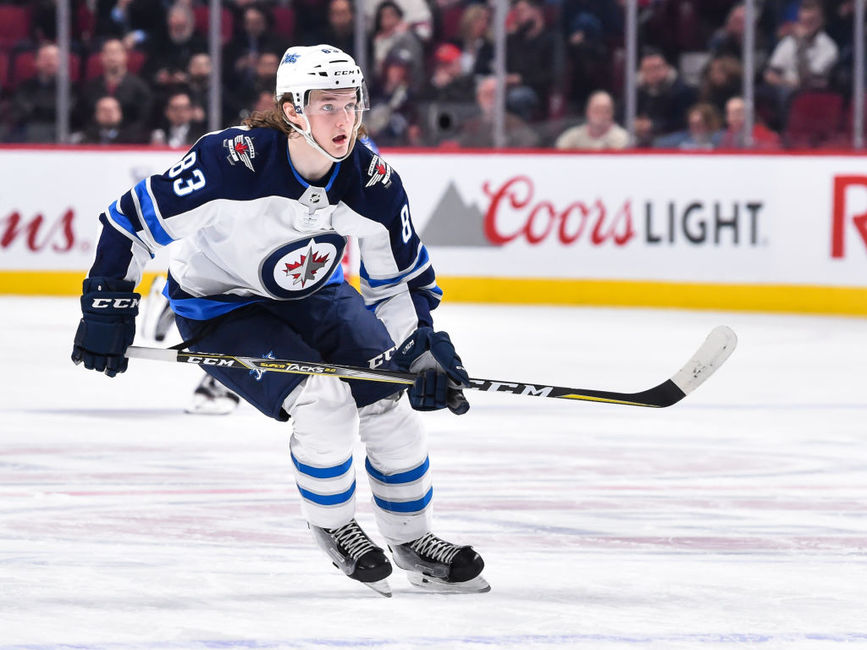 Looking at the Jets' other prospects on defense, only Tucker Poolman appears to be NHL-ready. Poolman is right-handed, and while that's not critical, it does help Niku's already strong case. Logan Stanley is years away from his NHL debut in all likelihood. Dylan Samberg is years away from turning pro despite a tremendous first season with Minnesota-Duluth. The ball is in Niku's court.
The Jets need him to run with it, too. Winnipeg has a murder's row of talented forwards but very rarely does a team win championships without equally strong defense. The Jets defense, while solid, has been injury-plagued and remains a relatively weak point.
Luckily, help is on the way. The Jets typically draft the best player available in the first round but have put an emphasis on defense with their later picks. Samberg is the latest player in the pipeline with immense back-end potential. But who could have predicted that the skinny, seventh-round pick out of Finland would one day be the most promising of them all? Maybe not even the Jets, but I doubt they're complaining.