With the departures of several key veterans this summer, the New York Rangers look set to enter training camp with a few holes in their line-up.
Dan Girardi, Kevin Klein and Adam Clendening will not return to a defense corps that finished last season tied for 12th in the league in total goals against (216), while up front, losing Derek Stepan – who had registered at least 53 points in each of the past four seasons – and Oscar Lindberg have left a gaping holes in center ice.
Reinforcements have been brought in to address roster gaps, but if the team heads into preseason with its current crop of players, a handful of prospects will have opportunities to make the opening-night roster.
There are six youngsters in particular with varying degrees of professional and amateur experience that could be considered. Let's get to know them a little better.
Lias Andersson, C
When the Rangers shipped Stepan and Antti Raanta to Arizona, they obtained in return the organization's highest draft selection since 2004 and took centerman Lias Andersson with the seventh-overall pick.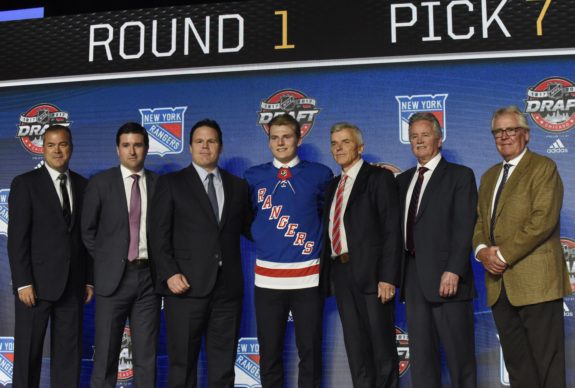 Touted as a well-rounded, two-way center, Andersson, on paper, seems like an ideal replacement for Stepan. In 42 games for HV71 of the Swedish Elite League last season, Andersson registered nine goals and 10 assists for 19 points. The Smögen, Sweden, native also finished fifth on the team with a +21 rating.
A player whom TSN's Bob McKenzie called the "Swedish Army Knife," Andersson can do it all. Though not a pure goal scorer, most of Andersson's goals come courtesy of strong net-driving abilities. A much more prolific playmaker, Andersson created a bevy of scoring chances for his linemates at the Rangers' prospect camp back in June and impressed enough to a earn a three-year, entry-level contract from the organization.
A superior skater to Stepan, Andersson could turn out to be the better of the two players, but rushing the 18-year-old could prove detrimental to his development. Andersson did fail to register a single point in 22 games for HV71 in 2015-16, albeit at the age of 17. But is it realistic to expect such a young player to jump right into the line-up of a perennial contender?
Alexei Bereglazov, D
Signed as an undrafted free agent on April 21, Alexei Bereglazov is believed to be an NHL-ready option for the Rangers on defense.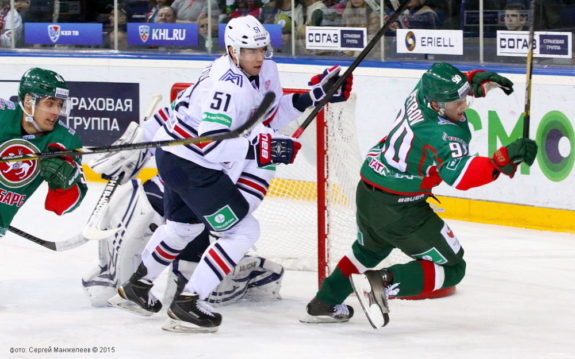 At 6-foot-4, 205 lbs., Bereglazov is an imposing force that's plied his trade at Metallurg Magnitogorsk for the past four seasons. In 2016-17, Bereglazov collected one goal and 18 assists for 19 points in 60 regular-season games for the KHL powerhouse and was key to the team's run to the Gagarin Cup Final that saw it lose just one game through the opening three rounds.
Undoubtedly a shutdown defenseman, Bereglazov still possesses sufficient puck-moving skills and vision to be successful in a league that continues to get quicker. Though he is accustomed to playing on the larger ice surfaces of Europe, with some exposure to North America's smaller dimensions Bereglazov may see even greater success.
With the losses of defensive-minded defensemen in Girardi and Klein, Bereglazov will get as good a look as any newcomer this September. Despite there being a surplus of left-handed defenseman, Rangers' director of player personnel Gordie Clark believes Bereglazov "should be able to go in [and battle for a spot]" this fall.
Anthony DeAngelo, D
Arriving via the Stepan/Raanta trade with Arizona, Anthony DeAngelo joins his third NHL franchise at the ripe age of just 21. A right-handed offensive defenseman, DeAngelo fills a need for a Rangers team that thrives when creating offense on the break.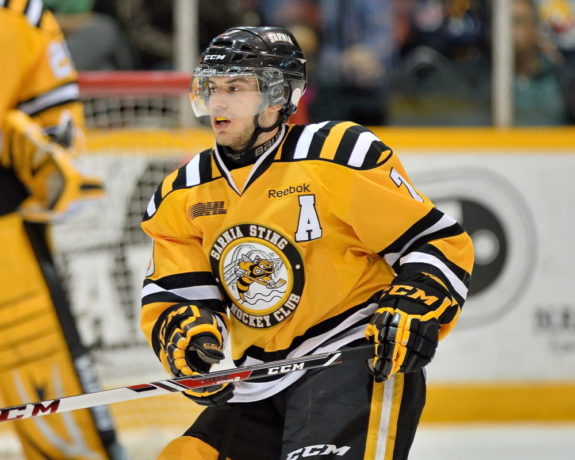 One of two players on this list to have played in at least one NHL game, DeAngelo split last season with the Coyotes and their AHL affiliate, the Tucson Roadrunners. The New Jersey native went for five goals and 14 points in 39 games for the Yotes and three goals and 16 points in 25 games for the Roadrunners while failing to post a positive plus/minus rating at either level.
Despite past disciplinary issues, DeAngelo is a highly-skilled youngster who still has time to right the ship and put together a solid NHL career. This is a player that scored 89 points in 55 games at the Canadian junior level during the 2014-15 season. He's a strong skater with great vision and the ability to dazzle – the type of defenseman the Rangers have lacked seemingly since Brian Leetch was traded back in 2004.  
Being right-handed certainly helps DeAngelo, but knowing Alain Vigneault he'll struggle to trust a player who's irresponsible on the defensive side of the puck. DeAngelo will have to show Vigneault he can be trusted in his own end.
Ryan Graves, D
Defenseman Ryan Graves is another solid option on the backend. Graves was selected 110th overall in the fourth round of the 2013 draft and has spent the past two seasons with the Hartford Wolfpack of the AHL.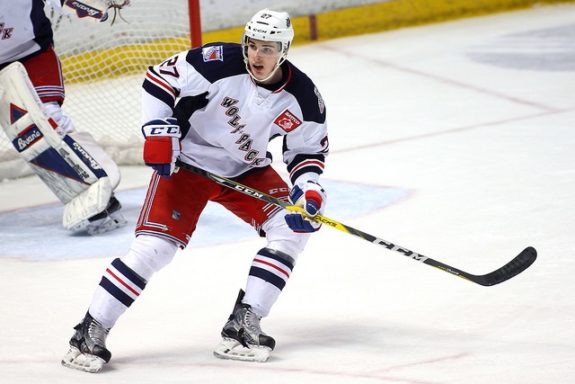 In 2015-16 – Graves' first pro season – the 6-foot-5, 226-pounder scored nine goals, registered 21 points and represented the Wolfpack at the AHL All-Star Game. Last year, Graves went for eight goals, 30 points and 69 penalty minutes but was a -17.
Graves is a prototypical defensive-defenseman that boasts an impressive skating stride and a high hockey IQ. At his size, he's an opponent's nightmare in close-quarter battles and isn't afraid to mix it up.
Though offensive production is not the highlight of his game, Graves led the Wolfpack with 124 shots on goal roughly halfway through last season's campaign and recorded a 103.4 MPH slapshot at the 2015-16 AHL All-Star Skills Competition.
With two years of pro hockey under his belt, Graves will get a long, hard look in camp, especially if the coaching staff wants to get bigger. As a lefty, there are few players ahead of him in the depth chart, but if Marc Staal is moved or phased out Graves would be a good like-for-like replacement on opening night or at some point during the season.
Cristoval "Boo" Nieves, C/W
A second-round pick of the Rangers back in 2012, Boo Nieves also spent last season with Hartford and registered six goals and 18 points in 40 games.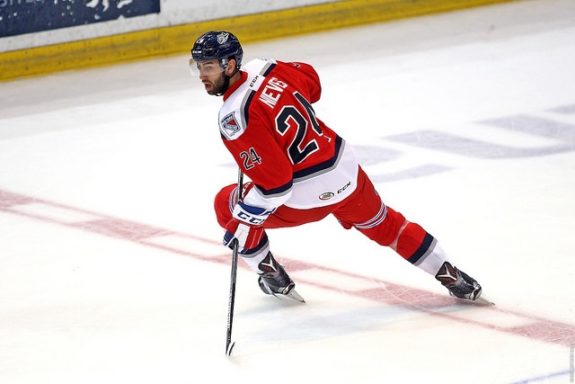 Nieves nearly made the Rangers' opening-night roster in October despite being injured in the final game of the Traverse City prospect tournament in September. After Nieves missed the bulk of training camp and participated in only one preseason game, head coach Alain Vigneault nearly included the centerman in his first-game squad based on his skating ability and size. Instead, Nieves would be called up in November and played in one game against the Vancouver Canucks.
At 6-foot-3, 210 lbs., Nieves is a top candidate to center the fourth line should management elect to not acquire a centerman before training camp. Currently, Mika Zibanejad, Kevin Hayes, J.T. Miller and David Desharnais are the only centers on the depth chart with NHL experience. If Vigneault and management feel Miller is best suited to return to the wing, Nieves would be next in line at center.
What Nieves would bring to the fourth line are size, strength, and good skating and playmaking abilities. But are his defensive instincts and abilities up to snuff? The Rangers' penalty killing units took major hits with the departures of Stepan and Lindberg; could Nieves fill one of those holes?
Neal Pionk, D
Rangers management has made a habit of pursuing top, unsigned collegiate talent in hopes of restocking the team's depleted prospect cabinet and continued that trend with the signing of defender Neal Pionk on May 1.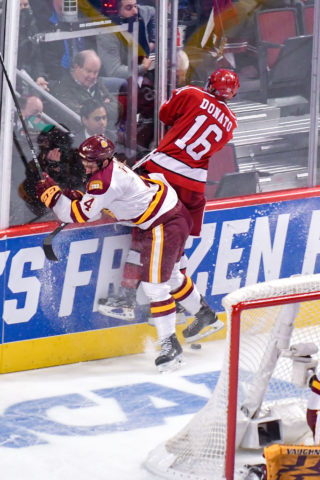 Pionk spent the last two seasons with the University of Minnesota-Duluth and in 2016-17 finished top 10 among defensemen nationally in assists (27), points (34) and plus/minus (+24). An NCAA (NCHC) Second-Team All-Star last season, Pionk helped the Bulldogs reach the national championship game where the Hermantown, MN native recorded one assist in a 3-2 loss to the University of Denver.
Listed at six feet, 190 lbs., Pionk's a smooth skating, offensive-minded defender with a right-handed shot. Dangerous on the power play – he finished tied for second on the team with five man-advantage goals – Pionk can also create offense in five-on-five situations when he "leverages his quickness and agility to create space" and utilizes his puck-moving abilities.
When Pionk signed with the Rangers there was a much greater need for a right-handed, puck-moving defender, but the need is not as urgent now that management has acquired DeAngelo and Kevin Shattenkirk. Do those acquisitions suggest Pionk is more of a long-term asset or a player that could challenge for a spot this fall?
It will be interesting to see how he and DeAngelo stack up against one another, because it's not likely both players make the opening-night roster.