In less than one month the Boston Bruins will head to training camp, kicking off the 2017-18 season. For fans starving for hockey it seems like a lifetime away. Conversely, when viewing the time frame through a David Pastrnak-lens it might as well be yesterday.
The burgeoning star remains unsigned halfway through the month of August. Though he is just one of 18 NHL restricted free agents still without a contract, there is indeed a growing level of discomfort and uncertainty surrounding the negotiations. One tweet from one analyst was enough to ignite a powder keg of panic:
https://twitter.com/brianlawton9/status/897182106966773760
The rumor was quickly shot down by Bruins General Manager Don Sweeney, and all was back to normal. That is, until Leon Draisaitl signed his monstrous eight-year, $68 million dollar contract. The deal likely raised the ceiling once more on the requisite price to retain Pastrnak's services.
Once again, it would appear that Peter Chiarelli has directly influenced Boston's financials, and not in a good way.
Through all of this, it's important to remember that this is a negotiation. Sweeney will do whatever he can to keep the cost down. Pastrnak's camp will do whatever they can to not leave money on the table. It's a dance, and not always a comfortable one. Moreover, Sweeney is under no obligation to the Boston faithful to get a deal done ASAP to make sure that fans can comfortably enjoy the rest of their summer.
However, there is a difference between negotiating and drawing a line in the sand. The former is a process, the latter is the road to ruin.
Managing A Cap
In Edmonton, Peter Chiarelli is still doing Peter Chiarelli things. As he did in Boston, he's quickly shifted the Oilers from irrelevance to legitimate contenders. Along the way, he has just as quickly turned the team's salary cap into a ticking time bomb.
It would be easy to label Draisaitl's new contract an overpayment. After all, $68 million over eight years is a hefty sum to bestow upon a player coming off his ELC, with just one 70-point season on his resume. Yahoo Sports' Greg Wyshynski agrees with that sentiment, but correctly qualifies the deal as a necessary overpay.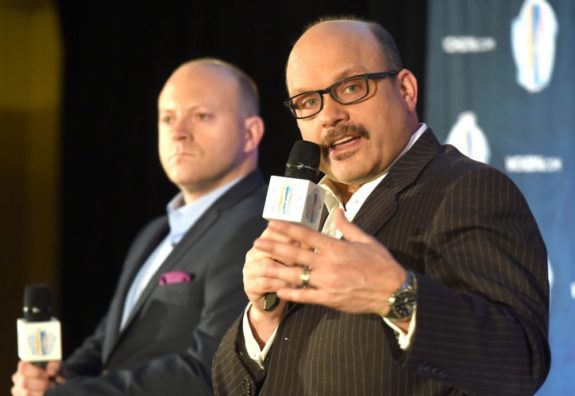 The combined $21 million Edmonton is set to begin paying Draisaitl and Connor McDavid is considerable, and will certainly hinder the club in future seasons from making necessary re-signings and acquisitions. But if an organization doesn't wish to build its team around players like those then who represents an upgrade?
Edmonton's cap is going to be an unmitigated mess as quickly as two seasons from now. However, it won't be because the team overpaid for franchise-players like McDavid and Draisaitl. It will be because of contracts like the ones belonging to Kris Russell, Milan Lucic, Ryan Nugent Hopkins and Mark Fayne.
Those four players have a combined cap hit of roughly $20 million this upcoming season. Fayne himself made north of $3.6 million last season and dressed for just four games.
Kris Russell was just inked to a four-year, $16 million extension. He is a 30-year old, bottom pairing defender. THAT is what an overpayment looks like, as opposed to doing what it takes to retain an elite talent like Draisaitl.
How it Pertains to Boston
Though the Bruins have not been quite so liberal in their spending, there are contracts on the books that qualify as overpayments. David Backes and Matt Beleskey come to mind, though both still have the chance to write their own legacies. Regardless, it would be difficult to justify giving Backes his current deal and then one season later refuse to pony-up to re-sign Pastrnak based on some convoluted internal budget.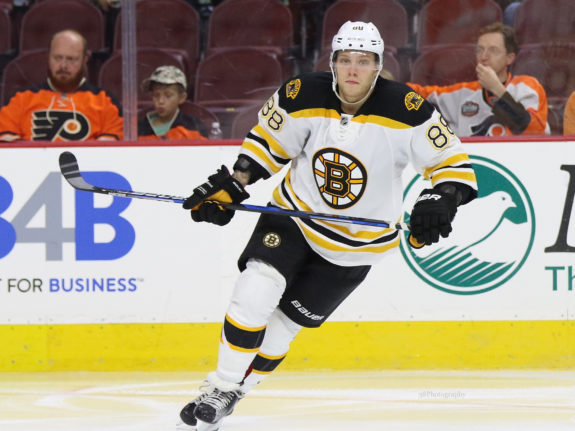 Draisaitl's $8.5 million average annual value and comparable stats to Pastrnak have Bruins fans fearing the worst. However, it's an imperfect comparison. For starters, Leon Draisaitl is a natural center. He may line up on McDavid's wing to form a super-line, but he's a center nonetheless and has been paid as such. The market for natural centers is a rich one, and is a market that David Pastrnak is not a part of.
Draisaitl's new deal very well may have driven "Pasta's" price up, but expecting the right wing's new deal to eclipse $8 million is misguided.
I had previously predicted something along the lines of six-years, $36 million. It's a figure reportedly precisely in line with Boston's most recent offer . As for the end result, it's safe to assume it falls somewhere in between Draisaitl's new deal and Boston's offer.
Adjusting For Inflation
It has been rumored that, internally, Boston wishes to keep Pastrnak's AAV beneath that of his veteran teammates. David Krejci, Patrice Bergeron and Brad Marchand are all longtime Bruins with their names on Lord Stanley's Cup. They have "paid their dues," over the years, and having a player coming off of his ELC leapfrog them in terms of dollars is a precedent the team might not want to set.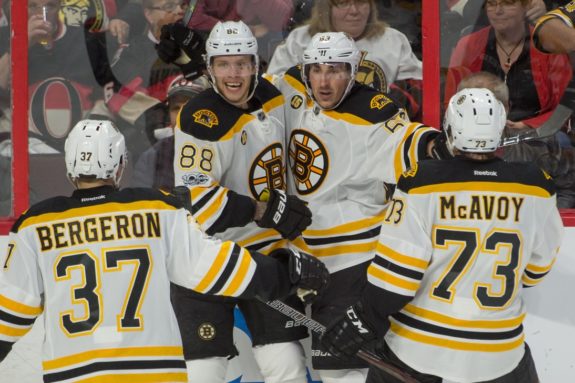 It's an understandable position, if in fact that rumors hold water. However, using contracts signed several years ago as the barometer by which a team negotiates future deals is an equally dangerous precedent.
Patrice Bergeron's current eight-year, $55 million contract kicked off at the beginning of the 2014-15 season. That year, the league-wide salary cap was $69 million, of which Bergeron's $6.875 million cap hit represented roughly ten percent. It made him the highest-paid skater on the Bruins.
One season later, David Krejci's six-year, $43.5 million contract went into effect. The $7.25 million AAV made Krejci the new highest paid skater on the Bruins in a year in which the salary cap was raised to $71.4 million. Krejci's cap hit, like Bergeron's before him, represented roughly ten percent of the team's total expenditures. So even though Krejci's deal eclipsed that of Bergeron's, it represented equal cost/value toward the rising salary cap.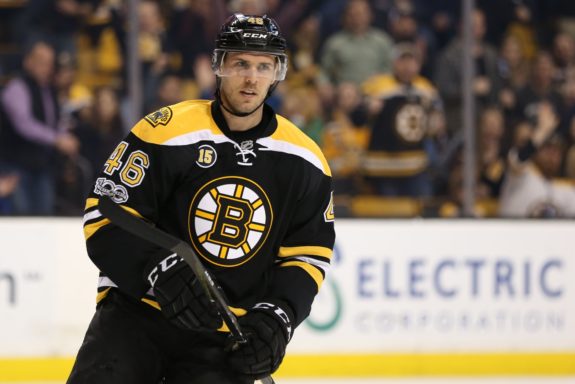 The league's current salary cap sits at $75 million. It will continue to rise incrementally in the coming years. As such, something around $7-7.5 million annually for Pastrnak not only serves as NHL market value, it also makes sense internally when adjusting for inflation. The dollars included may eclipse that of Bergeron and Krejci, but the percentage of expenditure toward the cap is the same.
Speaking of Dangerous Precedents
For all of the front office's reported worry of setting a dangerous precedent with a hefty contract for "Pasta" coming off his ELC, the alternative would likely be even more damaging.
The Tyler Seguin and Dougie Hamilton sagas have been frequently addressed up to and through the Pastrnak negotiations. For starters, I must mention that the differences vastly outweigh the similarities. Seguin's character and maturity were the focal point of the decision to trade him, and nothing but glowing things have ever been said about Pastrnak on this front. Plus, Seguin had already signed a lengthy, lucrative extension with Boston prior to his trade to Dallas.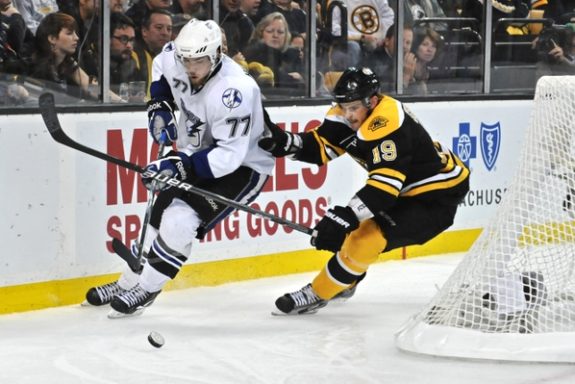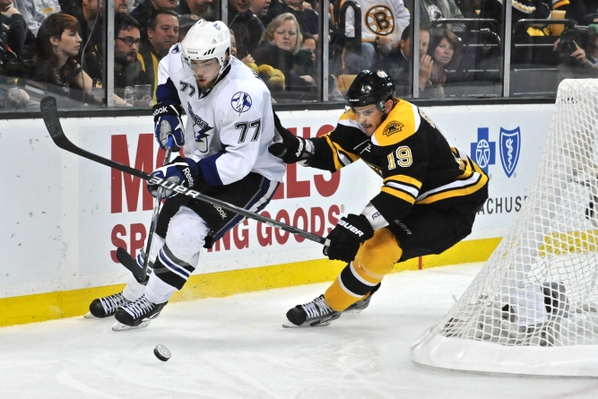 Hamilton didn't want to play in Boston anymore, and there isn't much a front office can do about that. Conversely, Pastrnak has had nothing but good things to say about the organization and the city.
However, at the end of the day, the two were stars under the age of 23 that Boston sent packing just two years apart. Should David Pastrnak hold out into camp or even worse the regular season, the narrative that "Boston doesn't take care of their own" will be on the lips and minds of every agent and prospect in the world. Don Sweeney has said the team will not be trading Pastrnak, and I for one take him at his word. But this is a narrative that, right or wrong, won't require a trade to be hammered home.
An extended holdout would likely make Bruins prospects think twice about turning pro with the organization. I would surmise that suddenly an extra year or two of college followed by UFA status might seem more appealing to Bruins draft picks.
Balancing Act
On one hand, Don Sweeney can't afford to be quite as lavish in his spending as his predecessor. On the other, David Pastrnak represents a chance to rectify the folly of yesterday by retaining a young, supremely talented scorer.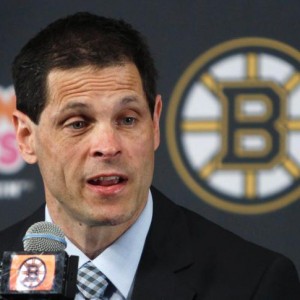 With the exception of Charlie McAvoy, there isn't a single player in the organization who will have a greater impact on the team over the course of the next decade. As such, it is imperative that these negotiations become a thing of the past ASAP.
From a cap standpoint, the Bruins are in great standing. The team currently boasts more than $10 million in cap space. Ryan Spooner looks to be in Boston's plans this season, but his $2.8 million salary will almost certainly be gone next season. Zdeno Chara may have another one or two-year deal in Boston on the horizon, but as of now his contract expires at season's end. Adam McQuaid's contract expires following the 2018-19 season, with Matt Beleskey's expiring the following year. By then, both Dennis Seidenberg and Jimmy Hayes' buyouts will be off the books.
All the while, Boston is set to receive an annual infusion of cheap, young talent in the form of ELC's.
Should it require $7-plus million over seven or eight years to retain Pastrnak, so be it. There's nothing to suggest that last year was a fluke, and the price is in line with the marketplace.
A team that gives a 31-year old power forward $6 million over five years cannot justify balking at the aforementioned price for an electric 21-year old scoring machine who has yet to hit his prime. After all, it will be the contract of the former and not the latter which poses a threat to the team's future success.
Despite being New England's Son (hailing from the Great State of Connecticut), Joe currently resides in Los Angeles, California. One of his earliest memories is of the Bruins losing in the 1990 Stanley Cup Finals, setting up a lifetime of crushing disappointments. He feels genuine sadness for those without a passion to rival his unwavering love for the greatest game on earth.