The Columbus Blue Jackets have some interesting decisions to make once training camp begins. Up to four roster spots are up for grabs.
Which players are ready to impress? We will all find out soon enough. At this point, we will try to put our best prediction skills to use in telling you who will make the Blue Jackets.
The goaltending and defense seem set. The last forward spots are open for competition. Of our projected four open spots, there are 7-8 players who are just a training camp away from making this team.
What does our 23-man roster look like as of this moment? This assumes no other trades before the season.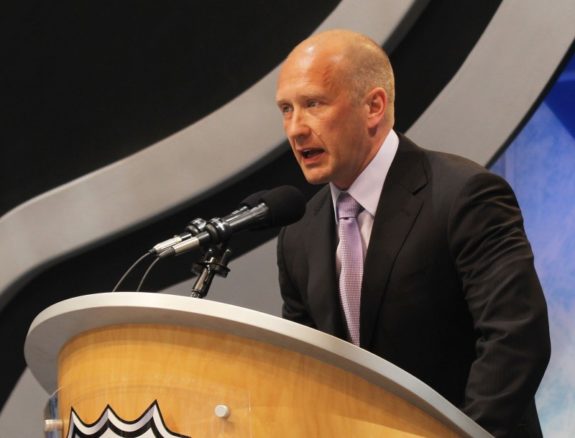 Goaltenders
Definitely in: Sergei Bobrovsky, Joonas Korpisalo
Contender: Matiss Kivlenieks
This is no contest. Bobrovsky and Korpisalo are your two goaltenders in Columbus this season. If there is an injury, Kivlenieks projects to get the first call-up. Bobrovsky should start between 50-60 games while Korpisalo plays the rest.
Defense
Definitely in: Zach Werenski, Seth Jones, Jack Johnson, David Savard, Ryan Murray
Contenders: Markus Nutivaara, Gabriel Carlsson, Scott Harrington
The intrigue is how the third pair will shake out. Werenski and Jones should reunite to form one of the best top pairings in the NHL. Johnson and Savard will look to continue their stellar play from last season.
Ryan Murray projects to start as the fifth defenseman. He has a lot to prove this season especially given that it's a contract season. If something were to happen to Werenski or Johnson, Murray can step up and play in the top-four.
Who plays with Ryan Murray? I think Nutivaara starts in that spot. That is if he has fully recovered from hip surgery. If not then Carlsson is the guy. Now if Nutivaara is ready, I actually think Harrington makes the team over Carlsson. The reason? Playing time.
After last season, I'm not sure the Blue Jackets want to keep eight defensemen. They played a game in 2016-17 with just 11 forwards because they had to scratch a forward and had eight defensemen. I like Harrington as the seventh defenseman better than I do Carlsson. In this scenario, Carlsson would go to Cleveland to play top-pair minutes. Carlsson doesn't need waivers while Harrington does.
If someone gets injured, it's easy to call Carlsson up with the Monsters just two hours away. Then the team could insert him in the lineup. So to recap:
If Nutivaara is ready: Werenski-Jones, Johnson-Savard, Nutivaara-Murray, Harrington.
If Nutivaara is not ready: Werenski-Jones, Johnson-Savard, Carlsson-Murray, Harrington.
I think Nutivaara will play their season opener.
Forwards
Definitely in: Artemi Panarin, Alexander Wennberg, Nick Foligno, Boone Jenner, Brandon Dubinsky, Cam Atkinson, Matt Calvert, Josh Anderson, Lukas Sedlak, Oliver Bjorkstrand.
Contenders: Pierre-Luc Dubois, Tyler Motte, Jordan Schroeder, Sonny Milano, Markus Hannikainen, Zac Dalpe, Vitaly Abramov, Alex Broadhurst, Justin Scott.
I believe 14 forwards make the Blue Jackets. That means four of the eight listed contenders would make it. Does anyone have a leg up?
Let's look at the roster openings. The Blue Jackets need a third-line center and a fourth-line right winger. All Dubois needs to do is play the part. That third-line center position is his to lose. I think he does enough to make it.
As for fourth-line right-wing, I'm looking at Jordan Schroeder. He has NHL experience and can play the right side. Of those on the contenders list, only Schroeder and Scott have right-wing experience. I lean Schroeder for now, but watch Scott at camp. The team is high on him.
That leaves just two spots. I'm all-in on Milano. He's ready to make this team. He has speed and offensive upside that the team likes. The last spot for me comes down to Motte or Hannikainen. That's a true coin flip for me.
If I had to lean one way or the other, I'd go Motte because of how the team views him. He came to Columbus in the Panarin/Saad trade. The Blue Jackets got to watch a lot of him at Michigan when they watched Zach Werenski. Assuming he's over his injury, Motte could make this team and play anywhere in the lineup. His versatility gives him a leg up.
My Opening Night Roster
Forwards: Panarin, Wennberg, Foligno, Jenner, Dubinsky, Atkinson, Dubois, Bjorkstrand, Anderson, Calvert, Motte, Sedlak, Schroeder, Milano.
Defense: Werenski, Jones, Johnson, Savard, Murray, Nutivaara, Harrington.
Goalies: Bobrovsky, Korpisalo.
I am a fully credentialed writer who covers the Columbus Blue Jackets, Cleveland Monsters and Erie Otters as well as the Ontario Hockey League and NHL Draft. The 2021-22 season will mark eight seasons with the Hockey Writers. I am also the site's Credentials Manager.