What better way is there to make it through the dog days of summer than to discuss two of the up-and-coming stars for the Chicago Blackhawks? Ryan Hartman and Vinnie Hinostroza both established themselves as regular players with the Hawks this past 2016-17 season. Hartman attained a bit more than Hinostroza, playing in 76 games and contributing 19 goals and 12 assists (31 points). Hinostroza, on the other hand, tallied six goals and eight assists (14 points) in 49 games. One must remember these two are both just starting their NHL careers. The sky is the limit, and only time will tell how they end up contributing for the Hawks and the NHL.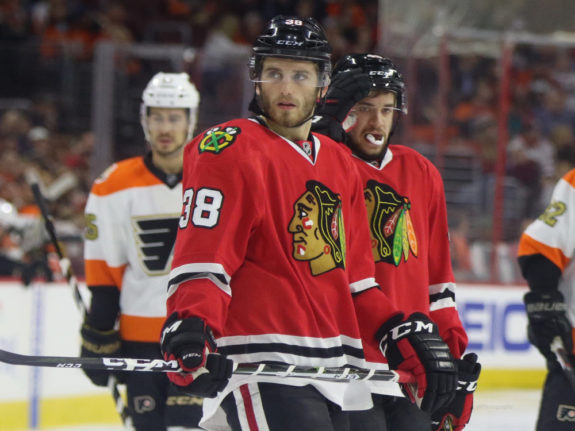 Hartman and Hinostroza are actually connected in many ways. Let's take a look at these connections, and how they can help this Chicago team.
The Hartman/Hinostroza Youth Connection
Hartman and Hinostroza are both local to the Chicago area. Hartman grew up in Dundee, Illinois, while Hinostroza hails from the Chicago suburb of Bartlett. They are 22 and 23 years of age, respectively. As it turns out, they grew up playing with and against each other.
In their early teens, Hartman took part in youth hockey for the Crystal Lake Leafs, and Hinostroza for the Chicago Blues. It was a state championship game where the two were pitted against each other. Hartman and the Leafs won that time. But the next season, the two ended up on the same Chicago Mission team, where they won many more state championships as friends and teammates.
This duo even has a history together off the ice. When they were both just 13 years old, they played together on a travel football team called the Bloomingdale Bears. Hinostroza was their star running back, and as a fullback and tight end, Hartman provided much of the blocking for him. Their coach, Norberto Olalde, called them the best players on the team.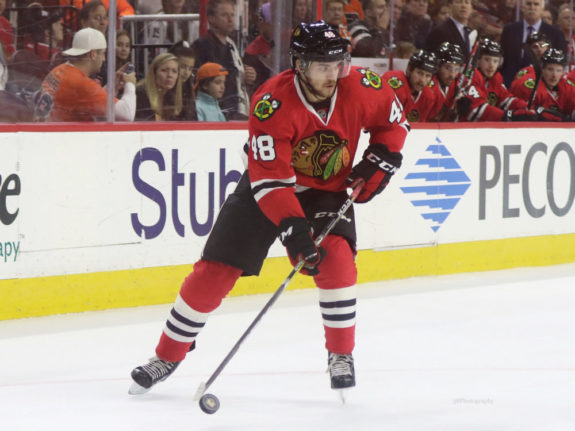 But alas! Hockey got in the way of football. The boys had a hockey tournament the same day as the second-round playoff football game for the Bears. Olalde pleaded for them to play, but they went to the hockey tournament instead. Without their two star players, the Bears lost, and their season was over.
Blackhawks' Bound
While these young hockey players went their separate ways for a while, their paths crossed once again, courtesy of the Blackhawks. Hinostroza was drafted by the Hawks in 2012, and Hartman in 2013. They played for the team's AHL affiliate, the Rockford IceHogs, in both the 2014-15 and 2015-16 seasons. Here, they improved their skills, in order to achieve their goal of making it to the NHL and the Chicago Blackhawks.
In this article by Chris Sosa of the Chicago Tribune, both young men recall what it was like to finally get called up to play for the Hawks.
"I grew up dreaming of this and it happened," Hartman told the Tribune after the game. "It has sunk in finally and it's pretty crazy."
"I was really nervous, being a young guy," Hinostroza said. "…but it was really fun and exciting and really loud and everything I ever dreamed of."
All their time together has certainly helped the two build chemistry. Their coaches have experimented with putting them on the same line both with the IceHogs and the Blackhawks. As a matter of fact, Hartman was on the ice with Hinostroza when the latter scored his very first NHL goal.
https://youtu.be/39tpLCYqGDA
Doing Their Part
Many professional hockey players like to use their platform to promote worthy causes. Hartman and Hinostroza are jumping right into that responsibility.
They both recently partook in some charity events in the community. On August 5, Hinostroza played in the Chicago Hockey Charity Classic in Geneva, Ill. Later that same day, Hartman was a part of a hockey clinic assembled by former Blackhawk Brent Sopel to benefit dyslexia research in nearby Bolingbrook.
A Bright Blackhawk Future
Hartman plays a game that involves toughness and grit, and as referenced above, he can score goals. Hinostroza is known for his speed. Both are looking forward to seeing how their skills can translate into the upcoming 2017-18 season for the Blackhawks.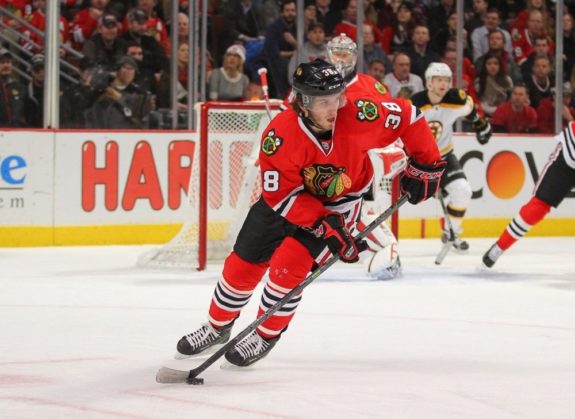 These two local boys now have the chance to build a successful career close to home. Long-time Blackhawks' star Patrick Kane was also at the recent Charity Classic. He mentioned he was training in Chicago this summer, alongside Hinostroza and Hartman. Kane stressed how nice it was to get to know them a little bit more. Training together could certainly benefit their on-ice chemistry when the season commences.
"They have a bright future," said Kane.
Who knows; maybe one of these guys will become Kane's new linemate now that Artemi Panarin has been traded to the Columbus Blue Jackets. We'll just have to wait and see.
Is it October yet?!
Gail Kauchak has covered the Chicago Blackhawks as a content writer since 2014. She previously wrote for Fansided's Blackhawk Up, and has been part of The Hockey Writer's team since 2017. It's not always easy to balance life's responsibility's with one's passion, but Gail's doing her best to make it happen. Let's put it this way; she's probably reading and writing about hockey instead of cooking and cleaning. Shh, don't tell her husband!
Follow Gail for her unique commentary about this storied franchise. And be sure to catch her and the rest of the Blackhawks' crew on their weekly Blackhawks Banter show, as well as follow her on Twitter.