The New York Rangers have outplayed every team they have faced so far in this young NHL season. Even without Pavel Buchnevich and Dan Girardi, the Rangers still found a way to completely dominate the Red Wings in a 2-1 loss that showed a masterful Jimmy Howard saving 32 of 33 shots, stonewalling the Rangers as he's done his entire career. So, now the Rangers sit with a 2-2 record that could easily be 3-1 or even 4-0. This current Rangers team has shown that they are not to be taken lightly, but they still have a lot of work to be done.
Offensive Inconsistencies
The inconsistencies of the offense will drive every Rangers supporter absolutely insane. Not only did the Rangers lose two games to Jimmy Howard of Detroit and Carter Hutton of St. Louis, they absolutely destroyed both of those teams on the stat sheet. They almost doubled both the Blues and Red Wings shot totals while still falling short when it comes to goal scoring. This starts with the offense not being able to bury the puck behind the goaltender.
The Rangers had ample opportunities against Detroit to score, all but one being stopped by Howard. This includes multiple breakaway attempts and four powerplays including one that was five on three in which the Rangers just couldn't put the puck in the net. With a power play percentage multiple points under the league average, there will need to be a better job done or they will not be able to contend with the powerhouses of the Metropolitan.
New Additions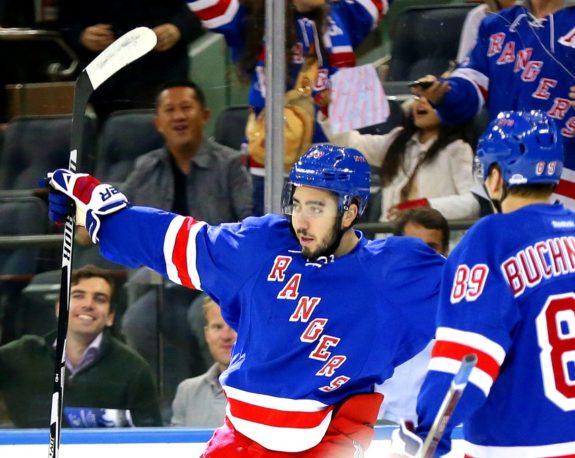 So far this year the Rangers newly added players have been a great surprise. Mika Zibanejad has performed at an extremely high level so far with five points in four games. Adam Clendening has been spectacular as two-way defenseman plugged in with significant ice time including a considerable amount of powerplay ice time. Jimmy Vesey has had a multitude of scoring chances which will likely be cashed in at a higher rate as the season progresses. Even Nick Holden and Michael Grabner both have two points each, with Grabner being spectacular on the penalty kill so far this year.
When Dan Girardi returns from injury, Alain Vigneault is going to have his hands full with picking the defensive six that start on a nightly basis. Holden has performed at a good level with very few mistakes and Clendening adds a "quarterback" to the defensive core that no other defensemen sans Ryan McDonagh can emulate. Vigneault and his assistant coaches will need to take a hard look at the defense and make a decision pertaining to what will best help the team win games.
---
Complete Rangers Coverage From THW
---
Roster Improvements Potentially Coming?
With multiple reporters writing that the Rangers scouted the Anaheim Ducks last week, many have asked exactly what that means for the Rangers roster. As the Ducks have yet to come to an agreement with Hampus Lindholm because of a lack of cap space, that may mean Rangers GM Jeff Gorton is looking to pursue a defenseman from the Ducks in turn for an NHL roster player and potentially another lower-line player.
Rangers, who scouted Mighty Ducks over the weekend in Brooklyn, are doing it again in Newark tonight.

— Rick Carpiniello (@RickCarpiniello) October 19, 2016
The Ducks have multiple targets that any team would like to have. That starts with Sami Vatanen. Vatanen just signed a new contract and will likely not be the main target in any trade that the Rangers and Ducks talk about. That leads Rangers fans everywhere to believe that the oft-rumored Cam Fowler may be the defenseman the Rangers have their eye on. The Ducks are very weak on the left wing and with the Rangers having a multitude of depth at forward may be willing to trade one of their cheaper players such as Jesper Fast or Oscar Lindberg to acquire a defenseman. All in all, this will be a very interesting few weeks to see what the direction of the team looks to be.