Dreger Weighs in on Gaudreau
Calgary Flames forward Johnny Gaudreau is reportedly nearing a deal to stay with the team, according to comments made by TSN's Darren Dreger on Tuesday.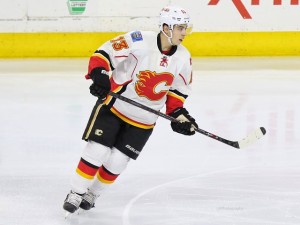 Gaudreau has reportedly sought more than $8 million per year, based on a tweet from TSN's Bob McKenzie on Sept. 28, but Dreger thinks the final figure will be somewhere closer to $7 million-plus per season and that a deal is coming soon.
"Inching closer to a deal," Dreger said, during a radio appearance on Toronto's TSN 1050 on Tuesday. "I'm not going to say that it's imminent. The timing of this is predictable, of course. It's less about the preseason, and more about being in the lineup for the regular season. This is a delicate one. It has been throughout this negotiation. I'm sure Calgary would have preferred to get him under $7 million per year on an extension – a lengthy extension. I think it's going to be 7-plus. But it sounds like it's going to happen within days."
The Flames re-signed Gaudreau's linemate, Sean Monhan, to a seven-year, $44.625 million contract extension earlier this offseason.
Dreger Discusses Trouba's Future
The Detroit Red Wings are reportedly a team interested in Winnipeg Jets defenseman Jacob Troub, according to Dreger.
Trouba made headlines in September when his agent, Kurt Overhardt, issued a statement about his client's trade request from the Jets in order to find an opportunity to have a better role with another team.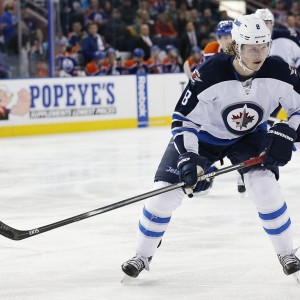 After speaking about the Red Wings' interest in the RFA defenseman last week, including that the team made an offer for Trouba earlier this offseason, Dreger revisited the topic again during a radio appearance on Vancouver's TSN 1040.
"I mentioned Detroit a couple of weeks ago publicly as being one of the primary suitors for Jacob Trouba," said Dreger. "I can tell you Kenny Holland has worked incredibly hard over the past couple few years at trying to add a defenseman. I know that he's had conversations with Cheveldayoff, and I believe that Holland is willing to make a deal for just about anyone outside of Dylan Larkin. But there's no one really in the Detroit Red Wings organization that seems to be a fit for Cheveldayoff, which tells me that Winnipeg, again, is committed to being patient."
Trouba, the Buffalo Sabres' Rasmus Ristolainen and the Anaheim Ducks' Hampus Lindholm are the three remaining RFA defensemen left unsigned at this point. Trouba, 22, is arguably the most desirable of the three and the only one of which has publicly requested a trade. Trouba is a smooth-skating defenseman who has shown good offensive ability in three seasons in Winnipeg.
McKenzie Talks About the Possibility of an Offer Sheet for Kucherov
The Tampa Bay Lightning have approximately $5.5 million of remaining salary cap space with RFA forward Nikita Kucherov still unsigned and the regular season set to begin on Oct. 13. While an offer sheet for RFAs is a tactic that has become rarer in recent years, it is always a possibility when a player remains unsigned at this point in the offseason.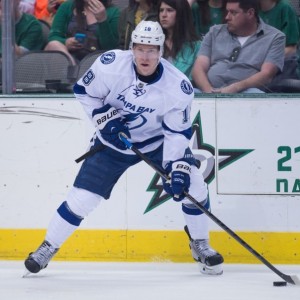 "If anybody's going to get offer sheeted, you would think this would be the guy," said TSN's Bob McKenzie during a radio appearance on Montreal's TSN 690 on Monday. "Steve Yzerman and the Tampa Bay Lightning are really, really up against it in terms of the cap, and that's going to continue to be the case. Next year, Drouin is a restricted free agent. Palat and Tyler Johnson are both restricted free agents. So they've got three critical players that are coming up for big raises next year.
"Now you've got Kucherov sitting here, who, if you were to give him market value, which would be anywhere between $6-7 million dollars a year on a six or seven or eight-year deal. They're not in a position to give him that. So I'm sure Tampa Bay would say, 'Offer-sheet him if you want, but we're going to match no matter what.' Fair enough. Boy oh boy. What a nightmare scenario that would be for the Lightning if someone did.
"If you really believe Kucherov was a special player—and he's demonstrated fairly quickly that he might be… he's got 22 goals in 45 playoff games—if you were to give this guy $7 or 7.5 million a year times seven, which would be the max number of years you could give him, it would cost you a first round pick, a second round pick, and a third round pick," McKenzie said.
McKenzie discussed how a potential offer sheet like that would affect the Lightning moving forward, given the team's current salary cap crunch.
"Now that's a steep price to pay and maybe Tampa matches no matter what. But boy oh boy, if anybody did offer Kucherov $7 million-plus on a seven-year deal—if Tampa matched, they'd have to be throwing some pretty significant bodies overboard to accommodate being ready to be salary cap compliant by 5 pm on a week tomorrow."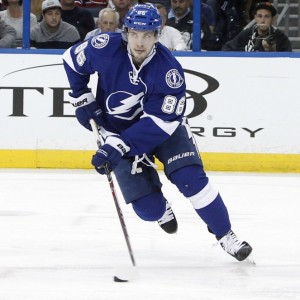 While an offer sheet is a possibility, McKenzie discussed how Kucherov would have to want to leave the Lightning to take one.
"The notion of an offer sheet these days just seems like a foreign concept. Some general managers are probably fearful of doing it because as soon as they get into a salary cap jam—payback's a bitch, as they say. Some teams don't want to put themselves in that situation. Some teams just think it's a waste of time because the other team always matches, and the more aggravations—I don't know, maybe some people are afraid of Steve Yzerman's death stare (laughing). In any case, if we haven't seen it yet, there's a part of me that says there's no chance we're going to see it. But like you say, you always allow for the possibility of everything in this game.
"And so many other teams are so tight to the cap. And here's the other thing—Kucherov has to want to go (to the team submitting an offer sheet). A team that has nothing but cap space is probably not a team that's going to contend for the Stanley Cup this year. So he would get his money, but he'd not be playing in a venue that would be anything close to what he's got going with Tampa right now," McKenzie said.
McKenzie sees the potential of the Lightning offering a bridge deal to Kucherov as a way to ease the salary cap situation the team is currently facing.
"Yzerman did a good job of getting Stamkos and Hedman in under market value, but he's still got lots of salary cap headaches. This is a tough one on Kucherov because he should be, at minimum, $6 million-plus on a long-term deal. And right now, the Tampa Bay Lightning can't do that deal. So maybe they'll be able to make a move, move some bodies out and sign him. Or maybe they're just going to have to try to grind Kucherov down to a bridge deal—a fairly lucrative bridge deal. Players like Kucherov probably shouldn't be bridged, but there might not be any choice in that situation."
While there is no way to know what will happen between now and when Kucherov is signed, the situation posed by Kucherov's market value and the Lightning's salary cap constraints make re-signing him a challenge for Yzerman.
Duchene Separated His Shoulder at World Cup
Colorado Avalanche forward Matt Duchene suffered a grade one shoulder separation during the World Cup, according to a report by The Denver Post on Monday.
Duchene was a part of Canada's World Cup-winning team at the best-on-best tournament and did not miss any action despite being injured during a practice before tournament play began.
"It's one of those things, it doesn't get worse when you play with it. It's just painful. It's going to linger for a bit, but it's feeling good. I just got bumped in practice. It was weird, it was a bad-luck injury. That was it," Duchene said, according to The Denver Post.
Fortunately for Avalanche fans, Duchene's shoulder is feeling good and he is ready to begin the NHL's regular season.
"It's better. It's a little stiff in the mornings, but once I get warmed up, I don't feel it," Duchene said.
Duchene scored a career-high 30 goals and added 29 assists in 76 games with the Avalanche in 2015-16.
Odds and Ends
— The Ottawa Senators signed defenseman Maxime Lajoie to a three-year entry-level contract, the team announced on Monday. Lajoie, 18, was drafted by the Senators 133rd overall in the 2016 NHL Entry Draft.
— The New Jersey Devils signed defenseman Colby Sissons to a three-year entry-level contract, the team announced on Monday. Sissons, 18, was an undrafted free agent and has attended the team's training camp on an amateur tryout.