The NHL and its players will be coming back to an arena near you in less than a week and with the resumption of games there will be some notable milestones that players will be recording and/or reaching over the next 99 days (beginning on January 19). Those with Hall-of-Fame credentials will attain some milestones and those who have toiled long & hard in the world's best professional hockey league will reach others that we probably never thought they'd stick around long enough to see.
THE ELITE
Just imagine for a second what Jaromir Jagr's career totals would look like if he had not endured through one full & two half-season lockouts; also don't forget to include the two seasons he spent in the KHL. The now 40-year-old Jagr has 998 career helpers and will likely reach the 1,000 assist plateau with Dallas relatively quickly (maybe even opening night on the 19th against Phoenix). Also within reach for JJ is 10th all-time in goals — he currently sits three goals behind Luc Robitaille (668 goals). If Jagr finds the fountain of youth in Big D and records 46 assists he will leapfrog his buddy Mario Lemieux (1,033) for 10th all-time in assists.
In the same boat as Jagr is another 40-year-old: 42-year-old Teemu Selanne'scareer totals also would look a lot different if not for time missed during lockouts. If he manages 62 points (a long shot at best) he would leapfrog five players (Dale Hawerchuk, Doug Gilmour, Adam Oates, Bryan Trottier & Stan Mikita) to 14th place on the all-time points list. More likely within reach for the Finnish Flash will be the six goals he needs to pass Robitaille for 10th all-time. Also with five game-winning goals, Selanne could jump from fourth place into second place all-time, behind the leader…Jagr.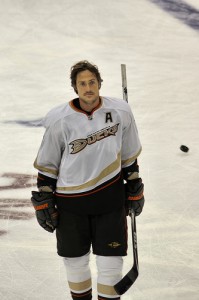 THE NEXT ONES
Players of Selanne & Jagr's ilk are dying out in the NHL and a new breed of players have already begun to carry the game and leave their fingerprints all over the record books. Some notable milestones that will likely be reached in the upcoming months:
1,000 games:
Vincent Lecavalier — Tampa Bay Lightning: 998 games (game 2 is January 21 at NY Islanders)
Milan Hejduk — Colorado Avalanche: 991 games (game 9 is February 4 vs. Dallas)
Marian Hossa — Chicago Blackhawks: 978 games (game 22 is March 3 at Detroit)
Kimmo Timonen — Philadelphia Flyers: 970 games (game 30 is March 18 at Tampa)
Lecavalier & Hejduk are two players with a Stanley Cup on their resume, still not sure if they are Hall-of-Fame worthy just yet, but they are on the cusp in my mind. Longevity certainly helps as do playoff legacies; this could be Hejduk's last season, but Lecavalier should still have another 5-7 years left. Hopefully Hossa doesn't have any post-concussion symptoms and makes a nice comeback after being crushed by Raffi Torres in last year's playoffs.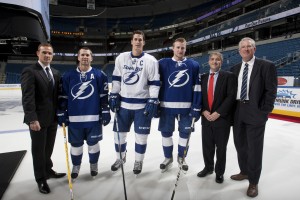 500 assists:
Alex Tanguay — Calgary Flames: 497 assists
Vinny Prospal — Columbus Blue Jackets: 492 assists
Marian Hossa — Chicago Blackhawks: 487 assists
Pavel Datsyuk — Detroit Red Wings: 478 assists
Shane Doan — Phoenix Coyotes: 470 assists
Vincent Lecavalier — Tampa Bay Lightning: 469 assists
If I had to guess, I'd pick Datsyuk to reach 500 before the three players ahead of him; yes including Tanguay. No, I'm not kidding.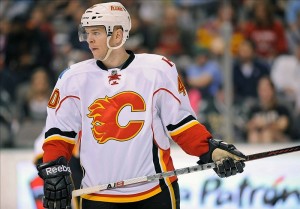 THE TENDERS
300 wins:
Tomas Vokoun — Pittsburgh Penguins: 287 wins
Jose Theodore — Florida Panthers: 282 wins
Ryan Miller — Buffalo Sabres: 252 wins
Henrik Lundqvist — New York Rangers: 252 wins
Ok, ok I know Miller & Lundqvist would each have to go 48-0-0 to reach the mark, I just wanted to make you do math in your head because I hate doing math. If he plays in 32 games, Lundqvist will reach the 500 games played marker.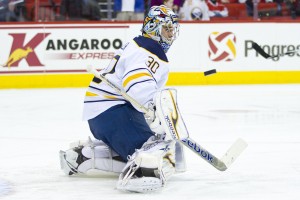 50 shutouts:
Tomas Vokoun — Pittsburgh Penguins: 48 shutouts
Nikolai Khabibulin — Edmonton Oilers: 45 shutouts
Both are highly unlikely, but hey, you never know; anything can happen in a 48-game season right?
THE BENCH BOSS
600 wins:
Ken Hitchcock — St. Louis Blues: 576 wins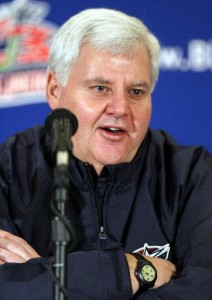 It'll probably be close, but I say Hitch reaches the mark during the final two weeks of the season.
Dan Rice can be reached via Twitter: @DRdiabloTHW or via email: drdiablo321@yahoo.com