When EA Sports' NHL 15 was released, gaming experts and fans alike offered some mediocre reviews and criticisms of EA's current offering. Some online and GM mode features that were featured in the previous versions are no longer gone. The retail price remained the same as previous versions, but you get less gaming options. Many disgruntled gamers took to twitter and to EA directly to cancel their pre-orders upon the discovery of many removed features.
Had the graphics and gaming speed from the current game itself been made available over twenty years ago, kids would be begging their parents to head to the local electronics store and buy a cartridge. Instead of Internet, the kids would pick up a telephone from a landline, or some of the rich kids used their analog cellular phones, and call each other to talk about the game, come over and have pizza parties at night. Actually hang as a group of two or more, converse about hockey, girls in school, more hockey, and play until it's lights out.
These are things we as kids used to do.
The simpleness of NHL 94 which allowed such great options like no offices, no penalties, was what made the game a hit. Gone from today's versions are the organ music, no advertisements on the boards or ice, the annoying buzzer that sounds the same on every rink, and how difficult it was to skate or even shoot, which made the game a challenge for all. One minor snag that the 94 version has was the removal of fighting and blood on the ice. In the previous versions, you could clobber Gretzky and make him bleed. Just ask Vince Vaughn.
(Viewer discretion advised)
Yep, we used to hang around together like that when we were kids.
Because of its longstanding popularity to the gaming community, NHL 94 has reverberated in various real-life replays. Check out this example from Pavel Datsyuk:
And from Phil Kessel:
If you're disgruntled with today's vivid graphics and supersonic gameplay, you can always revert back to the good old days. www.nhl94.com is an actual website that is dedicated to the best game (depending on who you talk to) that EA Sports ever put out. It even offers online tournaments and open forum discussions. For those who want to reminisce about that great game and playing it again, this is the place to be.
Is NHL 94 the best game ever? Many pundits will argue for or against it. I personally have owned many versions since EA started developing games year after year. I've owned NHL 95 on Sega Genesis and found it fun-ish but sometimes harder to score than its predecessor.
My personal favourite was NHL 11, but only because I was biased towards the Vancouver Canucks that assembled the best roster downloaded from the EA Sports vault, along with a special soundtrack. It also introduced the CHL leagues where you could play for the Canadian Junior Memorial Cup. Now that was a package that EA had right.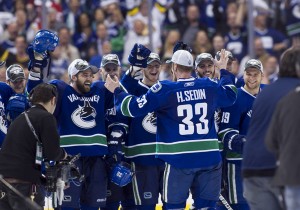 Where they went wrong with NHL 15? Who knows, but only they do. Perhaps getting back to really understanding what made gamers brand-loyal up to this point may win them back, but they only have a year to fix it.