With the 2013 NHL Entry Draft set to take place on June 30th, Islanders fans might find themselves a bit out of place as they wonder who Garth Snow will take with the fifteenth selection at this year's draft. After selecting a defenseman with all of his draft picks in the 2012 NHL Entry Draft, it is safe to say that selecting a blue-liner during the early stages of the draft might not be that much of a priority for New York's GM.
Over the last few years, Garth Snow has made some interesting selections on draft day, and this year might not be that much different. While this year's projected first-round talent is full of some very respectable forwards, there is only so much speculation that can be done when one's team is picking in the middle of the order. Despite the fact that most fans won't know who their team has on their respective radar until their turn at the podium arrives, there are still a few questions that can be asked and pondered as draft day inches closer.
Should The Islanders Draft A Goalie?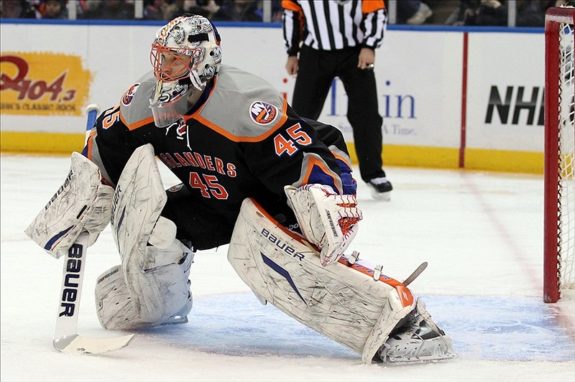 The New York Islanders' ouster from the Stanley Cup Playoffs automatically had the Isles' fan-base talking about the team's goaltending situation and who could potentially be the netminder of the organization's future.
Fans certainly appreciated the effort that Evgeni Nabokov put forth during the 2012-2013 NHL season, but if an Islanders fan were to look ahead to the not-so-distant future, then they'd certainly start to wonder what the state of the team's goaltending will be. With Nabokov set to hit free agency at the end of June, the readiness of goalies such as Kevin Poulin and Anders Nilsson will certainly come into question. However, neither Poulin nor Nilsson have given the Islanders a big enough sample size to help them make a solid call on whether or not one of the goalies is ready to take over starting duties in New York.
Since a clear judgment call cannot be made on Poulin or Nilsson, adding a high profile goalie for the current draft class could be seen as a potential remedy to an otherwise uncertain situation, right? Well, it could be, but there is also a big chance that spending a high draft pick on a goalie could backfire on a team.
Goalies such as Zach Fucale, Eric Comrie, Spencer Martin, Eamon McAdam, and Cal Petersen are definitely some of the higher profile goalies available in the 2013 NHL Entry Draft, but using the fifteenth overall selection on any one of the aforementioned netminders might not be an optimal choice for New York. The Tampa Bay Lightning took a leap of faith last year when using their second first-round draft choice in 2012 on Andrei Vasilevski, and with Poulin and Nilsson in the pipeline it is highly unlikely that New York will go out of its way to use their first-round choice on a top-ranked goaltender.
On the other hand, if an opportunity presents itself in the later rounds, then it is certainly possible that the Islanders could invest their stock into a goalie. Tristan Jarry, Ville Husso, Juuse Saros, and Philippe Desrosiers are just a few other goalies that might come with less hype attached to their names, and could be chosen in the later portions of the draft (with a lesser risk) after individuals such as Fucale, Comrie, Petersen, and others have been taken off the board.
How About A Forward?
Forwards will undoubtedly dominate any given hockey draft as there will usually be more wingers and centers available as opposed to defensemen and goalies. Last year's draft saw eight defensemen selected out of the first ten picks in the first round, but this year's draft will not be so heavily dominated by defenders in the initial stages.
Instead, forwards will likely dominate the majority of first-round selections – with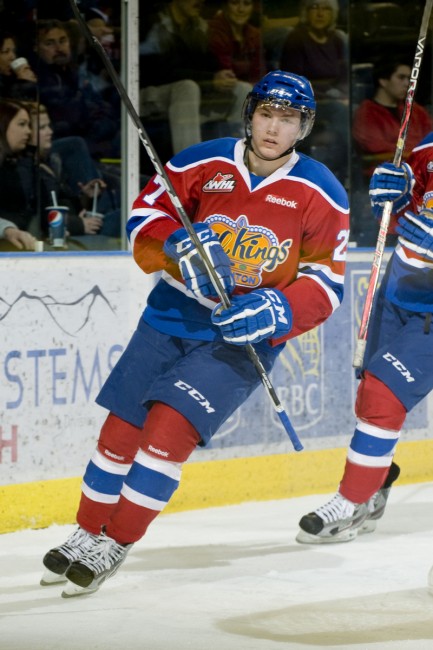 Jonathan Drouin, Nathan MacKinnon, and Aleksander Barkov being among the first forwards up for selection in the early stages of the first round. However, when the time to select the fifteenth overall pick rolls around, the New York Islanders will probably have a number of options to select from, and a clear-cut decision won't likely be easy.
Players such as Adam Erne, Curtis Lazar, Valentin Zykov, Anthony Mantha, and Alexander Wennberg are projected to wind up being selected during the middle stages of the draft's first round. While it is hard to gauge how the aforementioned players will translate their game to the NHL level, all of the aforementioned players have something that the Islanders could use.
On the one hand, players such as Erne and Mantha have shown steady improvement over the last couple of years in the QMJHL. Not only are Erne and Mantha capable offensive weapons, their size is also a crucial asset as teams could definitely use the size that both of the forwards bring. On the other hand, international players such as Valentin Zykov and Alexander Wennberg could make New York's first-round decision that much tougher. While Wennberg had a good season in Allsvenskan (46 GP, 14 Goals, 18 Assists) and has been heralded for his hockey IQ and skating abilities, Zykov has meteorically ascended the draft rankings by lighting up the QMJHL (67 GP, 40 Goals, 35 Assists) in his first season of play in major junior hockey.
Last, but not least, the Islanders could certainly look toward the Edmonton Oil Kings once again in the first round by selecting centerman Curtis Lazar. Lazar recorded 61 points (38 Goals, 23 Assists) in 72 games played for the Oil Kings during the 2012-2013 WHL season, but his professionalism and approach to the game of hockey make him an appealing pick to any team drafting in the middle stages of the first round. Whether or not the Islanders take a forward with their first pick of the 2013 NHL Entry Draft is yet to be seen, but there will undoubtedly be a number of centers and wingers that New York will be able to choose from once their number is called.
Should They Trade the Pick?
As draft day gets closer, trade rumors will undoubtedly flair up at one point or another as teams might be willing to part with their draft picks in exchange for certain players. Last year, Garth Snow traded away a draft pick to land defenseman Lubomir Visnovsky and was rewarded for his move as Visnovsky proved to be one of New York's most reliable and responsible defensive players.
More recently, the Islanders were linked to trade talks for Jonathan Bernier, but the sweepstakes on the goaltender was won by the Toronto Maple Leafs as they ultimately upped the ante for the Kings' netminder. Of course, there are certainly other trades that New York can explore if they want to land a goalie or a skater, but it is highly unlikely that GM Garth Snow would part with his draft pick and/or current prospects if the price wasn't right.
Nino Niederreiter's name has been mentioned in trade rumors as of late, but if history has shown Islanders fans anything, then it is that Garth Snow will not mortgage the future for something that he feels would be negatively impact his team's long-term success.
Decisions, Decisions
For the New York Islanders, selecting in the middle stages of the first round might be a bit of a foreign task, but Garth Snow will ultimately select the player that he feels best fits the Islanders' future.
New York's pipeline is stacked with offensive and defensive prospects alike, as well as three interesting netminders (Poulin, Nilsson, Koskinen). There are certainly a number of routes that the Islanders can take when June 30th rolls around, and the options that New York will have available to them won't be limited.
Unlike last year's draft, this year's draft will not have as many defensive selections in the first round. Seth Jones, Darnell Nurse, Rasmus Ristolainen, Nikita Zadorov, and Ryan Pulock seem to be shaping up to be the top defensemen available in this year's first round, but it is unlikely that more than one of the aforementioned defenders will be available by the time that the Islanders are ready to select. Regardless of the choice that Garth Snow makes, the addition of yet another prospect to New York's already stacked pipeline will only pad the team's internal depth.
In his third year with The Hockey Writers, Toli covers all things related to the New York Islanders. Focusing on the Islanders, the NHL Draft & draft-eligible prospect goalies, and hockey history, Toli can be contacted on Facebook by searching/messaging Toli Metter and on twitter by searching @ToliMetterTHW.