Auston "Powers" Matthews is not without contenders for the first overall slot in The Next Ones NHL Draft Rankings. But he is still on top. Two talented towering Finnish forwards are looking over each of his shoulders. Jesse Puljujarvi and Patrik Laine are now household names after their exceptional World Juniors performances.
This February Edition of the rankings highlights the Top 60 prospects for the 2016 NHL Draft. This event takes place June 24–25, 2016 at the First Niagara Center in Buffalo, New York. Each player has accompanying Prospect Profiler Notes.
Let's get right to the latest rankings. TSN's Bob McKenzie's Mid-Season compilation rankings as well as NHL Central Scouting's Midterm Rankings Combined are also included for convenience and comparative purposes.
Legend
The table display approximately 35-40 of the prospects at a time; simply scroll down to view the other prospects.
Only a portion of the table displays by default; you can scroll over to see the rest of the player demographics and Prospect Profiler Notes or select "View full-size workbook" option, which is the icon in the bottom right hand corner, to view the full table.
The 2nd column (TSN) is Bob McKenzie's Mid-Season compilation rankings
The 3rd column (NHL-CS) is players' rankings based on the combination of NHL Central Scouting Service's four separate rankings
The 4th column is Eldon MacDonald's (E-Mac) War Room Rankings Midterm Edition.
NR = player was not ranked by the respective ranking
A link to Elite Prospects statistics for most of the players is also included (click on individual player name).
The table is searchable – CTRL/Command "F" on the table brings up the search feature.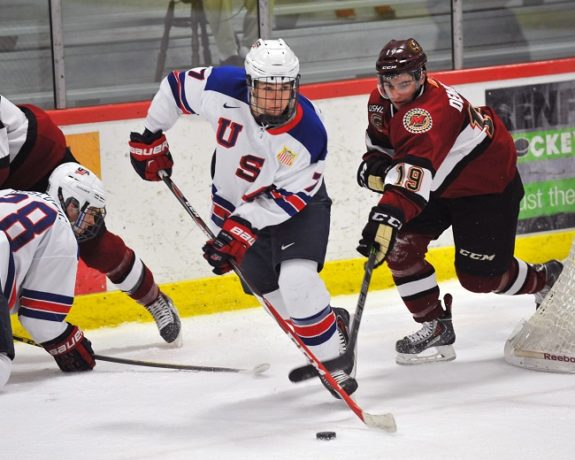 LINK to The Next Ones February Draft Rankings table/spreadsheet
_________________________________________
Chris is THW's senior draft/prospect analyst and a Managing Editor. Watch for "The Next Ones" Prospect Profile series, exclusive rankings, mock drafts, as well as the annual THW NHL Entry Draft Guide. Follow @ChrisRalphYQ on Twitter as he infiltrates, dissects and analyzes all happenings of hockey prospects and the NHL entry draft. Email: cralph[at]thehockeywriters[dot]com