The NHL Entry Draft lottery was held last night. The draft determined the order that the 14 teams that missed the playoffs would pick in at the 2012 draft on June 22-23. The headlines surrounded Edmonton plucking the first overall pick for the third straight season, but Minnesota fans should take note that the Wild will be picking seventh overall. Their position did not change as a result of the draft lottery. A strong late season showing had move Minnesota out of serious contention for a top five pick, however, the seventh pick should be a very good player. It's very rare that a team that finishes last in the league doesn't finish with the first overall pick after the NHL Entry draft lottery. There are no guarantees with the seventh overall pick either, but GM Chuck Fletcher will have a good shot at a very good player with that pick.
This is good news for a franchise that already boasts one of the NHL's better prospect groups, at least in terms of top end talent on the cusp of cracking professional level. Jason Zucker, Mikael Granlund, Charlie Coyle and Jonas Brodin are all likely to be pushing for places next fall amongst others.
Potential picks
Morgan Rielly – Rielly is considered one of the very best offensive defenseman in this draft. He was scoring at point per game pace in the WHL, before suffering an injury. With Jared Spurgeon graduating, the Wild could do with an offensive minded blue-liner taking a prominent role in their prospect list.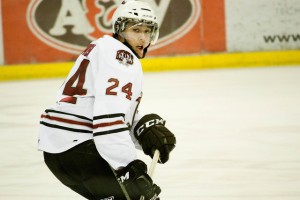 Mathew Dumba – Dumba is one of the more heavily debated players at the moment. He could be taken in the top five, or he could drop out of the top 10. There's little doubt that he is an exciting and dynamic player, but he is perhaps less of a certainty compared with other players.
Griffin Reinhart – Reinhart is a big two-way blue-liner. He has skill, physicality and size. In many ways he projects out to be a similar player to Brent Burns, a player who the Wild just couldn't replace this season.
Filip Forsberg – Forsberg is a complete player and is playing against men in Sweden at the age of just 17. A team ahead of the Wild will probably go after him before seventh overall, but there is a chance he could drop down.
Radek Faska – Few players have seen their stock rise as dramatically during the draft year as Faska. There is a good chance that he could still jump into the top 10 and it might just be Fletcher who selects him.
Nash, Suter and Parise
Three big names that could be traded/becomes unrestricted free agents this summer are Columbus' Rick Nash, Nashville's Ryan Suter and New Jersey's Zach Parise. Minnesota is a hockey town and the franchise will have cap room to spend. If the organization is serious about being a contender, then they should consider being a serious contender for these sorts of players, or at least aim to take advantage of other shuffling that takes place as a result of this movement. Any three of those players could be a good fit for Minnesota with Suter a particularly strong acquisition.