Traditionally, NHL free agency is marred by overspending on the part of desperate general managers sometimes just looking to keep up appearances, but not so much in 2015.
In fact, GMs have been relatively well-behaved to the point that it's actually the restricted free agents (Dougie Hamilton, Vladimir Tarasenko, Brandon Saad, etc.), the players who in theory should have the least amount of leverage, who are getting the biggest pay days.
Granted, that's in part due to an underwhelming unrestricted free agency market headlined by players like an arguable third-liner in now-Boston Bruins forward Matt Beleskey. However, look closer and you'll find several bargains. Here are the three best deals UFAs have signed so far this summer:
3. Antoine Vermette (Arizona Coyotes)
Despite all the bad news surrounding their deal with the city of Glendale, the Arizona Coyotes finally won at least one deal, signing forward Antoine Vermette to a two-year, $7.5 million deal. Following a somewhat impressive playoff run, during which he notched three game-winning goals—but four total—the fear was that his stock would climb exponentially.
Thankfully, logic won out and the 32-year-old forward goes back to the team with which he started last season at the exact same cap hit. With the haul they got from the Chicago Blackhawks for him at the trade deadline (Klas Dahlbeck and a first-round pick that turned out to be Nick Merkley), the Coyotes may very well be considered two-time winners here.
It may not exactly be the time to get light-headed, seeing as there's still a lot further to climb for this franchise, but it's a start.
2. Cody Hodgson (Nashville Predators)
While Cody Hodgson may not want to be Mike Ribeiro right now, he's nonetheless in the perfect position to follow in his footsteps in at least one regard: by posting a rebound season with the Nashville Predators.
The former first-round pick (2008) had just six goals (seven assists) last year before being bought out by the Buffalo Sabres. While those numbers are legitimately bad, so were the Sabres as a whole. And it's not as if the six-year, $25.5 million deal he had signed with them was a total bust. He scored 20 goals in 2013-14 with them and had a very respectable 34 points in 48 games in 2013.
Now, having signed a one-year, $1.05 million contract with Nashville, the pressure may be on him to perform to earn a richer paycheque next time around. But, with Ribeiro having scored 62 points this past season on the very same redemption deal with the team, anything's possible… Apparently even finding a rebuilding team willing to give up on 25-year-old who can play center or wing, with still plenty of upside remaining.
1. Justin Williams (Washington Capitals)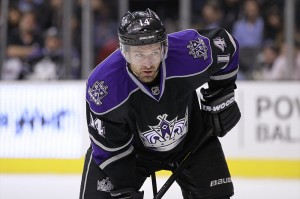 Unlike Hodgson, new Washington Capitals forward Justin William's best years are undeniably behind him. But his two-year, $3.25 million per year deal is so great, that it really doesn't matter.
He'll be 34 next October and hasn't scored over 60 points since 2006-07. He's nevertheless still relatively fresh off his 25-point Conn Smythe Trophy-winning performance from the 2014 Stanley Cup Playoffs. For a team with a history of collapsing when leading 3-1 in series, a player nicknamed Mr. Game 7 is worth having in your back pocket.
It's a great fit, but much more so when you consider he's making less than teammate Brooks Laich (who has never even scored 60 points). Even if Williams turns out to be a bust, it won't at all handcuff Washington management, however unlikely that is with him now potentially playing with Alexander Ovechkin.