It's a busy time in the National Hockey League. On the heels of the draft weekend in Philadelphia, the league went right into its free agency period. This week has seen several players signing new contracts and joining new teams. Even in Raleigh the free-agency wave is flooding the news. Maybe not flooding. The Carolina Hurricanes made moves that could best be described as a ripple.
They acquired (C) Brad Malone from the Colorado Avalanche, in a two-year deal that will pay him $600,000 in 2014-15 season and $700,000 in 2015-16. General Manager Ron Francis lauded Malone as big, strong and versatile, saying "He can play either center or wing and helps improve our team's depth up front."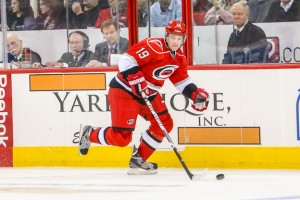 With pen in hand,
Francis proceeded to sign restricted free agent, Jiri Tlusty to a 1-year, $2.95 million contract. Since being a Toronto Maple Leaf 1st round draft pick in 2006, Tlusty has amassed 73 goals and 142 points in 344 games. In perspective, last season's point total of 30 slotted him at 236th overall in the NHL. Is it me or does nearly $3 million for one year's work seem a bit stout for number 236 in points?
The ripple of activity continued as the 'Canes signed Toronto goaltender Drew MacIntyre to a one-year, two-way contract. He played 2 games for the Leafs last season and spent most of his time with the Toronto (AHL) Marlies. His goals-against average was 2.53 for both.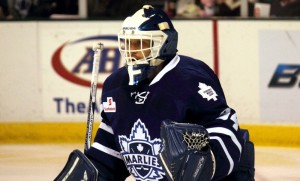 Francis says he brings "veteran depth" in net. The Hurricanes appear content to move forward with Anton Khudobin and Cam Ward between the pipes. Francis affirmed their decision to keep Ward saying, "We still believe in Cam Ward."
More Free Agency Wave News Rippled From Raleigh
yesterday that the 'Canes picked up former Toronto Maple
Leafs center Jay McClement, in a one-year $1 million deal.  Having let Manny Malhotra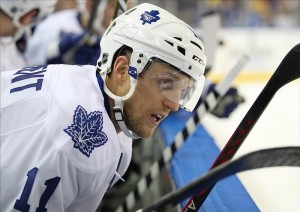 leave for Montreal a few days ago, the move for McClement is clearly to replace the face-off void that Manny leaves.  McClement has averaged +50% in face-off wins for the Leafs.
To none's surprise, Zach Boychuk was signed to yet another one-year, two-way contract.  I like Zach a lot, and hope that this season will see him finally break into a full-time role in the NHL.
Speaking of players I like, the Hurricanes finally parted ways with (G) Justin Peters.   He kept the team from imploding completely last season when Ward and Khudobin were out, and frankly I don't think he's ever gotten the credit he deserves. I hope he will be able to realize his potential in Washington.
Today the wave (ripple) of activity
rose to a new level as Ron Francis announced that the team has brought back (D) Tim Gleason.  He will earn $1.2 million in a 1-year contract.  Fans here like Tim – a friend texted me this morning saying, "Tim is a gritty player."  Gleason will no doubt be a big part of what Coach Peters will be instilling in the team as toughness on defense. The question here is will Gleason be able to stay out of the penalty box.
An additional signing happened upstairs in Raleigh's PNC arena. Former Atlanta Thrashers president, Don Woodall was announced as the Hurricanes' new president. According to team owner, Peter Karmanos, Jr., Woodall will focus on the business side of team, and "growing revenue." Waddell was president of the Thrashers from 1998-2010, during which they made the NHL playoffs one time. Recently he was with the Pittsburgh Penguins as professional scout. He is well respected around the NHL and looks to help Gale Force Sports & Entertainment – parent company of both the Carolina Hurricanes and the PNC Arena – improve the revenue stream and bottom line.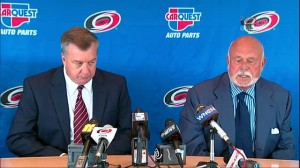 While Karmanos called the free-agency period one of the hockey's "desperate days" as teams try to see how much they can spend. He has never been one to go after big name hockey stars regardless of the price tag, and it does not appear he is about to change now.  He is convinced that the pieces are already in place to get into the playoffs with just a little tweaking. The fans in Carolina may not agree, but are willing to see if the new President Woodall, GM Francis, Coach Peters triumvirate will be the right formula for Hurricanes hockey in June. If not, the ripple of fan patience may turn into a wave of discontent.
How many ripples does it take to make a wave anyway? It may be a while before we know in Carolina.