Two goaltenders highlight this weekend's THW's Goalie News. Semyon Varlamov played in his 500th career NHL game, while the Dallas Stars scratched Anton Khudobin for the game against the Chicago Blackhawks. Additionally, the Edmonton Oilers get some much-needed help between the pipes.
Semyon Varlamov's 500th NHL Game
Varlamov played in his 500th career game against the Pittsburgh Penguins on Saturday. The New York Islanders beat their division rivals 4-3, as Varlamov stopped 28 of the 31 shots he faced. The veteran became the third goaltender to make his 500th career regular-season appearance while playing for the Islanders. He also became the 76th goaltender to reach the mark and the 14th active goalie to do so. 
Varlamov is in the second season of his four-year, $20 million contract with the Islanders. In his first season with the club, he posted a .914 save percentage (SV%) and a 2.62 goals against average (GAA) in 45 games. The 32-year-old is now in his 13th NHL season.
He broke into the league in the 2008-09 season with the Washington Capitals. The Capitals drafted the goaltender with the 23rd overall pick in the 2006 NHL Draft, and he stayed with the club for three seasons. Varlamov was traded to the Colorado Avalanche in 2011, where he spent eight seasons. Over those eight seasons, he struggled to maintain a consistent level of play. The 2013-14 season was his best to date, as he posted a career-high 41 wins and a .927 GAA. The Russian also finished fourth in Hart Memorial voting and second Vezina Trophy voting that season. 
Additionally, Varlamov has four playoff appearances, with his recent one being his best. Last season, he started in 19 games for the Islanders and posted an 11-7 record. The netminder posted a postseason career-best 2.14 GAA and a .921 SV% during the run. The Islanders' run ended in the Eastern Conference Final against the eventual Stanley Cup winners, the Tampa Bay Lightning. Varlamov improved his career playoff record to 24-20 and now has a .917 SV% and a 2.38 GAA in the postseason. 
Varlamov has had an impressive career through 500 games. Although he has been around for some time, the goaltender has struggled to find consistency. As an Islander, he has found some consistency, which is noticeable through his performance in the 2019-20 season, 2020 playoffs and the start of this season. The Russian has started with a career-best 2.14 GAA through seven games this season while posting a record of 4-2-1. 
Khudobin Scratched
Stars' goaltender Khudobin was scratched for Sunday's 2-1 overtime loss against the Blackhawks due to team discipline. Head coach Rick Bowness noted the goaltender could sit out more games for breaking team rules. 
"We're a family and we'll deal with things internally. But you deal with things by communicating and making your feelings known on what is and what isn't acceptable. I have very few rules, but you [darn] well better follow them."

Bowness said about Khudobin being a scratch for Sunday's game.
The Stars started the 2020-21 season a few weeks late due to positive COVID tests. After a hot 4-0 start to their season, they have lost four of their last five games. Khudobin has started in six of their nine games this season and has posted a 3-2-1 record with a 2.51 GAA and a .908 SV%. The goaltender missing games is not ideal for the club, as he is off to a slow start this season and needs to improve rapidly with such a short schedule. Khudobin's performance in the team's Stanley Cup Final run proved how valuable he is to the club as he started in 24 games, winning 14 of them while posting a 2.63 GAA and a .919 SV%. 
With Ben Bishop set to return in March, Khudobin will carry the load for the first half of the season. Having to sit out of a game for breaking team rules could affect the club's season as Khudobin getting into regular-season form will take longer than it should. 
Oilers' Goaltending Help
The Oilers activated veteran Mike Smith from the team's long-term injured reserve (LTIR). The move resulted in the club loaning Stuart Skinner to their AHL team, the Bakersfield Condors.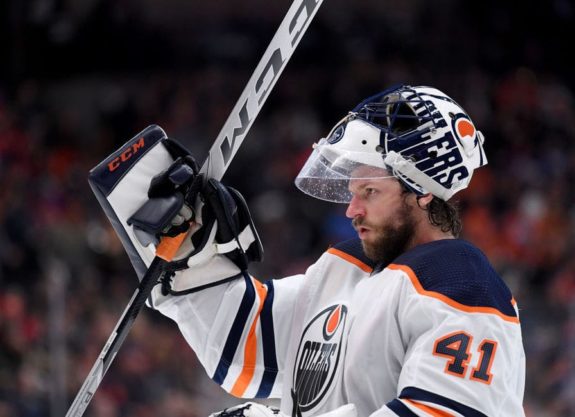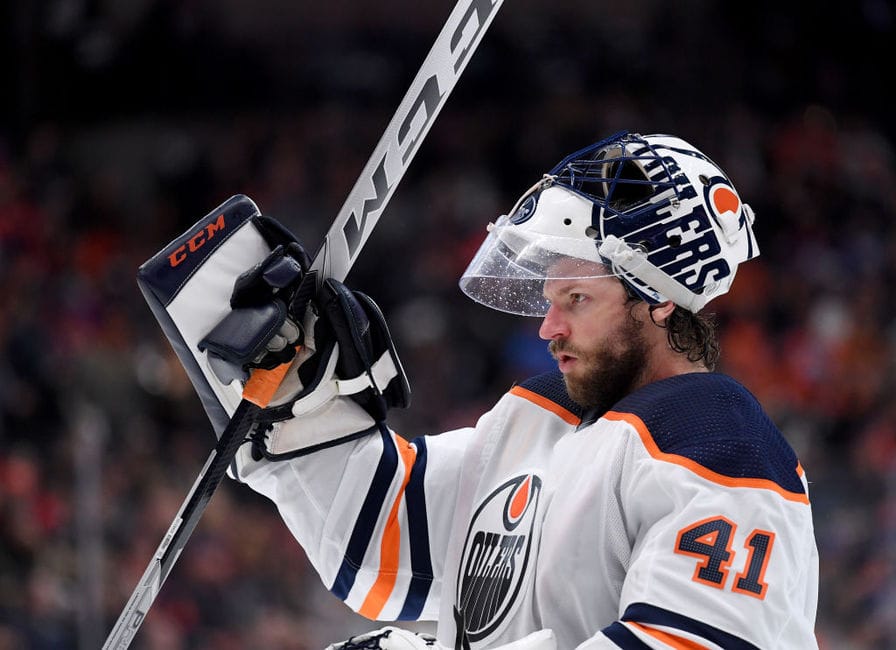 Smith's return is a welcome sight for the Oilers as Mikko Koskinen has started 12 of their 13 games this season. Koskinen has had a tough start to the season as he has posted a 3.55 GAA and a .889 SV%. Through their 13 games, the club has a 6-7-0 record, but the 38-year-old goaltender's return should provide some balance in net. 
Skinner is only 22 years old and has played one NHL game, so his inexperience has led head coach Dave Tippett to rely heavily on Koskinen. With a short 56 game schedule having two starting goaltenders is a necessity for a successful regular season, and the Oilers should be on track to being a winning team unless Smith struggles.