Dear NHL Lockout Diary,
Today is Day 7 of the NHL lockout. The past few days have been ugly for fans that still hold out hope for a resolution soon. Sadly, I no longer consider myself one of those people. In the past week, Stanley C. Panther was let go by Florida, the NHL cancelled all preseason games through September 30th, and a Detroit Red Wings employee referred to the players as cattle (for which Detroit was fined).
On top of it all, the NHL and NHLPA have not met to negotiate in approximately 10 days now. Though they are finally meeting on Monday to discuss Hockey Related Revenue from last season, it's clear that both sides are nowhere close to an agreement.
With all of the depressing news surrounding the NHL and CBA, what is a hockey fan to do? My twitter feed has been filled with OHL and WHL tweets lately, but I do not live anywhere near one of those franchises and I want to see familiar players. Some younger players have been sent to the AHL, but their season does not start for a few weeks. There is a ray of hope though for an immediate hockey fix – European leagues (more specifically in my case, the KHL).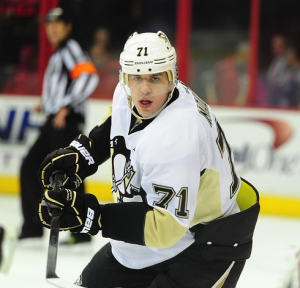 Many of the NHL's top stars have fled to European leagues such as the KHL. Some even left just hours after the lockout began. The list is quite impressive actually: Evgeni Malkin, Sergei Gonchar, Ilya Kovalchuk, and Pavel Datsyuk amongst others. As a Pittsburgh Penguins fan, Malkin alone is enough to draw my attention to the KHL.
So this morning, I embarked on that journey. Malkin's team, Metallurg Magnitogorsk, was set to face off against Ak Bars Kazan at 17:30 MSK (Moscow time). Moscow time is 8 hours ahead of EST, so that required a 9am wakeup call on a Saturday. The rest was dependent on the internet.
Through the use of Google Chrome and a few crafty Google searches, I found information on the KHL, Malkin's team, their opponent, and live streams of the game. Using Google Chrome as an internet browser was clutch because it has an auto-translate feature that works well for the official KHL site in Russian. Both rosters were actually littered with players I recognized from the NHL or previous drafts. Malkin and Gonchar play for Metallurg, along with Toronto Maple Leafs forward Nikolai Kulemin and former NHL players Cal O'Reilly, Oleg Tverdovsky, and Enver Lisin. Meanwhile, Ak Bars had former NHL players Aleksey Morozov and Niko Kapanen along with other prospects.
Live streaming the game on my laptop had its advantages and disadvantages. I could not understand a word the announcers were saying aside from player names. The feed was choppy and grainy at times, which hurt the quality of a sport that has benefitted so much from high definition television. Also, watching any sport on a 15 inch screen isn't exactly ideal. But on a big positive note, it was live professional hockey. The game had no commercial breaks, so it only took 2 hours to watch, and it was just as exciting as an NHL game.
At the end of regulation, the teams were tied at 1. After a 5 minute, 4 on 4 overtime, they were still tied at 1. Finally, Ak Bars won in a shootout that saw Aleksey Morozov score the winner on a beautiful backhand goal that went top shelf while Evgeni Malkin and Cal O'Reilly were stopped. I guess current NHL talent isn't always superior!
So what did I learn from this? Forget the NHL. If the NHL and NHLPA want to bicker like children, I have no power to do anything about it. However, I do have the ability to go find an alternative. Today, I found the KHL to be a worthy alternative. Others have found the OHL and WHL as alternatives. Soon, the AHL will start their season and will provide all of us with yet another option. It's time to move beyond the NHL and on to leagues that are actually playing hockey right now.
Dear NHL Lockout Diary,
I'm sorry, but I don't think I will be keeping you anymore. I just downloaded the KHL app on my iPhone and now it's time to move on.