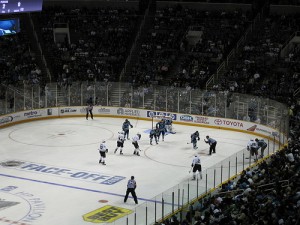 As the NHL lockout heads into its 55th day on Friday, hockey fans across the country will wake up feeling the same way that they have for the past 54 mornings – miserable, bored, and yearning for hockey to be played.
But the lockout is affecting much more than just the average hockey fan. Businesses – such as restaurants and bars – rely on NHL games for customers and profit.
Take, for example, downtown San Jose, where HP Pavilion (home of the Sharks) is located. On a typical night without hockey, there are people walking up and down the streets, but the restaurants and bars aren't necessarily filled to capacity and parking spaces are still available.
But on a night where the Sharks are playing at home, 17,562 people suddenly show up in the heart of downtown San Jose, jam-packing the parking lots, filling up the bars, and eating at the restaurants for either a pre-game meal or post-game snack.
Natalie Do is the chef of San Pedro Square Bistro and Wine, which is just a ten-minute walk away from HP Pavilion. Her husband owns the restaurant, and she says things have been tough during the lockout.
"We have been in business for 5 years and we depend greatly on the Sharks season," she said in an email. "Our business has been down about 30% from last year without the Sharks."
Here's a bit of perspective into how much the Bistro depends on hockey: their website's "about us" page lists the usual hours of operation, but has an exception for HP Pavilion events, where customers need to call-ahead.
It is after we hear stories such as Natalie's that fans, employees, and businesses alike express their frustration at the NHL's owners and players.
Somewhere in a luxury hotel in New York sit a bunch of wealthy, rich, and stubborn men who have spent the past two months bickering over money, money, and more money, while hard-working, middle-class individuals watch their businesses plummet when they should be making a good amount of profits.
So what would Natalie say to the men responsible for negotiating a new CBA? Instead of her restaurant, she says it's really the fans who deserve for the NHL season to begin.
"The people they should care about are the fans who have been supporting [the league]," she insisted. "Without the fans, there would be no NHL."
Did you hear that, Gary Bettman?