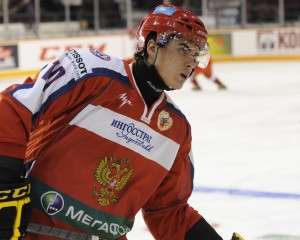 The NHL and the NHLPA have been meeting behind closed doors for the past few days. Neither side has been talking. Does this mean progress? The fact that the two sides have been talking so much over the past week certainly looks positive, but no one can be sure how far along those talks actually are. For the players waiting and working out at home, frustration may be setting in, but for the players playing in various leagues around the world, hockey life goes on. In the case of the Edmonton Oilers, many of their young guns are in the full swing of their respective seasons.
There wasn't much doubt that Nail Yakupov would have been playing in the NHL had the season started on time. But gauging how ready a youngster is to step onto the big stage isn't easy. Fortunately for Yakupov, he's getting a taste of playing with men without the pressure of the NHL spotlight. The 19 year old has been playing in Russia for the past couple of months with Neftekhimik Nizhnekamsk. He has 10 goals and four assists so far in 14 games played, and is not looking out of place at all against peers much older than he.
Yakupov is currently back in North America taking part in the Subway Super Series, something he likely would not have done if the NHL season was on. The tournament features all-star teams from around the Canadian Hockey League taking on the junior stars from Russia. Yakupov has had a strong showing, with a goal and two assists so far through three games, something that hasn't gone unnoticed among the Oilers brass.
"What impresses me most is we're seeing a young player with high expectations illustrating that he has those expectations of himself and has been playing like he has something to prove," said general manager Steve Tambellini. "He's shown he's not intimidated playing against men and that he's not intimidated by having been chosen to wear the 'C' by the Russians for this series in Canada. It's exciting to see him take the challenge. I don't see any fear of his own game. And he looks a heck of a lot stronger physically than maybe we projected for him this year, going against men." (Edmonton Sun)
Meanwhile, over in the American Hockey League, newly signed free agent defenseman Justin Schultz is showing that he is everything the Oilers thought he would be when they went hard after him this past summer. Schultz has six goals and 15 points in his first 10 pro games, stats that lead the entire AHL. It's been remarkable to see him adjust so well, and perhaps the lockout was a blessing in disguise for Schultz. Like Yakupov, he's been able to play and grow without so much pressure on his shoulders. Schultz has not looked out of place at all, and the experience is only going to serve him well going forward in his career.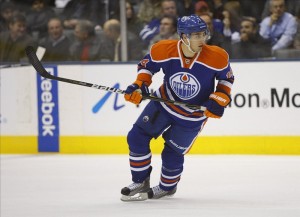 His teammate Jordan Eberle is also having a strong AHL campaign. He has six goals and 11 points so far, and is showing continued development. Eberle is enjoying his time in Oklahoma City, and has no regrets over not going to Europe to play.
"If I had the choice between here and Europe, I know a lot of guys in Europe would rather be here," Eberle told Sporting News. "It's a North American style game, not the international game. I've played over there (with Team Canada) and it's way different. We have a lot of guys here that are going to be in the NHL, so if you can have us all together, it gives us that extra energy as we're building our team. We still have a lot of work to be done." (Sporting News)
Unfortunately, it's not all sunshine in Oiler land, as the trouble over the teams new arena deal continues. Owner Daryl Katz is being investigated for donations he made to the Progressive Conservative political party back in the Spring, and it looks to possibly impact the deal going forward. From the Edmonton Journal:
"It is impossible to imagine how the provincial government could conceivably fund the troubled arena deal now that we know how much money Katz contributed to the Progressive Conservatives during last spring's election campaign. Even if no rules were broken, what are we supposed to make of a huge donation by a billionaire to a governing party he hoped would kick in upwards of $100 million to one of his business ventures?"
Yes, apparently things have gotten worse for the Oilers in this situation, but the outcome and consequences have yet to be determined. Stay tuned.