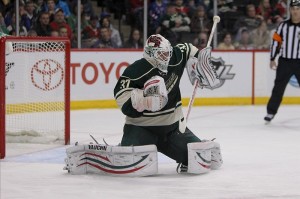 With the frequency, amount and length of negotiations between the NHL and the NHLPA in the past few days, there has been a slight hope kindled in the hearts of hockey fans that a season may be salvaged from the wreck of the lockout. Not only may the NHL season be saved, but your fantasy season may be saved as well. That's right, remember the team you drafted a month and a half ago that you forgot about? It's time to give it some serious consideration.
Many casual hockey or fantasy hockey fans choose to draft a lot of players from their favorite team. There's nothing wrong with that, that is, unless you drafted the entire Blue Jackets roster last season. However, I bring glad tidings to Wild fans; you can draft a few players from your favorite team AND win your fantasy hockey league. Without further ado, I give you the top ten Wild or Aeros players that should be on your radar this season.
#10. Cal Clutterbuck – Cal is a guy that should be on the radar of every team owner in 12+ team leagues. He contributes well in goals, PIMs and hits and makes a great late round pick/free agent pickup. In a shortened season, expect about 12 goals, 8 assists, 80 PIMS and over 200 hits.
#9. Jared Spurgeon – Why is a young 5'9" defenseman on my list? You can be sure the New York Islanders are asking why that same young blue-liner isn't on their team. Spurgeon, a five year WHL veteran, was drafted 156th overall by the Isles in 2008 but the team opted not to sign him. As such, Wild GM Chuck Fletcher invited him to attend Minnesota's 2010-11 training camp and later signed him to a three-year entry level contract.
In his 123 career NHL games since then, Jared has potted seven goals (four on the power play) and chipped in 28 assists for 35 points and a -5 plus-minus rating. This may not sound like much until you realize that Spurgeon led Minnesota's young defensive corps in scoring last year with three goals and 20 assists for 23 points, a -4 plus-minus rating and six PIMS in 70 games. Not only has that bumped him to #60 in the NHL.com list of the top 60 Fantasy Hockey Defensemen, but it has also boosted Coach Yeo's trust in him to the point that Spurgeon is expected to play on the top pairing with newly acquired Ryan Suter. Be afraid, be very afraid. Playing alongside Suter in a shortened season, expect Spurgeon to score around 30 points, more power play production, a positive plus-minus rating and over 70 blocked shots.
#8. Devin Setoguchi – "Seto" was a relative disappointment to Wild fans last season scoring just 19 goals and 17 assists for 36 points and a -17 rating in 69 games. However, the residents of the State of Hockey need to realize how hard it is for a young guy who has spent his entire career in one place to make the transition to a different team, style of game and hockey culture. Plus, chemistry with linemates isn't built in a day; it takes a while for a unit to gel.
This season, Devin will be playing with Finnish sensation and #1 Wild prospect Mikael Granlund as his center, and most likely either Pierre-Marc Bouchard or Matt Cullen on the opposite wing. Cullen shoots the puck, but he's not considered a deadly sniper by any means. Expect Setoguchi to be the favorite finisher of both Granlund and Bouchard. With two playmaking wizards on his line, it would be easy for him to pot 30+ goals, 20+ assists and 50+ points even in a shortened season.
#7. Mikael Granlund – Considered by some to be one of, if not the best, hockey players in the entire world to have yet to play in the NHL, Granlund has yet to disappoint Aeros fans thus far this season. The AHL rookie leads the team in scoring with 12 points (four goals, eight assists) and a +5 rating in eight games and is showing great chemistry with linemates Charlie Coyle (seven goals, two assists) and Jason Zucker (three goals, three assists). One can't help but wonder if Aeros fans are getting a glimpse at the future Minnesota Wild top line.
Mikael will likely start his first NHL season, whenever it starts, as Minnesota's second line center, completing a down-right lethal top six of Parise, Koivu, Heatley, Setoguchi and either Bouchard or Cullen. Whether you drafted Granlund or picked him up in free agency, either move is brilliant. Don't be surprised to see Granlund post at least 15 goals and 30+ assists with a positive plus-minus rating in a shortened season.
#6. Josh Harding – Drafted in the 2nd round of the 2002 draft, Harding was advertised as the franchise goalie of the future for the Wild. However, a rough injury history and the sudden emergence of Niklas Backstrom put his future as Minnesota's #1 on hold. No longer; Backstrom is on his way out and Harding is ready to take the reins.
After losing the entire 2010-11 season to injury, Harding came back in a big way in 2011-12, posting a very respectable 13-12-4 record with two shutouts, a 2.62 GAA and a .917 SV%. Harding was especially dominant early in the season and it was his exceptional play, along with that of Backstrom, which truly kept the Wild in first place in the NHL for so long. I firmly believe that Yeo will give Josh more time in the net this season so he can prove his worth. Expect 15-20 wins, a couple of shutouts and a 2.20 GAA and .920 SV%.
#5. Niklas Backstrom – Backstrom was once one of the most dominant goaltenders in the entire NHL, but no longer. While he still will post quite respectable numbers every season, his play has lessened considerably since Jaques Lemaire. This is due to a number of reasons such as change in coaching style and his increasingly frequent injuries. Long story short, Backstrom has a $6 Million per year salary that many fans, including myself, feel he isn't earning.
Whether the lockout ends or not, he will still burn up this final year of his contract. It's up to him to earn another and the only way he can do that is to prove to Chuck Fletcher and Mike Yeo that they need him. With Josh Harding—who is just now in his goaltending prime—signed to a new three-year contract and a talented trio of prospects waiting in the wings, that's going to be a hard sell. If nothing else, Nik needs to prove to any other potential employer that he still has what it takes to be a dominant NHL netminder. Don't be surprised to see him post 20 wins, 4 shutouts and a respectable 2.30 GAA and .920 SV%.
#4. Ryan Suter – Minnesota hasn't had a true power play quarterback since the departure of Brent Burns to San Jose. While some would argue that Suter's production has been due to the play of Weber, the same argument could be made the other way. The 7th overall pick in the 2003 NHL Entry Draft (and 9th best fantasy defenseman according to NHL .com) brings a whole arsenal of weapons and experience that is much needed on the young Wild blueline. Suter will also be heavily counted upon to man the power play point, which he is more than capable of doing. A Suter and Spurgeon top pairing brings a lot of hockey I.Q. to the ice that opposing forward will find tricky to overcome. I feel it would be fair to expect 10 goals, 20+ assists, a positive plus-minus rating and 100 blocked shots in a shortened season.
#3. Dany Heatley – The 2nd overall pick in the 2000 NHL Entry Draft is obviously a little past his prime—but not by much. The transition from San Jose to Minnesota didn't rattle Heatley nearly as much as it did Setoguchi, but that's mainly because "Heater" has been through it a few times before. Dany was one of just three Wild players that played all 82 games last season. Even though he was battling through an injury, Heatley still managed to lead the Wild in scoring with 24 goals (eight on the power play) and 29 assists for 53 points, a +2 rating and 28 PIMs. During that span, his linemates ranged from Koivu and Setoguchi to Brodziak and Warren Peters as player after player fell to the injury bug. Heatley was nothing if not consistent and I fully expect him to be the same this year—even if he is another year older.
This season, Heatley is healthy and will be playing on one of the most dangerous lines in the NHL with playmaking specialist Mikko Koivu and another lethal goal scorer in Zach Parise. Don't be surprised to see Heatley post 30+ goals, 30+ assists and a +10 rating in a 60-64 game season. He may never score 50 goals again, but he's still more than capable of 30-40.
#2. Mikko Koivu – Whoever says that the Minnesota Wild isn't Koivu's team has no idea what they're talking about. Mikko is unarguably the heart and soul of this team and it's a completely different animal with him in the lineup. Even though he missed a lot of time due to injuries last season, Koivu still posted 12 goals and 32 assists for 44 points and an impressive +10 rating in 55 games.
This season, Fletcher and Yeo have infused a lethal combination of elite talent, youth and toughness that will only help boost Koivu's production. Forever Minnesota's undisputed top line center, Koivu will be dishing plenty of beautiful, highlight-reel assists to both Parise and Heatley for a long time. If he can score 22 goals and 49 assists for 71 points with Andrew Brunette and Antti Miettinen on his wings, you can be sure he will do as good or better with the major upgrade in talent his line has received. In a shortened season, expect 15 goals, 40+ assists and plenty of face-off wins from the Wild's captain.
#1. Zach Parise – Parise is an elite talent that Wild fans have long coveted and haven't had since Gaborik left. Signed during the offseason to a 13-year $98 Million contract, Parise is here to stay and Wild fans couldn't be more thrilled. In 502 career NHL games, the son of former Minnesota North Stars player J.P. Parise has posted 194 goals (51 on the man advantage) and 216 assists for 410 points and a +57 rating. Last season, Zach also captained the New Jersey Devils to within two wins of the Stanley Cup and brings much needed postseason experience to a playoff-starved hockey team and fan base. A perennial 30-40 goal scorer, don't be surprised to see Parise score at around a point-per-game pace, especially while skating with such talented linemates as Heatley and Koivu.
Honorable Mention: Pierre-Marc Bouchard (always deadly, always injured), Marco Scandella (developing quite well into a legitimate top-four NHL defenseman), Tom Gilbert (will provide some scoring, can make a good first pass up the ice, good guy to pair with Scandella), Kyle Brodziak (one of the best third line centers in the NHL), Charlie Coyle (one of the most important pieces of this franchise's future), Matthew Hackett (will get some good time up in Minnesota at some point during the season), Jason Zucker (very speedy scorer who fits in and excels wherever he's needed) and Nate Prosser (led Minnesota in blocked shots with 124 and posted 12 points last season).