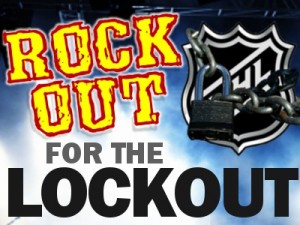 With the NHL lockout firmly in place and both sides entrenched for what may be a long, drawn out battle, we're taking this opportunity to explore the musical side of the National Hockey League. Each week, we'll see what happens when hockey and music collide.
Join us as we Rock Out for the Lockout.
---
Dave "The Hammer" Schultz – "The Penalty Box"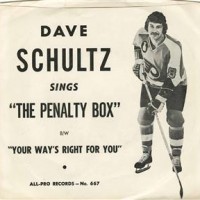 Dave "The Hammer" Schultz wasn't exactly known for his scoring prowess.   While he piled up the points in juniors, averaging a point-per-game with the Swift Current Broncos, he brought his fists to the forefront after being drafted by the Flyers.  In parts of three seasons in the EHL and AHL, he averaged a classy 377 penalty minutes per season, spending an average of over five minutes per game in the penalty box.
When he made it to the big show in Philadelphia, he found the seats in the sin bin at the Spectrum to be equally comfortable, increasing his penalty minutes total in each of his first three seasons there.  In 1975, he set an NHL-record 472 minutes in penalties.
All that time in the box gave him time to think.  Little did anyone know he was thinking about cutting a record.
In case you're wondering, our beloved Broad Street Bully did not pen the lyrics to this toe-tapping ditty.   Those came from a man with considerably softer hands and much more experience – lyricist Kal Mann.   You may be familiar with some of Mann's other works, as he wrote the lyrics to Chubby Checker's "Let's Twist Again" and Elvis Presley's "(Let Me Be Your) Teddy Bear."
How about that musical arrangement?  Nope, shockingly, that wasn't Schultz either.   That fell to the capable hands of legendary vibraphone player Vince Montana, who would later go on to help define that disco-era 'Philly sound' as founder of the Salsoul Orchestra.  Montana also worked with artists like Johnny Mathis, Harold Melvin and the Blue Notes, The O' Jays, The Spinners, The Stylistics, and The Tramps – best known for their hit "Disco Inferno."   A talented bunch for sure, but  none who'd ever strapped on a pair skates and dropped the gloves with Tim Horton.
The most unnerving part of this whole musical journey for The Hammer: there was a B-side.  He also recorded the track "Your Way's Right For You."  It's out there somewhere…
If that musical interlude left a bad taste in your mouth (knowing Dave, it'd be the taste of blood and broken teeth), let us cleanse your palate with some of The Hammer's prouder, less embarrassing moments:
Rocking the Leafs' Dave Dunn and his wacky egg-shaped lid:
Throwing down with the Blackhawks' Keith Magnuson:
Josh is a life-long hockey fan. He grew up as a fan of the New York Rangers, but thanks to their general mismanagement and years of mediocrity, has developed a great appreciation for every team across the league.
He's been writing about hockey on various sites since 1995. In addition to his work at The Hockey Writers, he also keeps tabs on the referees over at ScoutingTheRefs.com.