For a second, forget that Peter Laviolette and Darryl Sutter are "coaching" at this weekend's NHL All-Star Game in Columbus. In fact, you probably didn't know that to begin with. You probably didn't care. And if you're an avid hockey fan, you probably don't care to know who's on the ice during the game either. Fans hardly care about the game itself, and players care less, as evidenced by the amount of no-shows this year due to "injury," with Sidney Crosby, the NHL's poster boy, skipping the event despite playing over 20 minutes in his team's final game before the break.
It's all about the recognition. Crosby, like others that have backed out, is an all-star. We know this. We don't need to watch him pretend to have fun all weekend with the likes of Phil Kessel and Zemgus Girgensons to know this.
But not everyone gets the recognition they deserve during All-Star Weekend. Sure, coaches are selected based on performance – sort of. But what about owners, general managers, assistant coaches, scouts, equipment managers? OK, maybe not equipment managers, though I hear the Leafs' Brian Papineau can fill the heck out of a water bottle.
Imagine how much fun tonight's fantasy draft would be if it involved management as well? Terry Pegula (owner of the Buffalo Sabres), whose net worth is more than $3 billion, giving a familiar Phil Kessel smirk when chosen last and walking up to accept his brand new Toyota Corolla would be TV gold.
So, without further ado, here's the NHL's "Executive" All-Stars at the midway point of the season.
Owners – Ed Snider (PHI) and Darryl Katz (EDM)
Obviously, this has nothing to do with overall team success. A good owner is typically one you don't hear about too often, one who stays lurking in the background, allowing those with proper knowledge to make decisions while acting as an ATM, of sorts.
The All-Star game is about entertainment, however, and there are no owners more entertaining than Ed Snider (Philadelphia Flyers) and Darryl Katz (Edmonton Oilers).
The always-opinionated Snider sent out his annual wake-up call to the Flyers a little ahead of schedule this season, blasting the team's lack of secondary scoring on Dec. 1 to Sam Carchidi of the Inquirer. The 82-year-old's feisty spirit, but lack of follow-through, represents the Flyers organization quite perfectly. Never change, Ed.
Red Wings' owner Mike Illitch probably deserves mention, but, because of the Red Wings' two-decade string of success, he has had less opportunity to provide moments of hilarity. Darryl Katz, on the other hand, has had an abundance of opportunity. Nothing was funnier than when Katz issued an open letter to Oilers fans a year ago, asking them to exercise patience in the team's DECADE-long rebuild. At least, that was true until the start of the 2014-15 season, which has been nothing short of a disaster for the Oilers. Katz may be the most stubborn owner in the league, opting to keep both Craig MacTavish and Kevin Lowe close by. One thing's for certain – he's a great friend.
General Manager – Garth Snow (NYI) and David Poile (NSH)
Despite the fact that Garth Snow's name is mentioned, this is actually the part where the recipients are based on good work, not hilarity factor. The Islanders currently hold one of the best winning percentages in the league, and are behind only the Lightning and Predators in points. A lot of that can easily be attributed to a decade of poor results and high draft picks, but Snow has actually played a big part in bringing this year's Islander team to the top of the NHL.
Snow took advantage of the cap situation for both the Boston Bruins and Chicago Blackhawks, shoring up his defense with the addition of Johnny Boychuk and Nick Leddy, who have essentially been rock stars for the Islanders, combining for 43 points and a plus-31 rating. Boychuk is one point away from a career high, while Leddy is 10 points away from setting his career-best mark.
He also brought in former Leafs Mikhail Grabovski and Nikolai Kulemin for forward depth and penalty-kill help. Unfortunately, the Islanders penalty-kill percentage is actually down from last season, but the team has a league-leading eight goals while down a man, three of which have been scored by Kulemin. This season has almost been good enough to make you forget Snow gave now-retired goaltender Rick DiPietro a 15-year contract – except for the fact that DiPietro, now a radio personality, can sometimes be seen breaking down Islander games in-between periods, when he's not rolling around in a bed of cash, one assumes.
If any general manager can be characterized as consistent, it's Nashville's David Poile. For years, Poile has assembled playoff teams out of mere pennies compared to the rest of the league, but this year, brought in sniper James Neal from Pittsburgh, who has meshed well with the team's top center … Mike Ribeiro?
Paying a small price for the unwanted free agent Riberio, in fact, has been Poile's smartest move to date, though even he recently admitted the oft-troubled pivot wasn't even on his radar in the off-season. Poile told Sportsnet's Luke Fox that it was Riberio and his agent who came to him, seeking out a deal and convincing him. Sometimes you have to be lucky to be good, and vice versa, and Poile has been good for a decade-plus.
Coach – Paul Maurice (WPG) and Mike Babcock (DET)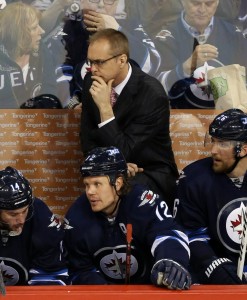 Yes, Darryl Sutter and Peter Laviolette will be coaching the two all-star teams this weekend, but they're not the most deserving. Laviolette, you can easily make a case for, and he has certainly been among the top coaches in the league this year. The Predators success has been, in large part, due to the more offensive system he has in place, along with the strong play of goaltender and Vezina candidate Pekka Rinne. You could make a case for at least 10 different coaches this season, but doing more with less is often what separates a good coach from a great one, and there's no way you can ignore what Paul Maurice and Mike Babcock have done with the Winnipeg Jets and Detroit Red Wings, respectively.
Since Claude Noel was fired, Paul Maurice has offered a more player-friendly approach with the Winnipeg Jets and it's paying off. Like Laviolette in Nashville, Maurice is aided by strong goaltending from surprise standout Michael Hutchinson, but there's no denying he has been a difference maker for the Jets. The players seem looser under Maurice and the fact that the team boasts the best road record in the league (14-5-5) supports that. It's a strange stat for the Jets, a team that typically is known for its raucous home crowd support. The Jets are 7-2-1 in their last 10, and have won five in a row, while holding down a playoff spot. He recently received his 500th career NHL win.
For the past two or three seasons, the Detroit Red Wings were expected to experience a lull – maybe they'll finally miss the playoffs, many thought. That hasn't happened. And it won't this year. The Wings are 27-11-9 this season as Babcock continues to get production out of aging superstars Henrik Zetterberg and Pavel Datsyuk. He has also utilized emerging stars Gustav Nyquist and Tomas Tatar in a tremendous fashion, giving them the ice time and line mates to match their skill. His team owns the second-best power-play unit in the league, along with the sixth-best penalty-kill unit.
Babcock's coaching resume is the best in the NHL right now; of course, all of that will change after he spends a year-and-a-half coaching the Leafs before checking himself into an asylum.
Asst. Coach – Kirk Muller (STL) and Tony Granato (DET)
Comparatively, it's almost unfair to quantify the work of the league's assistant coaches. Most of the time, we forget they're even there; however, believe it or not, they typically have more duties than placing a hand on a players shoulder after he screws up on the ice.
The Carolina Hurricanes power-play was abysmal under former head coach Kirk Muller, so it's somewhat of a surprise that Muller, now an assistant coach in St. Louis, has the Blues' power-play atop the league rankings at 25.5 per cent. Of course, there are more weapons to work with in St. Louis, but Muller has been receiving a tone of credit for his work with both power-play units. Just ask T.J Oshie.
"I'm sure it helps that we are doing well but (Muller) is not afraid of mistakes," Oshie told Andrew Allsman of HockeysSTL. "He lets us make plays and understands that mistakes happen. When they do, he tells us good try and keep it going. When you have that kind of positivity and trust from coaches, as a player it gives you the confidence to go in and make the plays you need to make."
Another first-year assistant coach, Granato has been working with the Wings' penalty-kill unit and, with the help of speedy forwards Darren Helm, Justin Abdelkader and others, the Wings' penalty-killing percentage has been in the top-10 all season. He has been a great complement to Babcock, bringing with him a solid resume that includes an assistant gig on the Penguins staff and a head coach position in Colorado.
Dir. Of Amateur Scouting – Joe McDonnell (Dallas/Detroit) and Mark Yanetti (LA)
It takes years to truly evaluate the work of amateur scouts, and, because of the success of both the Wings and Kings organizations, particularly in building a strong program through player development, it should be no surprise to see the names of Joe McDonnell and Mark Yanetti.
The work laid by team's amateur scouts perhaps has more impact than any other position in an organization, and McDonnell and Yanetti's resume speaks for itself.
Though McDonnell is now in Dallas, leaving the Wings along with Jim Nill in 2013, he headed the Wings scouting department since early 2000 and is partly responsible for mid-to-late round gems like Darren Helm, Tomas Tatar and Gustav Nyquist.
Yanetti, meanwhile, has helped complement a strong Kings core with good value picks like Tanner Pearson, Tyler Toffoli, Alec Martinez and Dwight King.