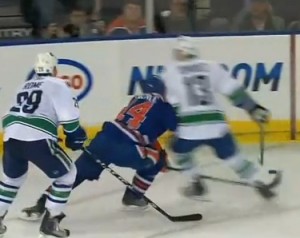 Phoenix Coyotes left wing Raffi Torres has been suspended by the NHL for two games for his hit on defenseman Nate Prosser of the Minnesota Wild. Torres not only left his feet on the play, but directly targeted the head of Prosser as well, making what VP of player safety and head disciplinarian Brendan Shanahan called "significant contact with Prosser's head."
This comes just one game after he elbowed Colorado Avalanche defenseman Jan Hejda in the head with a blatantly late hit. Torres was fined the NHL maximum $2,500 just a few hours before the game against Minnesota, a punishment that clearly did nothing to deter Torres, a player with a well-known reputation as a late and dangerous hitter, from from targeting another player's head. The fine represented just a quarter of one percent of Torres' $1 million salary this season.
It's no secret concussions are a major concern for the league. So why is the maximum penalty set so low? There was hardy any difference between Torres' hit on Hejda and Prosser. Both were deliberate attacks on an opponent's head with little, if any, regard for their safety. With the two-game suspension, Torres will now forfeit $42,682.93, but he should have lost a lot more a lot sooner.
Take a look at the National Football League. They have recognized for years the need to take headshots out of the game and they do not hesitate to implement serious fines when the occasion calls for it. In week 13 of this season, Houston Texans defensive end Antonio Smith was fined $15,000 for hitting Atlanta Falcons quarterback Matt Ryan in the head. In week 15, Dallas Cowboys rookie fullback Shaun Chapas was fined $20,000 for a blindside hit on linebacker Reggie Walker of the Arizona Cardinas. That was Chapas' first game on the Cowboys official roster and he made $22,000 that week. The NFL took nearly all of it.
Those penalties make the $2,500 fine by the NHL look like a joke. It really makes it hard to believe there is any major concern for the safety of the players. It is impossible to argue the NFL, a sport with just as many hard collisions as hockey, isn't taking the headshot issue seriously. But somehow, in hockey, it is deemed as just part of the game.
There is an argument that players know the risks of the game when they hit the ice and that is true to a certain point. Guys like Detroit's Tomas Holmstrom know they are going to be hit with the puck standing in front of the net trying to screen the goalie. Shot blockers like Dan Girardi of the New York Rangers knows the risk every time he puts his body in front of an opposing player's shot. Every forward in the league knows how dangerous it is to be cutting across the middle when Niklas Kronwall is on the prowl. Hockey is a fast game and injuries are going to happen.
However, no player should ever have to worry about a flagrant hit to the head, a check from behind or any sort of cheapshot. If you hit someone in the head in real life, it's an assault. But for whatever reason, it is deemed an acceptable part of hockey regardless of the repercussions of the hit. Thanks to hits to the head, intentional or not, the NHL is at risk of losing Sidney Crosby, its marquee player and the best talent to come around in years. Before him it was Eric Lindros and Pat Lafontaine and a host of other players. These aren't fringe players, they're superstars and little has been done to protect them.
Torres' actions prove the maximum fine means absolutely nothing. Heck, he could theoretically get the maximum fine every game of the season and still keep  just under 80% of his salary. If the NHL really wants to show it is serious about protecting the players, the same players that generate all of the revenue for the league and are the reason fans to pay ridiculous prices for tickets, they need to to be serious about their punishments. It's time to really hit the players where it hurts. Their wallets.