The World Junior Hockey Championship medal rounds are underway and Mikael Granlund is just one of six Minnesota prospects at the tournament. While other Minnesota prospects such as Charlie Coyle and Jason Zucker have had strong showings for the U.S team, Granlund leads the group with 11 points in 5 games played. Jonas Brodin, Johan Larsson, and Johan Gustafsson are also Minnesota prospects that are making their mark for the Swedish team at the WJC.
Here's a better look at the six players and what they are contributing to their respective teams: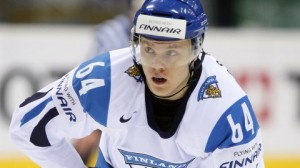 1.) Mikael Granlund (1st Round, 10th Overall Pick at 2010 NHL Entry Draft):
Mikael Granlund is leading the charge for Minnesota prospects at the WJC and is adding quite an offensive element to a Finnish team that is steadily making their mark at this year's tournament. As previously mentioned, Granlund has 11 points (2 Goals, 9 Assists) so far and is enjoying playing for his country as well as with his younger brother Markus and Detroit Red Wing's prospect Teemu Pulkkinen. While Granlund is putting up more than 2 points per game at the WJC, he has shown improvement playing for HIFK Helsinki of the SM-liiga. Being chosen 10th overall at the 2010 Entry Draft has shown that Minnesota has placed high stock on the Finnish center and that management obviously has a knack for choosing some special Finns not named Mikko Koivu.
Granlund's spectacular play continued at the WJC in Finland's most recent match against Slovakia. Even though younger brother Markus Granlund lit the lamp twice against Slovakia, Mikael added a goal and three assists (2 Assists on Markus' goals) in the 8-5 Finnish victory. There's a reason why Minnesota sees such upside in Granlund and the World Junior Hockey Championship is just the platform to prove one's NHL readiness and abilities. While the center is showcasing his offensive prowess, he was also dubbed the captain of the Finnish team, a mark that Granlund has taken pride in.
Head Coach Raimo Helminen of the Finnish Team at the WJC had this to say about Granlund:
"He's really good … he takes care of the team and is a big boy," the coach said. "He and Markus play the same kind of hockey. I don't know them really well, but I can tell you he's a big brother, for sure."
Granlund is proving his worth at the WJC much like Marco Scandella did in the 2010 tournament. While Scandella did not win the gold medal in his opportunity, Granlund is giving Team Finland a legitimate chance to win gold this year at the WJC. While the WJC can illustrate how ready a certain prospect is for NHL play, the tournament can also prepare prospects for the professional level as the environment at such events is particularly pressure packed. After an 8-1 drubbing at the hands of Team Canada, Granlund has been at the forefront of Team Finland's success as the team has won 4 straight games since their tournament opening loss.
Granlund's performance at the WJC has his stock trending upwards and has fans alike wondering what kind of impact he could make at the NHL level. Minnesota's top line center, Mikko Koivu, has already proven himself to be a talented play-maker and clutch scorer. Granlund's presence could surely bolster the Wild's lineup and it will be interesting to see how quickly the Finn is promoted to the professional level. The Finnish center has delivered with outstanding play for his team at the WJC, but Granlund has also proven that 3 years of play in the SM-liiga have prepared him for a very promising NHL career. The question isn't whether Granlund has NHL-ready skill sets. Moreover, it's a question of when Granlund will don the Minnesota sweater full-time?
2.) Charlie Coyle (1st Round, 28th Overall Draft Pick at 2010 NHL Entry Draft by San Jose Sharks):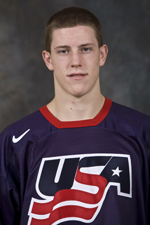 Charlie Coyle was acquired in an offseason trade that sent defenseman Brent Burns and a second round selection to the San Jose Sharks. In the late months of 2011, Coyle announced that he was leaving Boston University and would sign with the St. John Sea Dogs of the QMJHL. While the American forward will see action with the Sea Dogs after the WJC, he made his presence felt as he scored a hat trick in America's 11-3 pounding of Denmark. Even though the American team failed to qualify for medal play, Coyle showcased his talents for the second year in a row at the WJC.
All in all, Coyle has totaled 5 points (4 Goals, 1 Assist) in 4 games thus far at the WJC. He managed to get on the score-sheet in losses to Canada and Finland, but ultimately had his medal hopes derailed as Team USA can finish no higher than seventh place. While Charlie Coyle wasn't named the captain of Team USA at the 2012 World Junior Championships, he demonstrated his maturity in the post-game conference of Team USA's 11-3 win over Denmark. The center was quick to give credit to his teammates for setting him up on the three scoring plays and made it apparent that he felt privileged to play with such talented teammates (Brandon Saad, Jason Zucker) while having a chance to represent his country.
Even though some might have questioned Coyle's character after he left Boston University, the 6'2″ center wanted to focus on hockey full-time. How can you judge a kid that wants to dedicate himself to a sport that he obviously loves? Better yet, you can make a judgment call yourself after seeing Coyle's post-game interview (and scoring highlights) below:
3.) Jason Zucker (2nd Round, 59th Overall Draft Pick at 2010 NHL Entry Draft):
The 5'11" left winger out of Las Vegas, Nevada has put on quite an impressive performance at the WJC tournament this year. Much like Charlie Coyle, the 174 pound winger showcased his talents in an 11-3 Team USA win over Team Denmark. Zucker was tabbed as the captain for Team USA at this year's WJC and promptly came out firing against Team Denmark as he tallied a goal and two assists in his team's opening match. While Zucker is heralded for his speed and shooting abilities, he possesses strong leadership qualities that any NHL team would love to have.
After a disheartening loss to Team Czech Republic, Zucker was available to the media and expressed his feelings  about facing Team Canada in a New Year's Eve match-up:
"There is no guarantee, you can't guarantee a win in this tournament, but we're going to come out and play like we're going to win and that's what I was saying," Zucker said. "We're going to give it everything we have and, in our mind, we're going to win this game."
Once again, which NHL team would not want a player that says all the right things after a loss and does not lose focus on the ultimate goal?
While Zucker's desires did not come true, Team USA played an inspired third period in a 3-2 loss to Team Canada. Zucker and fellow line-mate Charlie Coyle both scored in the loss to Canada, but it was too little too late for a USA team that allowed Team Canada to storm out of the gates to a 3-0 first period lead. Even though the Wild seem to be stocked at the center position for the near future, the team could use a versatile winger such as Zucker who is regarded as a good fit for a scoring or checking line. Zucker's chance at a gold medal might have fleeted at this year's WJC, but the speedy left winger is on target for a bright career in the NHL.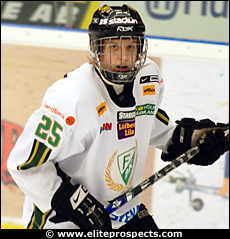 4.) Jonas Brodin (1st Round, 10th Overall Draft Pick at 2011 NHL Entry Draft):
The 6'1″ native of Karlstad, Sweden is one of three Minnesota Wild prospects playing for Team Sweden at the WJC. The 166 pound defenseman is also making his mark in this year's tournament as he has registered 4 points (all assists) in 4 games played for Team Sweden. Brodin has also racked up the penalty minutes (14) at the WJC, but don't be fooled, he is an extremely intelligent hockey player. The only knocks on Brodin are his weight and ability to shoot the puck. However, this year's WJC has become the perfect outlet for Brodin to prove his detractors wrong.
Even though Brodin has tallied at a point per game pace at this year's WJC, he might take a bit longer to develop (as most defensive prospects do) an NHL ready skill set. Yes, Brodin does have some mass to fill out as he gets older, but he is an interesting prospect nonetheless. While Brodin has only tallied 5 assists for his international team (Farjestads BK), his +5 rating (2nd best on his team) suggests that he is doing his job as a defenseman. Given that Brodin has a propensity for dishing out the puck to his teammates, steady improvement on his shot could see him transform into a top defenseman and lethal power-play quarterback.
The off-season trade of Brent Burns to the Sharks saw Minnesota lose their power-play quarterback, but a replacement is on the way in the form of Jonas Brodin. The soft-spoken Swede will make his presence felt through his play on the ice, but is still a little while away from being a finished product. With that being said, Brodin has already signed a three year entry level contract with the Minnesota Wild ($2.75 Million U.S) and fans should be excited to see the Swedish d-man making his mark in the NHL in the near future.
5.) Johan Larsson (2nd Round, 56th Overall Draft Pick at 2010 NHL Entry Draft):
Larsson is another quality Minnesota prospect playing in his second WJC tour. The 5'10" native of Lau, Sweden weighs in at 200 pounds and has made himself known in the tournament by posting 5 assists for Team Sweden. Larsson makes it 3 Minnesota prospects that have been named captains of their respective country's teams at the WJC. More importantly, surveys of his teammates indicated that Larsson was voted as the most important and best player on the team.
While Larsson is another Minnesota prospect scoring at a point per game pace at the WJC, he is constantly praised for his all-around game as a hockey player. Larsson was only held pointless in one of Team Sweden's games thus far and the Swede is widely considered to be a difference-maker that can lead by example. Even though he has drawn comparisons to Sammy Pahlsson, it will be interesting to see what kind of player Larsson will develop into. Playing for Brynas of the SEL, Larsson has been given top minutes for a forward and he has not failed to deliver, scoring 23 points in 31 games. Larsson's -6 rating might indicate to some that he is a defensive liability, but the forward's big frame will enable him to be a force with the puck as well as defending against those who try to get past the hulking Swede.
6.) Johan Gustafsson (6th Round, 159th Overall Draft Pick at 2010 NHL Entry Draft):
The last of three Swedish Minnesota Wild prospects at this year's WJC is goalie Johan Gustafsson. Gustafsson has put up unfavorable numbers (3.21 GAA, .848 Save Percentage) at the WJC despite being unbeaten at 3-0-0. However, Gustafsson has stood tall when needed, especially in a 4-3 win over Team Russia that saw Team Sweden fall behind 3-0 before making a spectacular comeback against a potent Russian team. Gustafsson also earned a 4-3 shootout victory against Team Switzerland and has kept his team in all of the games that he has started at the WJC.
Despite playing poorly against Latvia (4 goals against, only 9 saves) in a 9-4 victory, Gustafsson is still an interesting prospect as he is 8th in the SEL in Save Percentage and 4th in terms of Goals Against Average. Gustafsson possesses good technical skills and moves around really well for a big goaltender (6'2″, 202 lbs.), but it is yet to be seen what route Minnesota will take in his development as Niklas Backstrom, Josh Harding, and Matt Hackett have shown that they are more than capable of manning the Minnesota crease. While Gustafsson's performance in Team Sweden's 9-4 victory over Team Latvia might have cast some doubt on the big goalie, Gustafsson has performed admirably in other pressure packed contests at the WJC.
So what does all of this mean for Minnesota?
This year's WJC has illustrated that the Minnesota Wild have a bright future and have stock invested in the right prospects. Charlie Coyle and Jason Zucker headlined Team USA's abilities at the WJC, but it will be interesting to see the development of Coyle's QMJHL teammate Zack Phillips. Phillips was left off of Team Canada's WJC roster this year, but the center is putting up amazing numbers (19 Goals, 35 Assists, +30 rating) with the St. John Sea Dogs in 32 games.
Prospects such as Mikael Granlund should have no trouble fitting into a Minnesota team that currently has two Finns (Niklas Backstrom, Mikko Koivu) already playing big time minutes for the club. On the other hand, the leadership abilities of Zucker, Larsson, and Granlund will be a huge benefit to the Minnesota Wild as they will possess young players who have already been thrust into leadership roles while representing their respective countries in a huge tournament.
Players such as Jonas Brodin and Johan Gustafsson seem to be flourishing on an international level, but it is yet to be seen what dimensions they will bring to the NHL and the Wild in the near future. This much is for certain, the Minnesota Wild have a farm system full of young, exciting, and extremely talented hockey players. While some players might take longer than others to develop, the Minnesota Wild have prepared themselves for the upcoming years by investing in young talent that might be able to help the franchise hoist Lord Stanley's Cup in St. Paul.