Christmas is over and we have all heard the song of Rudolph basically on repeat about the overlooked reindeer that ended up being just what Santa needed.
Well on a team where he is in the shadows of greats such as Henrik Zetterberg and Pavel Datsyuk it is Valtteri Filppula whom often even overlooked by fans and media alike for teammates such as Johan Franzen, Tomas Holmstrom and Dan Cleary.
He is not part of the elder bunch with those listed above but is not part of the young gun group with Darren Helm (24), Justin Abdelkader (24) or Corey Emmerton (23).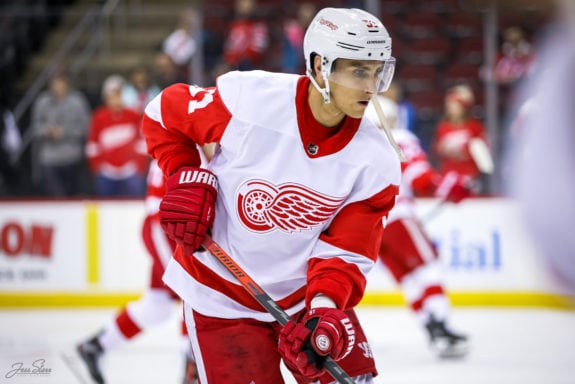 Even asking fellow staff members here at The Hockey Writers to name the first five Red Wings that comes to mind and only two named Filppula while all of them named captain Nicklas Lidstrom all before his apperance in the Honda ad yesterday.
Lookin' at the Stats
Filppula however is third on the Red Wings points chat with 30 points (12 goals, 18 assist) in 37 games. Only Pavel Datsyuk (39 points) and Johan Franzen (32 points) have more – they have also each played one more game.
With only 57 shots Filppula is ninth on the team in shots taken; however, he leads the Red Wings with his shooting percentage of 21.1 while Jiri Hudler is in second with 16.7% Johan Franzen is third with 15.2 while Datsyuk is ninth on the team in shooting percentage with 11.4%
Not many would put Tomas Holmstom in their top five for shooting percentage; but the front of the net pest notched a 12.5 shooting percentage and 15 points this season before getting injured.
It is nothing new for the Buffalo Sabres to cause a scrum after a hit on one of their players especially recently with the hits goaltender Ryan Miller; but does anyone remember when Filppula hit then Sabre Clarke MacArther and the scrum that started? No?
Guess it is a good thing we have the video…
Heading into the 2010 Winter Olympics in Vancouver Filppula was one of the Team Finland players featured in a Nike ad that ran in Finland:
The Finnish Olympic team went on to win bronze behind Canada and the US in both Mens and Womens ice hockey; and may have just been the start of Filppula's breaking out.
Before the Olympics Filppula was already being compared to teammate Pavel Datsyuk whenever he would pull off a Dastukian deke; but that comparison should not come as too much of a surprise as one of the greatest Russians to ever play the game has been mentoring the young Finn for years.
The future is still bright for Filppula and maybe being semi in the shadows of his teammates is a blessing in disguise as he is not the main target for opponents when preparing to play the Red Wings.
Filppula may not be playing in any NHL All-Star Game soon but heck http://www.wingingitinmotown.com/2011/11/14/2561642/vote-for-jimmy-howard> neither is Jimmy Howard.
An avid hockey lover that grew up in Michigan and lived in the Washington D.C. area while going school for Sports Management. Volunteer with the American Special Hockey Association (ASHA); and follows as much SM-liiga and Elitserien as possible along with the vast array of North American leagues.