Habs fans can walk themselves back from the edge of rooftops and close all the tabs they've opened full of conspiracy theories about Carey Price's health. The Hart-winning goaltender is back on the ice.
Price missed the start of the season with what the team called a "severe" case of the flu. He's not quite ready to get back in the lineup, but he's skating again and that's a good sign in his recovery from illness. The team has not yet said when he's expected to be well enough to be in the lineup for a game.
Evidence pic.twitter.com/kbOq9NvMJp

— Аrpon Basu (@ArponBasu) October 17, 2016
If Price isn't in the lineup for the home opener Tuesday, that means that the soonest he's back would be Thursday's contest against the visiting Arizona Coyotes.
RIP General Fanager
It was announced Monday evening that the as of yet unnamed Las Vegas NHL franchise has hired Tom Poraszka as an operations analyst. That name might not be familiar to most, but his work is certainly familiar to scores. Poraszka is the man behind the salary website General Fanager.
In light of the hiring, the site has gone the way of the dodo. It was an indispensable resource for all things salary and CBA related and it was too beautiful to live. It joins the likes of Extra Skater and War On Ice as sites that were absolutely essential for fans. In fact, they became so essential that NHL teams bought the minds behind them and the sites were taken from us.
In a post on the site Monday, Poraszka announced that the site is no more:
"General Fanager is shutting down.
It is with sadness that we close the doors to this incredibly fun passion project. We launched General Fanager in May of 2015. Along the way, we have come to serve and get to know an incredible base of users that we will greatly miss.
For anyone that ever helped with the site, from those that pitched in on busy days, to those that reported site errors, or helped track down details, or those that promoted our work, or just simply those that routinely typed generalfanager.com into their address bar: Thank you."
Thank you, Tom.
If you're worried you'll never see a salary cap breakdown again, don't forget that Cap Friendly is still out there and it is also excellent.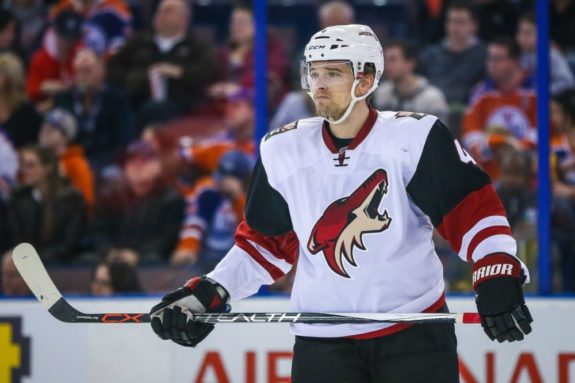 Zbynek Michalek Sent to AHL
The Arizona Coyotes announced Monday that they have assigned veteran defenseman Zbynek Michalek to the Tuscon Roadrunners of the AHL.
The team waived the 33-year-old defender before the start of the season, allowing them to send him down at moment's notice. In the final year of a deal with a $3.2 million cap hit, Michalek was scratched for the team's season opener and doesn't have a clear spot to slide into on a team whose defensive depth was bolstered over the summer.
This side of injuries, Michalek will have a tough time passing newcomers like Alex Goligoski, Luke Schenn and Jamie McBain, as well as rookie Jakob Chychrun, who is looking to make a home for himself in the NHL.
Highest Paid KHL Players Revealed
It's often a bit of a mystery. The KHL doesn't publicly disclose player salaries, so the kind of knowledge about salaries that is commonplace now in the NHL comes in fragments in Russia. It was a subject of interest over the summer when Alexander Radulov reportedly turned down a $7 million offer to become the KHL's highest paid player in favor of coming to Montreal on a $5.75 million deal.
A recently published list from SportFakt.ru reveals the salaries of the 30 highest-paid KHLers.
The list is topped by four former NHLers, three of which play for SKA St. Petersburg, Ilya Kovalchuk ($5.5 million U.S.), Pavel Datsyuk ($4.5 million), Slava Voynov ($4.5 million) and Vladimir Sobotka ($3 million). Take a look at the full list here.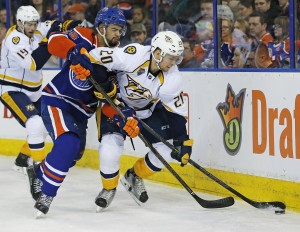 Predators Lose Two
The Predators are going to lose both Anthony Bitetto and Miikka Salomaki for six-to-eight weeks, according to the team.
Bitetto was bloodied on opening night after getting into a fight with Chicago's Jordin Tootoo. His injury is officially being called an upper-body injury.
Salomaki's injury is also upper-body, but his is a little easier to discern. He took a Brian Campbell slapshot to the hand in a game against Chicago over the weekend. Salomaki left the ice and did not return.
In Salomaki's absence, the team has practiced with Cody Bass, Colton Sissons and Calle Jarnkrok as the team's fourth-line unit.
Jonas Gustavsson Won't Dress
Edmonton Oilers backup goaltender Jonas Gustavsson will not be dressing for the team's Tuesday contest against the Carolina Hurricanes, according to Jim Matheson.
Gustavsson took to the net Sunday after Cam Talbot gave up some ugly goals to the Buffalo Sabres. But Gustavsson was removed from the game by NHL concussion spotters after a collision with defenseman Adam Larsson.
The Oilers have recalled Laurent Brossoit from the AHL's Bakersfield Condors. They have not yet said whether or not Talbot will get the start on Tuesday.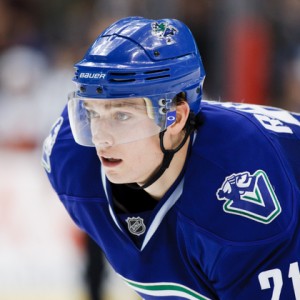 Mason Raymond Hits Waivers
The Anaheim Ducks have waived veteran forward Mason Raymond. The 31-year-old winger was bought out of his three-year deal with the Flames over the summer. That deal carried an AAV of $3.15 million.
The Ducks inked Raymond to a one-year deal with a $675,000 value, giving him the chance to prove himself after having been bought out. He hasn't yet made an impact on the Ducks in his short tenure there. In three games this season he has no points and three shots. In only one of those three games did new head coach Randy Carlyle put Raymond on the ice for more than 8:33.
If Raymond is not claimed by another NHL team in the next 24 hours, the Ducks will be allowed to send him to the AHL.
No Hearing for Virtanen
As noted this morning, young Vancouver winger Jake Virtanen was at the center of a bit of controversy after a dirty play in Sunday's contest against Carolina.
Virtanen will not be getting a call from the Department of Player Safety, an NHL official confirmed to Pro Hockey Talk.
Givani Smith Gets ELC
On the morning of the final home opener at Detroit's Joe Louis Arena, 6-foot-2 2016 second-round draft pick Givani Smith got an entry-level deal from the Wings.
Smith had an impressive summer with the Wings, looking solid at the Traverse City Prospects Tournament and turning some heads during camp. He's currently back playing with the Guelph Storm of the OHL, where he's tallied two goals and five points in the season's first seven games.
Last year in Guelph, Smith put up 23 goals and 42 points in 65 games.
UPDATE: The #RedWings today signed RW Givani Smith to a three-year entry-level contract. pic.twitter.com/tiBdqF6hsi

— Detroit Red Wings (@DetroitRedWings) October 17, 2016
Odds and Ends
– Dear god, make it stop.
A junior hockey team in Ontario will wear these Harambe themed jerseys on Wednesday (via Sin Bin Hockey) pic.twitter.com/BFeWVNMWBS

— NHL on NBC Sports (@NHLonNBCSports) October 17, 2016
Dustin Nelson is the News Editor for The Hockey Writers. He's a contributor to Hockey Prospectus, Hockey Wilderness, and writes a column for Rotowire. He's also written for Gone Puck Wild, Wild Xtra, InDigest, Electric Literature, The Rumpus, Tiny Mix Tapes, Prefix Magazine & other publications. Have a tip? Email him at dlukenelson[at]gmail[dot]com.