Mika Zibanejad was acquired by the New York Rangers for Derick Brassard this past offseason, and after just a few games he's paying dividends for the club. He's been playing mostly on a line with Chris Kreider and Pavel Buchnevich where he's been solid. Not only has he shown an ability to put the puck on the net, but he's also shown off terrific passing and solid defensive form. This consistent play has been a crucial aspect of the Rangers' strong start to the season and it's also allowing him to transition to this new city.
Wheeling and Dealing
One of the best parts of Zibanejad's game is his ability to move the puck to his linemates after drawing defenders to him. This is an important aspect of any center's game, but Zibanejad does it with incredible grace and it's allowed his linemates to play with more space in front of them.
A big part of Kreider's early success (six points in three games) can be attributed to Zibanejad doing a great job of opening up some space and moving the puck into soft areas so that the big American winger can play to his strengths. Zibanejad just seems to have eyes in the back of his head, one pass that displays all of his gifts came in the first game of the season against the New York Islanders when the centerman peels out of the corner and finds Brady Skjei at the point.

Zibanejad's Versatility
Zibanejad has been one of the Rangers' best defensive forwards, to start the season he's done a great job of getting back to help his defense, whether it be by bothering puck carriers or just playing his coverages tight. Through three games he has three takeaways, leads the team in draws taken with 72 and is a whopping 63.9% on those face-offs.

Right now it's critical that Zibanejad is the catalyst for the Rangers behind Derek Stepan. With him playing so well, he's given New York a balanced attack; that isn't asking too much of younger players like Buchnevich, Jimmy Vesey and Kevin Hayes. This versatility is something that the Rangers lacked with Brassard in past years. As good as Brassard was, he wasn't the kind of player that could kill penalties and play that heavy, but slick style. Thus far having a second two-way center behind Dereck Stepan has helped New York play with more consistent flow to their game.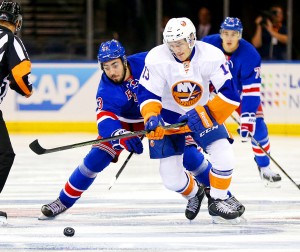 My Take
This was a terrific trade for the Rangers; Brassard was excellent for New York, but the team needed another two-way type player down the center to not overextend Hayes and thus far, it's paid off. Right now the chemistry between Kreider and Zibanejad is undeniable,and that's great news not just for the Rangers but for Zibanejad as well. Replacing Brassard was never going to be easy, as the player was well liked by both teammates and fans, so coming in and having some success has a way of helping to ease the transition.
When I look at his future with the club I see a 23-year-old who's an RFA after this season; New York should be able to get him locked up at a reasonable price with some term. This combination should give the Rangers some piece of mind, as they know that they have some security down the center and can focus on other parts of building their team. Which is important, as the Rangers attempt to retool on the fly.