Tuesday has twelve games on the NHL schedule and lots of ways you can create a fantasy team. There don't seem to be any games that show a clear winner as the undefeated teams are all playing each other and the teams who haven't fared well so far in the NHL season aren't playing power-houses.
Yesterday's Results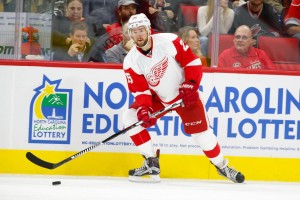 I had a strong day yesterday with a team of players, all of whom contributed. The lone exception was Martin Jones out of San Jose who got chewed up for five goals against the Rangers. I did note that the Rangers had 74 shots in two games and they kept up that trend with 27 shots against the Sharks. Jones was a risk and it didn't pay off. I still came out ahead and my big winner was Mike Green who had a hat trick against the Senators.
Related: Fantasy Daily Cheat Sheet: Oct. 17, 2016
Tonight's Games
Anaheim at New Jersey
Colorado at Washington
San Jose at New York Islanders
Arizona at Ottawa
Florida at Tampa Bay
Pittsburgh at Montreal
Dallas at Nashville
Los Angeles at Minnesota
Philadelphia at Chicago
Buffalo at Calgary
Carolina at Edmonton
St. Louis at Vancouver
Centers
Paul Stastny ($4900)
You'll see below I also chose Connor McDavid who is a higher priced center, so my best bet is to take a bargain center who has value, offers a higher FPPG (fantasy points per game) and is coming off a strong performance. That center is Paul Stastny. While St. Louis is on the road, they are also well rested and Stastny notched a goal and assist against the Rangers in his last game.
In three games played, Stastny has six points and so far, the Blues are the team to beat in the NHL. He's easily a value selection at this price and seems to be a safe bet. He's currently centering the top line and playing on the first power-play unit, so expect him to continue producing offense at a steady rate.
Connor McDavid ($8500)
McDavid's point streak was snapped against the Sabres and he only had one shot on net. For McDavid, he's not going to like his lack of contribution and should bounce back with a strong game against the Hurricanes who haven't yet won a game. Even worse, McDavid is caught up in a media storm that surrounded the Oilers decision to move a mandated day off and practice thanks to such a poor performance against Buffalo. I have a feeling McDavid plans to put this controversy in the rear view mirror with a strong game on Tuesday.
I would say take McDavid because of the first time that I can remember, he looks angry and I would hate to play against McDavid when he's angry.
Wingers
Kyle Okposo ($6100)
Okposo made his return to the NHL on Sunday against the Oilers and helped the Sabres light up McDavid and company to the tune of a 6-2 loss. In that game, Okposo skated on the first line with Ryan O'Reilly and the two had some good chemistry. Okposo had a goal and an assist in that game and on Tuesday is playing against a Calgary team who has allowed a lot of shots on net.
Okposo managed 21 goals in his final season with the Islanders and came to Buffalo as a sought-after free agent. He could be a very productive fantasy player in Buffalo and might be worth taking. He should continue to see top-line minutes and top power-play time.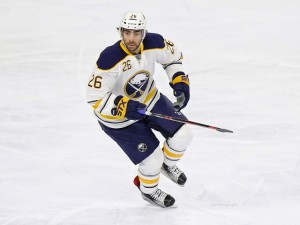 Matt Moulson ($3500)
Moulson has goals in each of his two games this season. Both were power play goals and he's had seven shots on net in those same two contests. At this bargain price, if Moulson and the Sabres bring the same work ethic into Calgary that they did into Edmonton, Moulson should outperform his price tag and he'll allow you to take some higher priced fantasy players at the same time.
Defensemen
Brent Burns ($7900)
Burns is simply on fire. He was already providing steady numbers before Monday's game against the Rangers, but in a 7-4 loss, Burns was one of the better Sharks with two goals, an assist and seven shots on net. He leads the league in points for defensemen with six points in three games and is second in the NHL in shots with 17.
He's averaging over 23 minutes per game and while he's not the cheapest defenseman, he's probably the best bang for your buck as a fantasy selection. This is the same player who scored 75 points last season. He's showing this wasn't a fluke.
Goaltender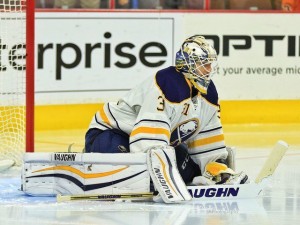 Chad Johnson ($7600)
Calgary's starter Brian Elliott has not been good. As a result, Chad Johnson got the start against the Canucks on October 15th. Not only did he play better than Elliott, Johnson is competing for a job and will likely continue to impress if given the opportunity. He made 30 saves in an overtime loss and Calgary is trying to get their first win of the season. He's a less expensive option at goal so he should be a good pickup.
---
Complete Fantasy Hockey Coverage From THW
---
Value Pick
Daniel Winnik ($2800)
Winnick is a steal at this price and has two goals on the season so far.  He scored both goals against the Islanders on October 15th but don't expect that he'll have another two-goal game He's a depth player, so he may provide some points with a shot or two on net or a blocked shot. If you're looking for a player who might provide a point or two farther down your lineup, so far, Winnik has showed he can outperform his price tag.