The Tampa Bay Lightning will honor Vincent Lecavalier when the team plays the Florida Panthers on Tuesday.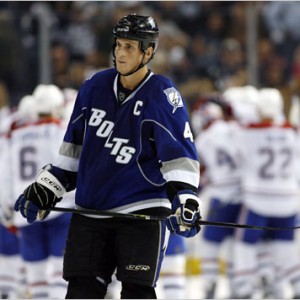 It's a fitting way for the organization to honor Lecavalier's 14-year career with the Lightning — one in which he grew up as an NHL star alongside the Lightning and would become a Stanley Cup champion.
It's a welcome home for the former Lightning captain who hails from Ile Bizard, Quebec, but has always considered Tampa, Florida, to be his second home. Lecavalier retired earlier this offseason and has since returned to live in the area.
Lecavalier's Lightning career is often remembered for what he did on the ice, but his philanthropic efforts in the community are what transcended his status from merely being a star athlete to becoming an endearing personality in Tampa.
It's what makes Tuesday night such a special moment for the franchise.
Vinik's Focus on Remembering the Past
The decision to honor Lecavalier is the latest in a series of steps the organization has taken to honor its history since Jeff Vinik purchased the Lightning on Feb. 5, 2010.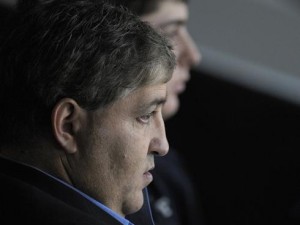 Since that time, former players like Dave Andreychuk and Jassen Cullimore have returned to work with the team, a statue of Lightning founder and Hall of Famer Phil Esposito has been erected out in front of Amalie Arena and a statue of Andreychuk holding the Cup overhead, welcomes fans to Thunder Alley — the concourse of the arena where festivities take place before games. The Lightning have also brought back former general manager Jay Feaster — the engineer of the team's 2004 Stanley Cup team — as the Executive Director of Community Hockey Development.
Most recently, the organization announced it will retire former Lightning captain Martin St. Louis' No. 26 on Jan. 13, 2017 — the first number retirement in team history. It's a way for the organization to honor one of the franchise's most important players while putting the end of his time in Tampa in the past.
It's reasonable to believe it's only a matter of time before Lecavalier's No. 4 will take its place beside it.
Lecavalier: The Hockey Player
Lecavalier was drafted by the Lightning first overall in the 1998 NHL Entry Draft and arrived to an organization that looked far different than it does today. On the ice, the team lost 55 games the previous season and were in the midst of what would be six straight seasons without making the playoffs. Off the ice, the team was the subject of rampant relocation rumors and financial concerns and had been purchased by Art L. Williams, Jr., shortly before the draft.
Growing Pains
Lecavalier's transition to the NHL during his rookie season in 1998-99 was impacted by the team's on- and off-ice struggles. He registered just 28 points in 82 games while his former junior teammate (and fellow 1998 draft pick), Brad Richards, returned to the Rimouski Oceanic where he was a dominant offensive force.
Lecavalier was forced to grow up quickly but experienced growing pains along the way. After being named captain in 2000-01, he was stripped of the "C" and struggled offensively with 37 points in 76 games. He bounced back in 2002-03 with career highs across the board offensively (33-45-78). The Lightning would go on to advance to the second round of the playoffs for the first time in franchise history.
Coming of Age
The 2003-04 season was when Lecavalier and the Lightning made the leap into the NHL's elite together. Lecavalier registered 66 points in 80 regular-season games before the Lightning made the team's historic playoff run that ended with the 2004 Stanley Cup.
Lecavalier's goal between his legs with 17 seconds left in Game 3 of the second round against the Montreal Canadiens helped set up the Lightning for an overtime win and sent them to a 3-0 lead in the series. In Game 3 of the 2004 Stanley Cup Final, he fought Calgary Flames captain Jarome Iginla in a battle that reflected the emotions of both superstars currently embattled in a series that was tied at one game a piece. It was these sorts of moments that helped secure his legacy on the ice with the Lightning.
Continued Success and End of an Era
Lecavalier would go on to play eight more seasons with the Lightning, including winning the Rocket Richard trophy in 2006-07 and serving as captain again from 2008 to 2013. He was a leader with the club, but injuries slowed his productivity and his contract was bought out on June 27, 2013, in a money saving move for salary cap purposes. It was the end of an era in Tampa and not the way that Lecavalier or the Lightning wanted his time to come to a close.
Lecavalier: The Philanthropist
Lecavalier grew up living near Montreal and idolized Canadiens' legend Jean Believeau — a Hall of Famer who was well-known for his charitable efforts off of the ice. Lecavalier wore No. 4  during most of his Lightning career and carried himself like Believeau off of the ice.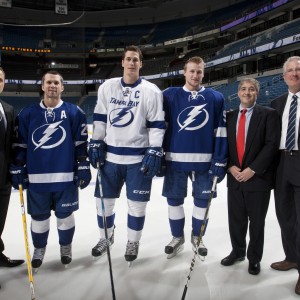 In 2003, he established The Vincent Lecavalier Foundation to focus on the support of youth programs and serving chronically ill children and their families. He would make visits to cancer-ridden young hospital patients and hosted numerous events to raise money for charitable causes.
In 2007, he pledged $3 million to All Children's Hospital to establish The Vincent Lecavalier Pediatric Cancer and Blood Disorders Center.
Lecavalier did it to give back to the community and help those in need.
"This city, this community accepted me, and I felt I should pay them back. I owed it to them," Lecavalier said just hours after his contract was bought out, according to the Tampa Bay Times' Tom Jones. "I didn't know what. I didn't know how. But I knew I needed to do something. And then I learned more about kids with cancer, and I knew I needed to do something."
Lecavalier donated because he could and because he wanted to help, not because of the publicity that comes with the act.
"It's not about having a name on a wall or having people say good things about you," Lecavalier said, according to Jones. "That's not why I do it. I do it because it needs to be done and because I can. It's about those kids; seeing what they go through, seeing how hard they fight. That's what it's about. It's not about me."
Lecavalier's Lightning Legacy
When the Lightning welcome home Lecavalier on Tuesday, it will be a time to reflect on his NHL career and the good he did in the community where it all began.
He holds the franchise record for games (1,037) and goals (383) and is currently second in assists (491) and points (874). While statistics are often used to measure a player's value, for Lecavalier, numbers don't tell the whole story.
He spent 14 years of his 17-year NHL career in Tampa Bay, and while Lecavalier provided many memories on the ice, his actions and contributions in the community are what cements his legacy in Tampa Bay.
Steven is a lawyer and writer with a passion for the game of hockey. He's the Lead Writer covering the Tampa Bay Lightning with THW. He's also been press credentialed through the Lightning since 2016. His work has been published at The Fourth Period, LightningInsider.com, Bolt Prospects, The Sports Daily Network, U.S. College Hockey Online and College Hockey News. He's had radio appearances on TSN 690 in Montreal, Lightning Power Play Live and multiple podcasts to give insight and analysis on the team. He can be reached on Twitter @StevenDiOssi and by email at sdiossi@gmail.com.