It's been talked about frequently this season. The Chicago Blackhawks are open to adding another forward (and they might be interested in a defenseman as well). They have a lot of young players up front and though he's healthy now, the absence of Marian Hossa revealed how fragile the forward balance is in Chicago. They're putting a lot of faith in young players like Ryan Hartman, Vinnie Hinostroza, Tanner Kero, Nick Schmaltz and Tyler Motte.
It turns out, the Blackhawks have "sniffed around" what it would take to acquire Tomas Tatar or Gustav Nyquist from the Red Wings, according to Mark Lazerus of the Chicago Sun Times.
Lazerus reminds everyone to take every name with "a grain of salt," noting "a LOT of calls get made this time of year. Most talks never progress very far. But two sources have told me those calls have been made."
That means Detroit isn't necessarily interested in moving either forward, but Chicago has at least a passing interest in what a deal for them might look like.
Chicago should have around $3.34 million in cap space available at the trade deadline, according to Cap Friendly. That's not a terrible situation, but there are some big considerations in a move like this for the annually cap-strapped team.
After this season, Nyquist has two more years on his contract with a hit of $4.75. Adding him to the roster not only means they've got to ship some cap out, it could cause issues in years to come. Meanwhile, Tatar carries a hit of $2.75 and his contract is up at the end of the season. He will be a restricted free agent at that time.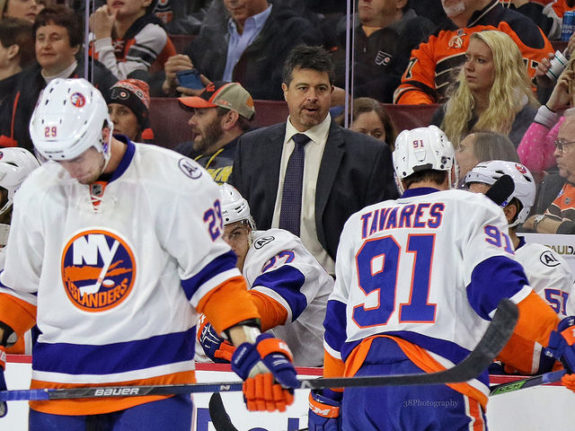 Cap In America
Former Islanders head coach Jack Capuano may already be close to a new gig just days after being shown the door in Brooklyn. At least one NHL club has asked the Islanders for permission to speak with Capuano, according to Newsday's Arthur Staple.
Outside of the Islanders, there are only two teams that are publicly in the market for a new head coach. The Las Vegas Golden Knights are one of those teams, though it's hard to imagine them being hasty and not seeing what coaches are available after the end of the regular season.
The Florida Panthers could potentially be in the market as well, with general manager Tom Rowe serving as interim head coach at the moment.
Capuano is under contract with the Islanders until the end of the 2016-17 season. Any team looking to hire him as a head or assistant coach will have to have the Islanders permission to have talks with him.
Julien's Conference
After yet another loss for the Bruins, it was inevitable that everything coach Claude Julien said would be seen through the prism of his job security. As has been the case for the better part of the last decade, Julien is said to be on the hot seat. Maybe it's real this time (though, that's been said every time Julien has been on the hot seat).
Sunday's post-game press conference was grim. Julien took some shots at the team for not trying hard enough and not having enough talent. He sounded defeated.
"A team that just got unraveled in the third period."

Watch Claude Julien postgame: pic.twitter.com/yEQH7rxSfD

— Boston Bruins (@NHLBruins) January 22, 2017
Stars Take Shot at Trump Exaggeration
Despite loads of video and photo evidence, President Donald Trump has given some pretty exaggerated numbers of his inauguration attendance, inflating the number by around six times, according to multiple outlets.
The Dallas Stars took a potshot at Trump and press secretary Sean Spicer on the jumbotron Sunday.
https://twitter.com/unlikelyfanatic/status/823008705369276418
It's not the first time the Dallas Stars game ops have come up with some funny topical jokes, ribbing the Canucks with a whole period of Nickelback songs and trolling the Leafs with Justin Beiber jokes.
But the Stars weren't the only ones in the sports world who found humor in Spicer's dubious assertion that we saw "the largest audience to ever witness an inauguration, period."
Doc Rivers opened his pregame with a Trump joke, saying that it was the largest pregame media gathering in NBA history

— Dan Woike (@DanWoikeSports) January 22, 2017
Steve Kerr on his in unmemorable, short Magic career: "Sean Spicer will be talking about my career any second. 14,000 points." pic.twitter.com/XvvuUfKoNW

— Anthony Slater (@anthonyVslater) January 22, 2017
Odds & Ends
– With the return of Niklas Kronwall, the Detroit Red Wings have placed defenseman Drew Miller on waivers.
– Tuukka Rask left Sunday's 5-1 loss to the Penguins with a migraine.
Tuukka Rask headed to the dressing room and has been replaced in goal by Zane McIntyre. -MC

— Pens Inside Scoop (@PensInsideScoop) January 22, 2017
– Kevin Hayes left Sunday's game for the Rangers. No update on his status was available after the game.
OFFICIAL: #NYR Kevin Hayes suffered a lower body injury in the second period and will not return.

— New York Rangers (@NYRangers) January 22, 2017
– Tampa Bay placed forward Erik Condra on waivers Saturday. Sunday, he cleared waivers and will remain with the organization.
– New York Rangers goaltender Henrik Lundqvist has set an impressive record with his latest win.
Lundqvist is the first goalie in NHL history to earn at least 20 wins in each of his first 12 seasons. pic.twitter.com/9QsIDCH1An

— NHL Public Relations (@PR_NHL) January 22, 2017
– The Lightning have reassigned Joel Vermin to the AHL.