Another day, another milestone.
Wednesday was Jaromir Jagr's 45th birthday. In playing Wednesday, he became the third skater and the fifth NHLer to ever play a game past age 45. He joins Gordie Howe, Chris Chelios, Johnny Bower, and, of all people, Moe Roberts, who played just four NHL games. Those four games were played for three different teams (two for the Boston Bruins in the 1925-26 season, one for the New York Americans in the 1931-32 season, and one for the Chicago Blackhawks in the 1951-52 season).
Not only was it his birthday, Jagr assisted on an Aleksander Barkov third-period goal and that was career point number 1,900 for the birthday boy.
Now THAT is a birthday present. Congrats Jaromir Jagr on this amazing milestone! pic.twitter.com/6cmadfo6Ek

— NHL (@NHL) February 16, 2017
Marner Leaves Game
Mitch Marner went full sitcom romance with Toronto's game on Wednesday. The announcers were forced to play a game of will he or won't he with Marner and staying in the game.
Marner was injured after sliding into the boards after getting pushed over by Boone Jenner. Afterward, he went down the tunnel. Then he came back. Then he left again. Then he came back. Then he left again.
From the way he looked on the bench, it appeared his arm or shoulder was giving him trouble. The team didn't update his status after the game. Toronto won't play again until Sunday.
Mr. I Honored
Wednesday was also the first Detroit home game since the passing of Red Wings owner Mike Ilitch. The team honored their late owner before the game with a moment of silence and a remembrance video. They also wore "Mr. I" patches on their shoulders with the same insignia painted on the ice.
Chiasson Spear
On the same day Gustav Nyquist was served a six-game suspension for high-sticking Minnesota's Jared Spurgeon, Calgary's Alex Chiasson grabbed himself a game misconduct for spearing Philadelphia's Nick Cousins in the midsection.
It was about as dumb a penalty as you're likely to see, with it coming well after the whistle had blown.
Might the Department of Player Safety make another stick infraction suspension this week? Probably not. He was ejected because of rule 62.3 stipulates that making contact on a spear is a major penalty. There is no minor for spearing.
Additionally, 62.5 stipulates that any time a major penalty is assessed for spearing, it must be accompanied by a game misconduct.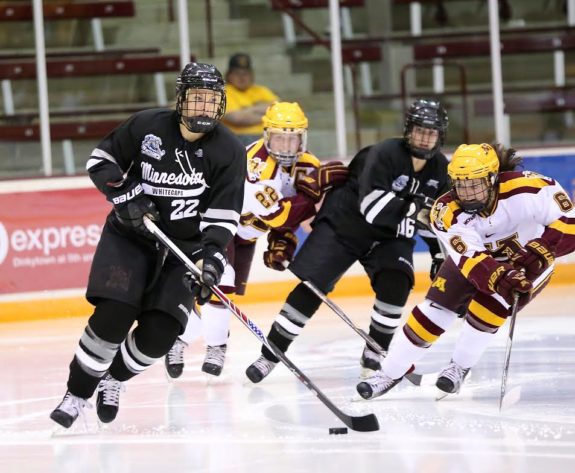 Schleper Retires
Anne Schleper, defenseman for the NWHL's Buffalo Beauts, has announced that she's retiring. Over the course of her career she won a national championship with the University of Minnesota Golden Gophers, a Clarkson Cup in the CWHL with the Boston Blades, spent time with the Minnesota Whitecaps, and played for the NWHL's Beauts.
Schleper also suited up in the Olympics with Team USA and appeared in four World Championships, winning three gold medals and a silver. She helped the U.S. to four Four Nations Cup championships in six appearances, suited up four times with the national U-22 team, and made an appearance with the national U-18 team at the U-18 World Championship.
Schleper is a decorated athlete and touched every base of women's hockey in North America. "Anne has been a consistent leader in the program and was a tremendous teammate who always came to the rink with a smile on her face," said Reagan Carey, director of women's hockey for USA Hockey in a statement. "She was a dedicated player who proudly wore the U.S. jersey and represented her country with everything she had. Her effort was influential in the team achieving success and we wish her the best in the next stage of her life."
With sincere gratitude to my family, friends, and fans… pic.twitter.com/b61Xyk7Ci0

— Anne Schleper (@_aschlep) February 15, 2017
"I will forever cherish the dreams I accomplished with my teammates and the amazing journey we took together. I am so very proud to have been a part of Team USA and representing something greater than ourselves at all times," said Schleper in USA Hockey's announcement. "I'd like to thank my family, friends, everyone at USA Hockey, and those who supported me during the past 11 years."
Mr. and Ms. Hockey
The finalists for the prestigious Mr. and Ms. Hockey awards for Minnesota high school hockey players have been announced. Obviously included is the front-runner for the award, Eden Prairie's Casey Mittelstadt, who is likely to be a high first-round draft pick come June. Before returning to Eden Prairie in hopes of winning the state tournament, Mittelstadt was tearing up the USHL for the Green Bay Gamblers.
Also named as finalists were Matt Anderson (Holy Family), Noah Cates (Stillwater), Nick Leivermann (Eden Prairie), Ben Meyers (Delano), Micah Miller (Grand Rapids), Bauer Neudecker (St. Louis Park), Nick Perbix (Elk River), Dylan Samberg (Hermantown) and Ryan Sandelin (Hermantown).
On the girl's side, Grace Bowlby (Edina), Emily Brown (Blaine), Naomi Rogge (Eden Prairie), Taylor Wente (Maple Grove), and Grace Zumwinkle (Breck) are the finalists. Three of those five are committed to the University of Minnesota, as is Mittelstadt.
Past Mr. Hockey award winners include 2016 first-round draft pick Riley Tufte, Panthers Kyle Rau and Nick Bjugstad, Islanders defenseman Nick Leddy, Rangers captain Ryan McDonaugh and others like current Gophers captain Justin Kloos, Tom Chorske and Darby Hendrickson.