Patrik Laine celebrated Valentine's Day in style this year. The 18-year-old phenom netted his NHL-leading third hat trick of the season (second against the Dallas Stars) in a 5-2 win Tuesday night. The two-point regulation win over the Central Division rival Stars was a vital one for the Winnipeg Jets and their slim playoff hopes. The Jets are only four points out of the final wildcard spot in the Western Conference, however, they have played more games than all of the teams in front of them. In fact, they've played the most games in the NHL with 59.
Laine was relatively invisible in the two previous games on the weekend against the Chicago Blackhawks and the Tampa Bay Lightning going minus-4 with one assist in the two contests. These growing pains are to be expected from the young Finn as he continues to work on his game-by-game consistency. The offensive explosions are just a massive bonus for the Jets and their fans. Laine has had one of the most successful and memorable rookie seasons to date and it's not even over. It raises the question, how good can this kid be?
Fabulous Freshmen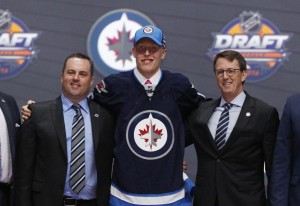 In the Calder Memorial Trophy conversation, Laine's name has been tossed around quite often and rightfully so. While I do not see him winning the award, he certainly merits a nomination. When a player is a rookie and is a top-ten goal-scoring threat in the league, he deserves attention. I think what separates him from an Auston Matthews, Mitch Marner or defenceman Zach Werenski is contributing to a playoff hunt.
While the Toronto Maple Leafs are loving life with their trio of young stars Matthews, Marner and William Nylander, the Jets are pretty darn happy with their budding superstar as well. Laine ranks second among rookies in points (47), second in goals (26), first in power play goals (8) and first in points per game for players with over two games played (0.92). It should also be noted that while head coach Paul Maurice is attempting to provide Laine with appropriate minutes to help his development, he ranks second among rookie forwards in time on ice (TOI) per game (18:06).
Priorities in Place
The importance of centermen over wingers is stressed constantly in the NHL. It seems it is always the big, center being sought-after via trade and free agency. While Toronto drafted their first number-one center since Mats Sundin, Winnipeg was rather comfortable with their situation down the middle.
Mark Scheifele has come into his own this season putting up monster numbers and supporting defensively as a number-one center should. Then there is Bryan Little, one of the most underrated players in the league. Most general managers around the league would be more than satisfied with Little as their second line center. We also see the likes of younger players like Adam Lowry, Andrew Copp, and Nic Petan with the ability to play center. Winnipeg was just fine taking an elite sniper on the wing, the best the organization has seen since Ilya Kovalchuk or going back to vintage Jets and another dynamic Finn.
Patrik Laine is the first player in #NHLJets / #Thrashers history with 3 hat tricks in a season since Ilya Kovalchuk had 3 in 2007-08.

— Sportsnet Stats (@SNstats) February 15, 2017
The Inevitable Comparison
Teemu Selanne and Laine have been linked to each other since Laine was rising through the ranks in Finland as a teenager. While he will not be scoring 76 goals as a rookie (or anyone else in the foreseeable future) like Selanne, he is about as close to a "Finnish Flash" as one can find nowadays. The intriguing attribute that Laine possesses is his size. His six-foot-four, 206-pound frame allows him to protect the puck, properly cycle in the offensive zone, and get into the greasy areas to score. I don't know what is scarier, the fact that Laine has not finished growing or that he already has a better shot than Selanne ever did.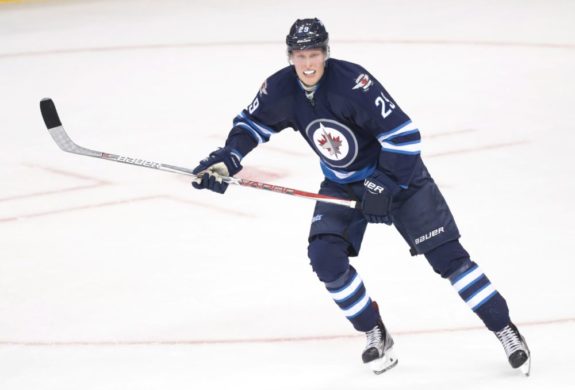 Ultimately, the Jets are in a special situation. With a plethora of young, skilled forwards coming through the system and already playing for the big club, Winnipeg has a chance to be a very good team for a long time. The trio of under-24-year-old forwards, Laine, Scheifele, and Nikolaj Ehlers are about as good as they come. When healthy, this line has not only been one of the most dominant lines in the NHL this season, they have a chance to be one of the most dominant lines of the decade.