Sidney Crosby will enter Thursday night's game with 999 career points. If he plays anywhere close to the level he brought to Tuesday's contest, he will join the 1,000-point club versus the Winnipeg Jets. When he does reach the milestone, Crosby will become the 86th (just one away from iconically being No. 87) player in NHL history to accomplish the feat.
In honor of this great achievement, here's a look back at some of the other prolific scorers in Pittsburgh Penguins history. It's a franchise that's seen its fair share of scoring, but guys like Ron Francis, Paul Coffey, Joe Mullen and Larry Murphy didn't spend their whole careers in Pittsburgh. Do they still make our list?
Here are the top five scorers in the history of the Penguins:
5. Rick Kehoe – 636 points
Kehoe began his career with the Toronto Maple Leafs, but the team traded him to Pittsburgh in 1974. He spent the final 11 seasons of his career with the Penguins and scored at least 27 goals in each of his first nine seasons with the team. In 1980-81, he set a new franchise record with 55 goals and 88 points. Kehoe also won the Lady Byng award that season.
He reached the 30-goal plateau five times in Pittsburgh and averaged over a point per game in a season on three occasions – 1975-76, 1980-81 and 1981-82. Furthermore, he played in the NHL All-Star Game in 1981 and 1982.
Kehoe retired as the Penguins' leading scorer and held the team record for most goals in a season until Mario Lemieux came along to shatter all his records. In addition to being fifth in points, Kehoe remains sixth for the Penguins with 312 goals.
Rick Kehoe gives injury-plagued #Pens a lift with hat trick in 5-4 win over #Bruins, Jan. 20 1982. pic.twitter.com/yC8ai1LSHF

— Penguins History (@penguinshistory) January 20, 2017
4. Evgeni Malkin – 816 points
There's very little to suggest Malkin won't one day join Crosby in the 1,000-point club. Just like Crosby, injuries have slowed the Russian center down a bit. He hasn't played a full season since 2008-09 or even 70 games in a season since 2011-12. If Malkin plays in every contest remaining this season, he will have suited up for 75 contests.
Despite injury troubles, Malkin has moved into fourth place in franchise scoring history by averaging over a point per game in every season but one. He won the Calder Trophy with 33 goals and 85 points as a rookie and then the Art Ross Trophy with 35 goals and 113 points in 2008-09.
Malkin won the Art Ross Trophy a second time in 2011-12 when he recorded his only 50-goal season and posted 109 points. A fourth 100-point season is likely out of reach in 2016-17, but Malkin could win his third scoring title this season if he stays healthy.
He is fourth in Penguins history in goals, assists and points behind only his captain, Lemieux and Jaromir Jagr.
3. Sidney Crosby – 999 points
Crosby will cement his legacy once he scores his 1,000th point by becoming the 14th player to reach the milestone before turning 30 and the first one to do so since Jagr in 2000. Barring an unheard of slump, "Sid the Kid" will also be the 12th-fastest player to accomplish the feat in NHL history, and the majority of the players who did it faster played from the late 1970s to the early 1990s when scoring was much more prevalent.
If not for missing 147 games due to injury and the lockout from 2010-13, Crosby would probably be approaching 1,200 points by now. He has averaged 1.321 points per game throughout his career, which is fifth all-time. The only players from the same era close to that mark is Malkin (1.179 points per game, 14th all-time) and Alex Ovechkin (1.179 points per game).
He would have to stay healthy, but it's not inconceivable to think Crosby will one day be on top of this list. If he continues to average at least a point per game for 10 more seasons (that might be a stretch, but then again, Crosby could average over 1.0 ppg) and plays at least 70 games a season, Crosby would be very close to "Super Mario".
2. Jaromir Jagr – 1,079 points
The newly turned 45-year-old has continued to accumulate numbers elsewhere, but his best seasons were in the Steel City. With the exception of his rookie season, Jagr scored at least 30 goals every season in Pittsburgh. He won the Art Ross Trophy as the league points leader five times and recorded at least 100 points on four occasions.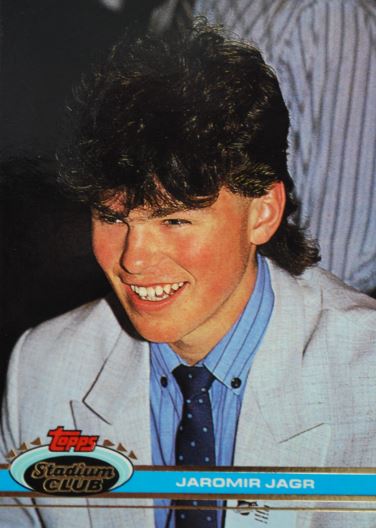 Jagr posted his best numbers in 1995-96 when he scored 62 goals and 149 points, but neither were good enough to rank first, thanks to his teammate "Super Mario". During his 11 seasons with the Penguins, Jagr averaged 1.339 points per game, which puts him behind only Lemieux in franchise history.
No. 68 didn't leave the Penguins on good terms in 2001, but his reputation (even in Pittsburgh) has softened over the years. After taking pictures with his former captain and Crosby at the NHL's celebration of the top 100 players in league history, Lemieux said he "absolutely" could see the organization retiring Jagr's number at some point. And who knows, if he plays until he's 50, maybe a second stint in Pittsburgh is possible.
Mario Lemieux 'absolutely' could see Penguins retiring Jaromir Jagr's No. 68.

— FansFrenzy (@fans_frenzy) January 28, 2017
1. Mario Lemieux – 1,723 points
Goals, assists, points, games played, even-strength goals, power-play goals, shorthanded goals, shots, hat tricks and points per game – Lemieux owns every single record there is in Penguins history. His 1,723 points in just 915 games gave him a 1.883 points per game average, which is second only to Wayne Gretzky in league history.
If not for his own set of injury problems, Lemieux would have joined Gretzky in the 2,000-point club. "Super Mario" averaged just 53 games during his prime from 1990-97. However, that didn't stop him from winning four scoring titles during that six-year span. In all, he won six Art Ross Trophies and posted career-highs of 85 goals and 199 points in 1988-89.
Lemieux also retired after 1997 and didn't play the following three seasons. In all, he missed 420 games during the 1990s. If he had maintained his average of 1.883 points per contest and played in all 420 of those games, Lemieux would have scored 790 additional points. Forget 2,000 – that would have given him 2,500 points.