In today's News & Notes, Kevan Miller will miss at least the next five weeks of action, Ryan Donato has been recalled from the AHL, Calvin Pickard has been placed on waivers and Jan Kovar has been released from his PTO with the Providence Bruins.
Related: NHL News & Notes: Weber Returns, Matthews Healthy & More
Miller out at Least Five Weeks
The Boston Bruins will be without Miller for at least the next five weeks after the veteran defender sustained a throat injury Monday in a game against the Toronto Maple Leafs. Though the initial x-rays on Miller's throat came back negative, he underwent a CT scan in the hospital that revealed that he had suffered a cartilage injury to his larynx. He will be re-evaluated in roughly five weeks time.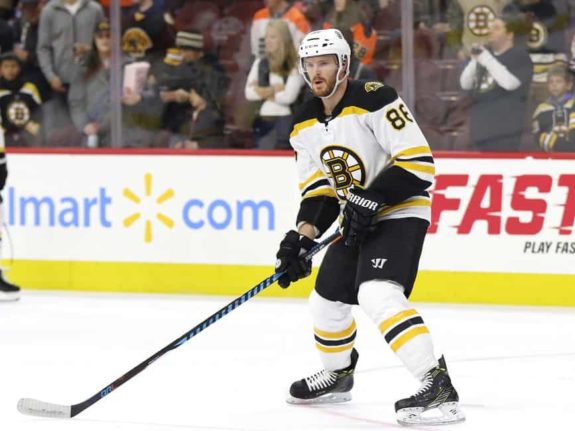 This is bad news for the Bruins who have been down multiple players for the entirety of the season. Miller can be seen as the Bruins' sixth defender and to illustrate how bad their situation has been as a result of injuries, Miller was the de facto No. 1 blueliner on the team prior to this injury.
Miller has been crucial in his last five games as well. on Oct. 18, he suffered a broken hand. He would return one month later and just four games into his return, he finds himself on the shelf once again.
Donato Recalled From AHL
The Bruins will be getting a boost to their lineup soon as they've recalled Donato from the AHL following a stint in Providence that was designed to help him gain confidence and find his game. Though he started off hot last season with five goals and nine points in 12 games, he's only scored one goal in 11 games this season at the NHL level.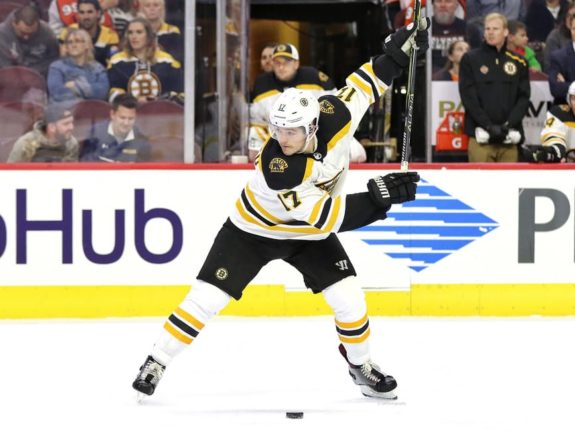 He did find his game in the AHL with five goals and nine points in 10 games and he's been consistently involved since his assignment to Providence.
Related: Bruins Assigning Donato to AHL is the Right Move
In addition to Donato rejoining the Bruins, the team also saw the return of Brandon Carlo to practice and he should be ready to return to action sooner than later which is fortunate for the Bruins who are down Zdeno Chara, Charlie McAvoy, Urho Vaakanainen, Patrice Bergeron and Carlo and have been down to their 12th defender already this season.
The Bruins also released Jan Kovar from his PTO with the Providence Bruins and the Czech center is now practicing in Boston as he evaluates his options. If the Bruins don't sign Kovar, he will have no shortage of suitors overseas in the KHL, Swiss League and Czech League, per Mark Divver.
Calvin Pickard Placed on Waivers
Change is afoot in Philadelphia and the latest move came in the form of the team placing Pickard on waivers. The 26-year-old has posted a respectable 4-2-2 record this season but his 4.01 goals-against average and .863 save percentage are clearly abysmal. The team has won in spite of their goaltending play when he's been in net rather than because of it. Unfortunately for Pickard, this has been true in Philadelphia for years as the team hasn't been able to find a reliable netminder.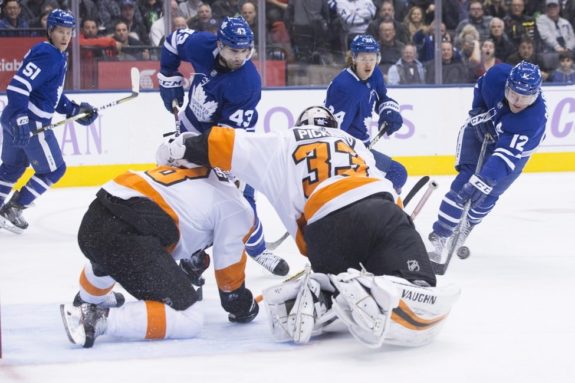 The Flyers claimed Pickard off of waivers from the Toronto Maple Leafs prior to the season. While his numbers may not look good right now, it wouldn't be surprising to see him wind up on an NHL roster again at some point. Whether that's with another team after a waiver claim or trade or if it's with Philadelphia is unclear.
Related: NHL News & Notes, Hextall Fired, Schmaltz Trade & More
The Flyers are still looking for a new general manager after firing Ron Hextall on Monday and also let go of assistant general manager Chris Pryor and assistant coach Gord Murphy on Wednesday.
Brandon Share-Cohen has covered the NHL and various professional sports for seven years. Working with The Hockey Writers, Brandon works extensively on covering the Boston Bruins in addition to his role as the News Team Lead.