Right or wrong, there is talk in Edmonton these days about trading netminder Cam Talbot. It's amazing to see how quickly the story behind the goaltending situation has changed considering not a couple months ago, the majority of the fanbase was up in arms that the Edmonton Oilers had signed backup goaltender Mikko Koskinen to a one-year, $2.5 million deal.
These days, Koskinen is showing well with a 6-2-1 record and a .923 SV%. He's earning more and more trust by the coaches and management and the expensive "gamble" that was bringing in a KHL stopper when other, less expensive options existed in the marketplace, looks to be a winning bet. Meanwhile, Talbot has played effectively at times and ineffectively at others. He's got his fans, but he's losing supporters left, right and center.
How did the conversation change so quickly? When did fans decide that Talbot was no longer their guy and Koskinen the netminder of the future? People making this argument should be careful here. There is a lot that can go wrong if we put the cart before the horse.
Look at Both Talbot and Koskinen's History
There are plenty of positions to take when broaching this topic. Some will say Talbot has struggled for nearly two seasons. Some will say Koskinen had the kind of preseason that could scare anyone. Some might argue for how Talbot played in 2015 and 2016 (extremely well) and some will argue for how Koskinen is playing now (also well) and all arguments would include points that were fair and reasonable. Still, all of these arguments have one thing in common: nothing in Edmonton regarding the netminding is consistent and that has led to uncertainty around the goaltending future for the organization.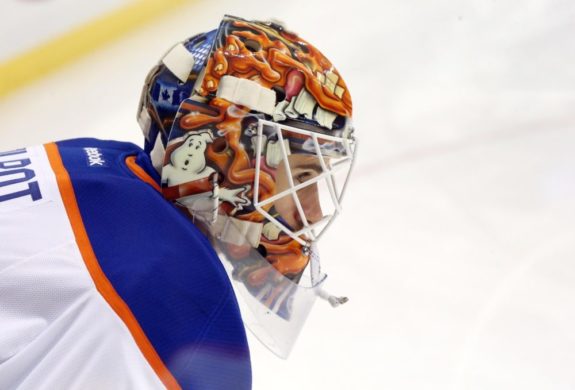 Ken Hitchcock said on Tuesday in his postgame presser that he believed the goaltending is the strength of the Oilers. Honestly, that's some serious lip service from a coach building confidence in his two stoppers as well as the team forced to play in front of them.
This is not to say either are terrible or that Edmonton can't call upon both and expect a good game. That much is true. But, to suggest goaltending is the strength of this team ignores Talbot's current 3.29 goals against average or his 0.889 save percentage. It ignores the fact that these numbers are worse than last season where Talbot struggled mightily. This also ignores what we saw in the preseason games Koskinen played for the Oilers this season. He's on fire now, but he was awful then. There's no sugarcoating that.
Related: Oilers Must Be Careful with Peter Chiarelli
Present Day Oilers Goaltending
As much as fans would like to suggest Koskinen has gotten over his preseason jitters and call him the starter, he's not. He's played better than Talbot this season and day by day seems to be earning the right to be called the top dog, but he's not the starter yet. If he struggles at all, has one bad game where he allows four or five goals or loses two in a row, fans will be just as quick to take the title of starter away as they were to give it to him in the first place.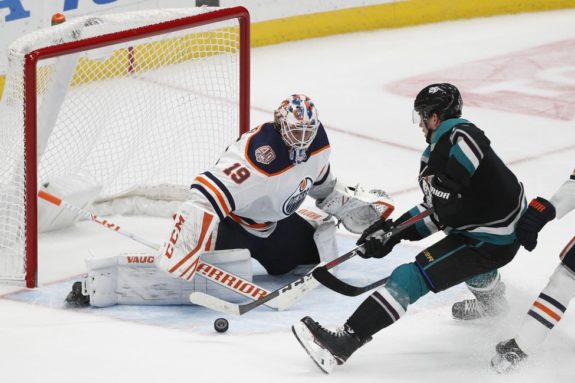 With that kind of uncertainty casting a shadow over every netminding decision, the Oilers would be insane to consider moving Talbot right now. The offseason gamble to sign Koskinen appears to be paying off but if you let that bet ride and give him the responsibility of having to finish the season as a starter, is there a chance he can't handle that responsibility yet?
Remember too, part of what could be fueling Koskinen is that fact that he's on a one-year deal with a goaltender like Talbot ready and willing to jump in a "reclaim" his spot as Edmonton's No 1. There is value in that kind of internal competition.
Related: If the Oilers Won't Play Ty Rattie, Trade Ty Rattie
The Return for Talbot
If the Oilers do somehow decide — beyond any form of logical thinking — that Talbot is better used as a trade piece than a backup, Edmonton should remember that the market for goaltenders is only as strong as the need for goaltenders. That's not always the strongest of markets and the St. Louis Blues might be the one NHL team actively looking. Does that formula equate to an equal return?
If the Blues are so desperate that they'd be willing to part with some key pieces that could help Edmonton with the below-average defense or secondary scoring, then perhaps it's worth listening if you're general manager Peter Chiarelli. But, how much will St. Louis offer for a "backup" with a below .900 SV% and one that has struggled for two consecutive seasons with no contract at the end of the year? And, what if that return doesn't include another netminder and Koskinen struggles or chooses not to sign with Edmonton in the offseason?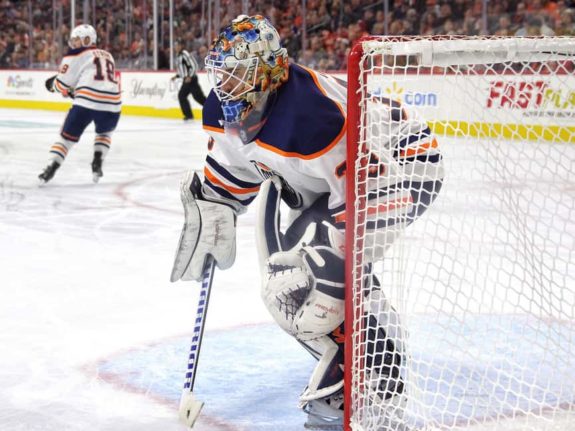 I get it, I'm the same person who argued for trading Ty Rattie, but that was under the assumption he wasn't going to get back into the lineup and if he did, play only as a fourth-liner for less than four minutes per game. Comparing Talbot and Rattie are like comparing apples to oranges. Edmonton still has a serious need for a good backup/ options 1A.
There's a lot more to consider than just how Talbot is playing before the Oilers should consider trading him. Doing so now — unless the Blues offered up Vladimir Taraensko (which is not going to happen) — seems like a poor decision.
Jim Parsons is a senior THW freelance writer, part-time journalist and audio/video host who lives, eats, sleeps and breathes NHL news and rumors, while also writing features on the Edmonton Oilers. He's been a trusted source for five-plus years at The Hockey Writers, but more than that, he's on a mission to keep readers up to date with the latest NHL rumors and trade talk. Jim is a daily must for readers who want to be "in the know."
Other content contributions include: NHLtradetalk.com, The Sportster and hosting weekly video casts, THW News and Rumors Rundown, plus Oilers Overtime.
For interview requests or to provide content info, follow Jim on Twitter or his social media accounts. They appear under his photo on articles like this one.