St. Louis Blues fans were treated to a juicy new rumor on Tuesday evening when TSN's Darren Dreger reported during the Insider Trading segment that the Blues "have paid considerable attention" to Detroit Red Wings netminder, Jimmy Howard. The Blues are in dire straits in the crease, and though they have promising options in the system, none of them is close enough for the team to wait.
The Blues now have two goalies ranked 38th and 39th in save percentage, which is part of the reason the team is ranked second to last in the NHL. So the links to Howard make sense. While he isn't the kind of goalie that has fans salivating, a trade for Howard would make sense, but only at the right price.
Dreger's Report
On Insider Trading Tuesday night, Dreger broke the rumour: "My sources tell me that the St. Louis Blues have paid considerable attention to Jimmy Howard of the Detroit Red Wings," Dreger reported. "I know that they were at the game on Monday, and seemed to be paying a lot of attention to the crease of the Detroit Red Wings."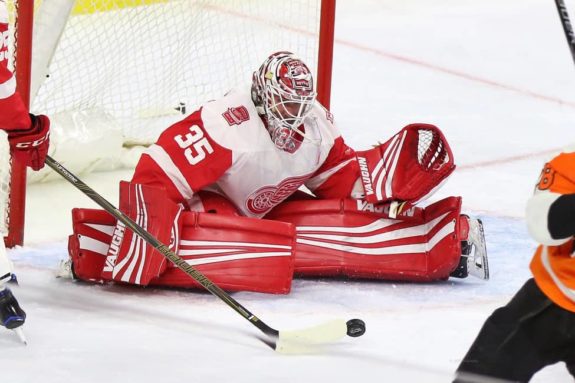 What's concerning is that Dreger went on to note: "Now, to acquire Howard, it's going to come at considerable cost. Is St. Louis willing to part with the assets? They don't have a first round pick in the 2019 Draft. Are they willing to give up a prized prospect like [Jordan] Kyrou or [Robert] Thomas?"
The mention of Kyrou and Thomas, the two most prized assets in the Blues' lauded farm system, is concerning. But as Dreger went on to explain: "There are some options that St. Louis might consider, but if it's Jimmy Howard, then he's going to come at considerable expense."
Why Jimmy Howard?
Why does Howard make sense? He provides two things the Blues lack: flexibility and stability. Flexibility because, at 34, he's in the final year of his contract. His cap hit is almost a million dollars more than Jake Allen's, the Blues' current starting goalie, but Allen's contract, which is an albatross for the Blues, lasts for two more seasons.
On top of his contract flexibility, Howard provides the stability that the Blues need. Though he's never been one of the league's elite goaltenders, Howard has, for the most part, been good for the Red Wings. This year especially, he has posted good numbers, with a SV% of .922 and a goals-against average of 2.68, despite facing the ninth-most shots of any NHL goaltender. Those numbers are a considerable improvement on Allen's, who has marks of .896 and 3.27 respectively.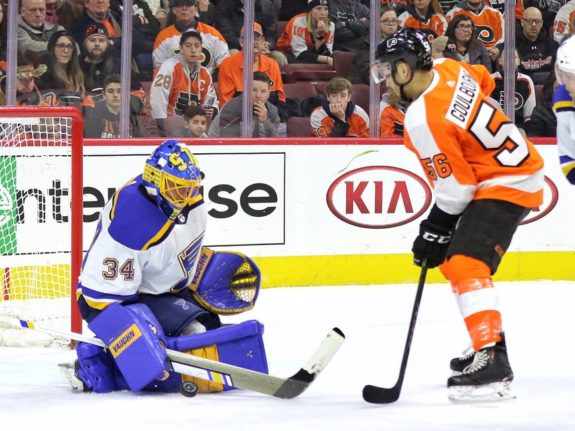 Though Allen is younger and has a longer term, there is little question that Howard is an immediate improvement to the Blues' goaltending situation. The question is, what would it cost to acquire him? If Dreger's reporting is accurate, it's a dangerous game for the Blues to play.
The Right Price
The Blues should only consider this deal if the price is right. For one thing, in acquiring Howard they would need to send Allen back to the Red Wings, one of the few teams that might be willing to take a chance on him, given their place in the standings. They are rebuilding, so they can afford to see whether Allen might rebound in a new environment and become the more consistent goalie he should be able to be. Even if the Red Wings are interested, though, Allen would not add much value to the deal. He would simply be included to even out the salary cap for both teams.
The more concerning scenario is if the Red Wings see Allen's contract as "negative value" in a trade. When the Blues traded for Brayden Schenn, they traded two first round picks, along with Jori Lehtera, to the Philadelphia Flyers. There is little doubt that including Lehtera's contract raised the overall price to acquire Schenn, but the Blues were willing to do it to undo the mistake they'd made by signing Lehtera to a ludicrous extension.
Would the Blues be willing to overpay again to get rid of Allen's contract? If Dreger is right that Kyrou or Thomas might be the price the Red Wings are demanding, they would be overpaying. Thomas is the team's top prospect, who is starting to find his groove at the NHL level and looks to be a future number one center. Kyrou, though now in the AHL, is still a prized prospect with elite speed and hockey sense, who will be a top six contributor for a long time.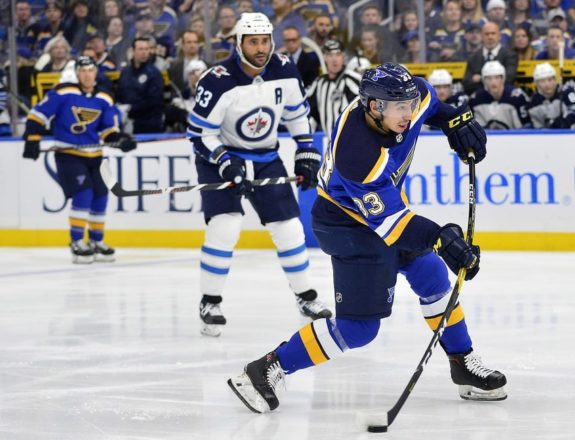 Over the summer, general manager Doug Armstrong held a firm line in negotiations with Jim Botterill, GM of the Buffalo Sabres, over the trade for Ryan O'Reilly. At the time it was clear: Thomas and Kyrou were not on the table. If Armstrong was unwilling to give up either of these prized prospects for a player of O'Reilly's caliber, who is 27 and under club control for the next five years, they would be insane to include either player in a trade for a rental goaltender. Even the added bonus of ridding themselves of Allen's contract would not be worth letting go of one of those two players.
The good news is that rental goaltenders rarely command that much value. While the Red Wings have to demand a premium to start negotiations, the ultimate price for Howard is likely much lower than Kyrou or Thomas. The Blues have a wealth of prospects and young players that should appeal to a rebuilding team like the Wings, and a package including Allen and one or two of those younger players (like Zach Sanford, Ivan Barbashev, or prospects like, Sammy Blais, Mitch Reinke, or Niko Mikkola) should be adequate to make Red Wings GM, Ken Holland pull the trigger. If he holds firm and demands Kyrou or Thomas, the Blues must hold their ground.
Blues Should Act Fast
If Howard is an option, they should pursue it quickly. He is not the answer to all of the Blues' problems but if they can get Howard, get rid of Allen's contract in the process and not give up one of their top three or four prospects (particularly Kyrou and Thomas) it is still an avenue the Blues should consider.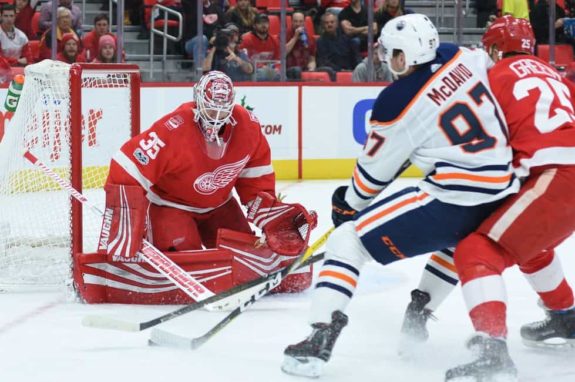 Howard provides the stability and new face the Blues could use. He also gives them flexibility going forward, as they can either re-sign him on a better contract than Allen's or try to find another solution in net (be it one of their prospects or a bigger fish like Sergei Bobrovsky). If the Blues can land Howard, move on from Allen, and protect Kyrou and Thomas in the process, they should strike fast and get the deal done.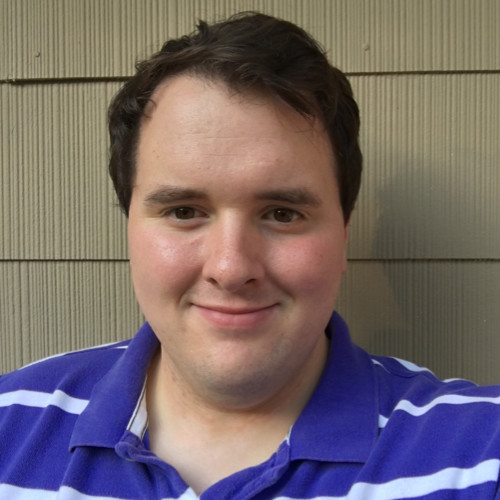 Stephen Ground is a veteran of over three years at THW, focusing on the St. Louis Blues, NHL goaltending, and the annual World Junior Championship. He is the co-host of the Two Guys One Cup Podcast, a hockey podcast focused on the Blues.