There's an old adage in hockey: "goaltending is 50 percent of hockey. Unless it's bad goaltending. Then it's 80 percent." There's plenty of truth to that adage, and few franchises have felt it more over time than the St. Louis Blues. They've had legendary goaltenders like Mike Liut, Curtis Joseph, Grant Fuhr, and even Martin Brodeur (though, of course, only for a little while) at various points in their careers, but they have never managed to combine the right goaltender with the right team at the right time to make a serious Stanley Cup run.
And at other times, when the team has been strong, the goaltending hasn't been there to support it. Their Presidents' Trophy season in 1999-00 came to a disastrous end in the first round of the playoffs thanks in large part to the collapse of Roman Turek, and that is just one of many examples (who could forget the Ryan Miller trade?).
Now, once again, the Blues find themselves surrounded by serious questions about their goaltending. Though Jake Allen has played well of late, he's struggled to shake the overall perception that he cannot be the goalie that takes the Blues to the promised land. Whether we accept that premise or not, the Blues have a number of goaltenders who could one day take Allen's place as the team's next "goalie of the future." So let's take a look at each goalie in the Blues' system and how they are doing so far this season.
NHL Goaltenders
Jake Allen
Overall, Jake Allen's numbers provide a lot of ammunition for his critics. As of Nov. 27, he is 6-6-3 with an .896 save percentage (SV%) and a 3.27 goals against average (GAA). Those numbers aren't good enough for an NHL starter, full stop, and while the Blues' inconsistent defensive play hasn't helped, Allen has a number of howlers to his credit this season that should never get past a professional goaltender.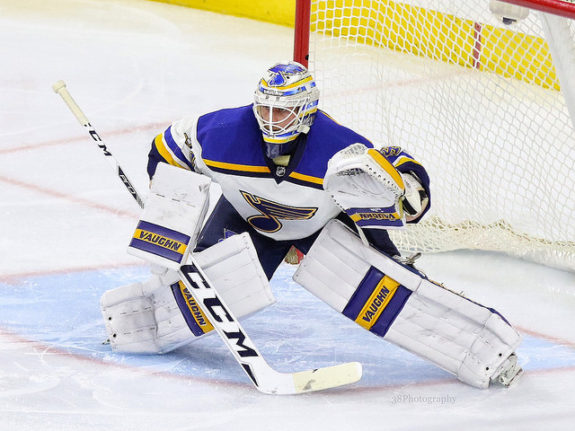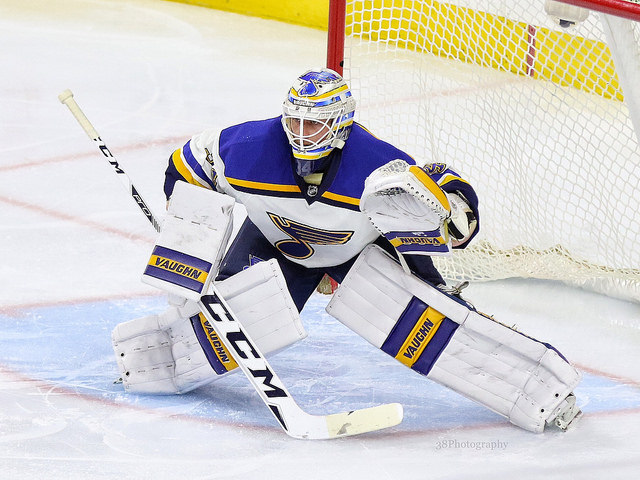 With that said, Allen has been substantially better of late. In his last five starts, he has a SV% of .942, and a GAA slightly above 1.60, both stellar markers. He is still only 2-3 in those five games, but that is due to his offense disappearing, and certainly is no fault of his own.
The problem with those numbers is that the chief knock against Allen has always been inconsistency. He's looked absolutely brilliant in some stretches, as when he single-handedly carried the Blues to the second round of the playoffs in 2016-17, but he is also capable of lengthy dips in performance where he sinks seemingly to the bottom of the sea and carries the team down with him.
If, when we revisit this study in the future, Allen's numbers have continued at this incredibly high level, perhaps there will be more reason for confidence that he has found his stride and can provide the Blues the reliable goaltending they need; however, until he performs well for a lengthy stretch, it will be hard to count on him going forward.
Chad Johnson
This article is primarily focused on the future of the Blues' goaltending, and given that Chad Johnson signed just a one year contract with St. Louis in the offseason, he may well not be a part of that future. But he is a firm fixture of the present, and as such, deserves a moment's discussion.
For a while this season, it seemed that Johnson was a serious threat to Allen for playing time. But since then, he's returned down to Earth. He's allowed three or more goals in his last three starts, and has not had a save percentage above .862 in that time. It's fortunate that his disappearance coincided with Allen's rebirth, or else the Blues would find themselves in even more trouble than they already are.
AHL Goaltenders (San Antonio Rampage)
Ville Husso
Ville Husso is the Blues' next in line, the most immediate internal solution they may have. He's believed by some to have a very bright future, consistently ranking among the league's top goaltending prospects. The past two seasons, Husso has shined in the American Hockey League (AHL), with a SV% of .920 in 2016-17 and .922 in 2017-18, and GAAs of 2.37 and 2.42, respectively.
But Husso has struggled mightily so far this season. His numbers have ballooned, to a SV% of .889 and a GAA of 3.40. It's tough to say what's gone wrong with his season, although it should be noted that his team, the San Antonio Rampage, are 8-13, tied for the worst winning percentage in the league. Things are looking up, as the team has a 4-1 record in their last five games. In that time, Husso's numbers have improved as well.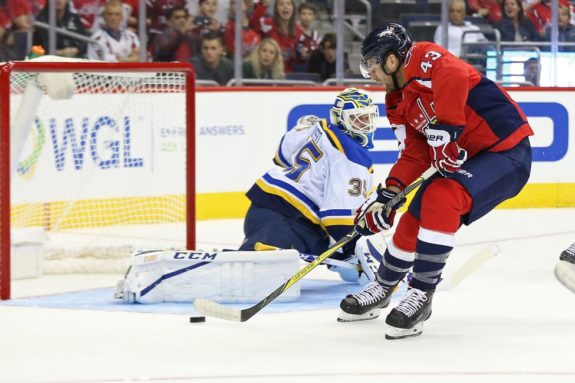 Blues officials are still high on Husso, to be sure, and think that he's a fixture of their future. If he continues to improve this season, it will be a testament to his resiliency. Numbers aren't everything, and the Blues need Husso to overcome his if he's going to become what they want him to be.
Jordan Binnington
At 25 years old, it feels like Jordan Binnington has been in the Blues' system for a decade or more. In reality, it's only been since he was drafted third round in 2011 (though that's still quite a long time). It's tough to gauge what future Binnington has, given his age and how long he's been working towards the NHL. But he had a terrific junior career with the Owen Sound Attack, and has continued to put up good numbers in his various AHL and ECHL stops.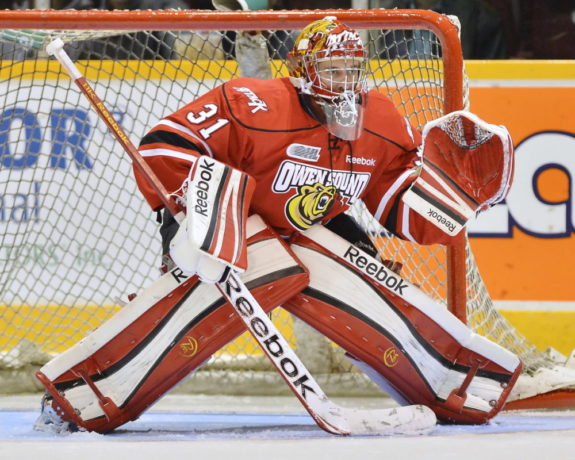 Even this year, while the Rampage have been struggling, Binnington has posted strong numbers, holding up his side of the tandem with Husso. He currently has a .912 SV% and a 2.43 GAA in 11 games. He's also a leader for the team, and recently got himself ejected whilst trying to fire up and stand up for his teammates. One could argue the merits of a goaltender leading the team's effort at retribution in a lopsided loss, but no one can question Binnington's fire.
I think he's surprised the Blues. He had been an after-thought for a few years, but when he put up good numbers in Providence last season, it opened some eyes. Husso is still tops on depth chart but Binnington has been getting a lot of starts lately, so I wouldn't write him off.

— Jeremy Rutherford (@jprutherford) November 28, 2018
Still, Binnington finds himself in an odd position. Despite performing well for years, he's never seemed to gain the confidence of Blues' management, and so he remains the AHL backup. Perhaps a change of organization would do him good, but considering how poor the Blues' goaltending has been in recent years, there's no reason he shouldn't be given a look, if even just a brief one, at the highest level.
Goaltending Prospects
Evan Fitzpatrick (Tulsa Oilers, ECHL)
Evan Fitzpatrick may be the next goaltending prospect that Blues fans start really salivating over. He was drafted late in the second round (59th) in 2016 after 54 starts with the Sherbrooke Phoenix of the QMJHL and a strong appearance with the Canadian team in the World Under-18 Championships. He was already a highly touted prospect, taken fourth overall in the QMJHL entry draft in 2014. He got a lot of opportunity with the Phoenix, but nothing seemed to totally materialize until he was traded to the Acadie-Bathurst Titan late last season.
With Sherbrooke struggling and the Titan vying for a playoff spot, Fitzpatrick was traded to a contender, and he immediately caught fire. He posted a 2.24 GAA and a .915 SV% in 21 games with the Titan during the regular season, and was unbeatable in the playoffs, where he played in 20 games, with a 2.20 GAA and a .925 SV%. Fitzpatrick's performance helped carry the Titan to both a QMJHL championship and a Memorial Cup victory, the crowning achievement in junior hockey.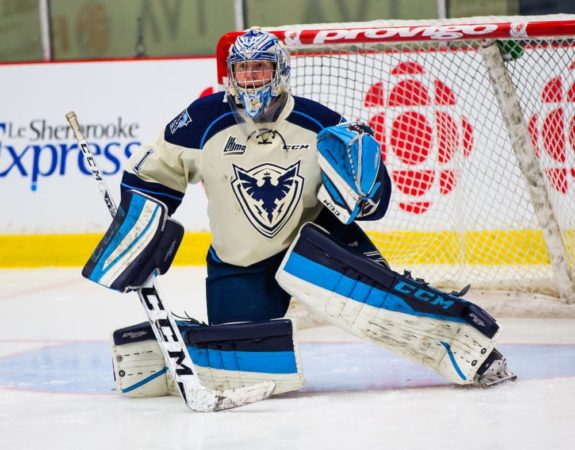 Fitzpatrick's play shot him up in the Blues' eyes, and earned him a chance in the ECHL this season. In nine games with the Tulsa Oilers, he's continued his strong play, with a 2.19 GAA and a .922 SV%. They're impressive numbers, even at the ECHL level, and they show that the Blues could have something pretty special in Fitzpatrick.
At just twenty years old, he already has all the physical tools. He's 6-foot-3, 205 pounds, an ideal frame for an NHL goalie. The sky may be the limit for Fitzpatrick, and if he continues playing at this high a level, he may force his way into the Blues' plans sooner rather than later.
Joel Hofer (Swift Current Broncos, WHL)
Joel Hofer is an 18-year-old goalie with the Swift Current Broncos of the Western Hockey League (WHL), and his impressive performance there last season as a 17-year-old convinced the Blues to draft him in the fourth round. Like Fitzpatrick, he's the ideal height for a goalie, at 6-foot-4, but his frame hasn't yet filled out (at just 161 pounds). This is a concern for a young goaltender, as it can be an issue for durability, but that hasn't stopped Hofer, who faces more shots than any other goalie in the WHL.
Joel Hofer has a .900 save percentage despite an average of 43.4 shots against him per game and a higher quality of shot than he faced last season. His battle level and mental toughness in his first two months as a full time starter on a rebuilding team have really impressed.

— Shawn Mullin (@shawnmullin) November 12, 2018
Hofer's stats this season are a bit misleading. He has a GAA of 4.02, and a SV% of .902. Neither stat looks all that impressive. But as Swift Current broadcaster Shawn Mullins explains, he's doing it on an absurd number of shots, and higher quality shots than he's faced before. The team around him is rebuilding, and the defense is clearly porous. The fact that Hofer's numbers are as good as they are is a testament to his tenacity.
It's hard to know what Hofer's future looks like, as he's so far away from the NHL. But the evidence we have is promising, and one can never have too many goalie prospects. Hofer is a youngster who will be fun to monitor in the years going forward.
Final Roundup
The Blues' NHL goalie situation has been and remains a mess. Allen is performing well for now, but it's become hard to rely on him for any extended period, and he'll need to prove it over the course of an entire season for the Blues to rely on him going forward. Chad Johnson has been satisfactory as the backup, but is nothing more than that, and at 32 likely isn't going to evolve. It's an ugly mess for the Blues at the top level.
But beyond that, there are lots of reasons for hope. Ville Husso is rebounding from a rough start in the AHL, and has the confidence of the organization. Jordan Binnington is surprising his evaluators and revitalizing his prospects for a future at a higher level. The Blues have one of the more interesting tandems in the AHL.
And they have two intriguing prospects at lower levels. Evan Fitzpatrick has as high a ceiling as any of their goaltenders, and has drawn comparisons to the likes of Roberto Luongo. And Joel Hofer, though still very young, has shown mental toughness backstopping the Swift Current Broncos of the WHL.
Blues fans have been told that the future of their goaltending is bright before, so they likely won't want to hear it again now. The front office needs to clean up their NHL goaltending, and even Ville Husso, who may be the closest to ready, isn't any sort of immediate solution. But if they can find the right stopgap, it's very likely that one of Husso, Fitzpatrick, or Hofer could indeed be the kind of franchise goaltender every team needs to succeed.