At the time of writing, the Edmonton Oilers are four points out of a wild-card spot as well as the top three in the Pacific Division. They've only played 23 games while the teams within reach of them (Anaheim, Vegas, and Vancouver) have played 25 or 26 games.
Safe to say, it's a good year to be playing in the Pacific.
Does the Oilers Season Need Saving in November?
I swear we deal with this same issue every season. November is a killer and has been for a few years now. If you don't believe me, why not check out what famed Oilers blogger Allan Mitchell had this to say in his most recent blog,
As bad as previous Novembers have been, this one might be the worst since 2014 (that was the Dubnyk in Toronto, Nail in the Washington press box fall, team going 2-9-3).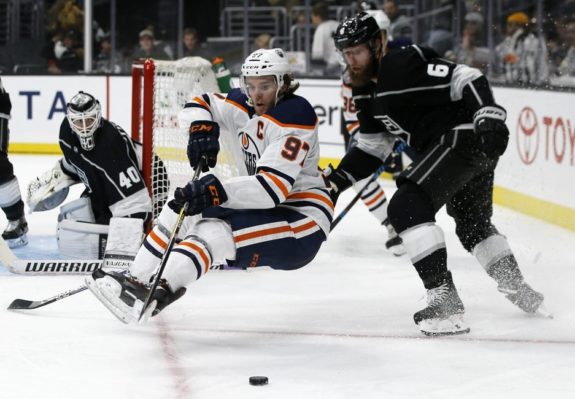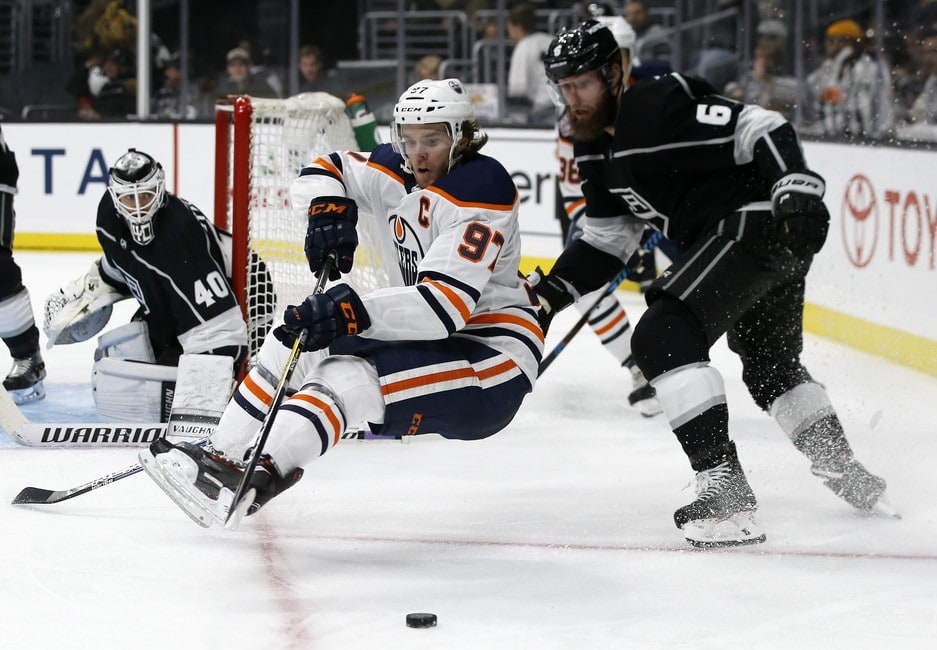 Also from Lowetide's blog are the Oilers' November records going back to 2015:
Oilers in November 2015: 4-6-2, 10 points; goal differential minus-6
Oilers in November 2016: 5-6-1, 11 points; goal differential even
Oilers in November 2017: 5-6-1, 11 points; goal differential minus-1
Oilers in November 2018: 4-7-1, nine points; goal differential minus-10
That is pretty sobering, right? But as I said previous to that, the Oilers are not out of the playoff race by any means. Losing to Anaheim and Los Angeles didn't help but they're 2-1-1 under Ken Hitchcock. Hitch has the team playing with a consistent intensity and fire that Todd McLellan couldn't get them to.
I'm also under the belief that the Oilers schedule is about to lighten up a bit going forward and if this team could get its act together, that four-to-six point deficit can easily be erased.
Oilers Roster is Lacking One Specific Player
First off, this has nothing to do with finding a shooter for Connor McDavid.
I don't believe that finding a shoot-first player will magically turn his line into the most dangerous line in all of hockey, as it already is. Any line that features McDavid is already the most dangerous line in hockey due to the fact that he's both playmaker and sniper. All he needs are players who are smart enough to know where to go and that doesn't have to be a $7 million winger.
At the moment he's got Leon Draisaitl and whatever left-winger gets his name drawn out of the hat to play with him each evening, which is fine. My feeling is that Draisaitl is THE best winger for McDavid on this roster because the magic they produce when they're on the ice together is splendid. McDavid would be just as dangerous with Ty Rattie and Ryan Spooner on his wings whereas Draisaitl probably needs more talent on his wings at this point in his career.
The player I'd be looking for is one that could team-up with the Oilers big German center.
Now that could simply be Jesse Puljujarvi, right? He has the tools to be a very dangerous player at the NHL level and if you watched how he cut through AHL defenses during his latest stint in the American League, you'd know how talented he is when he's in the right frame of mind.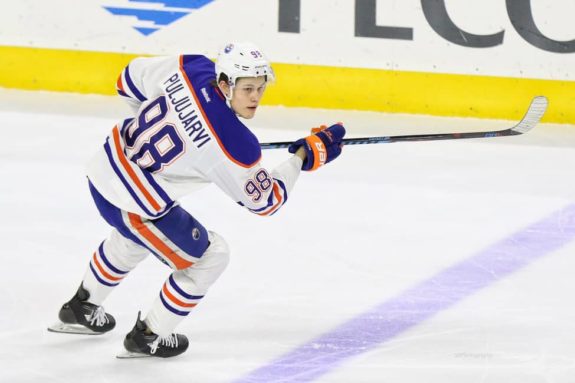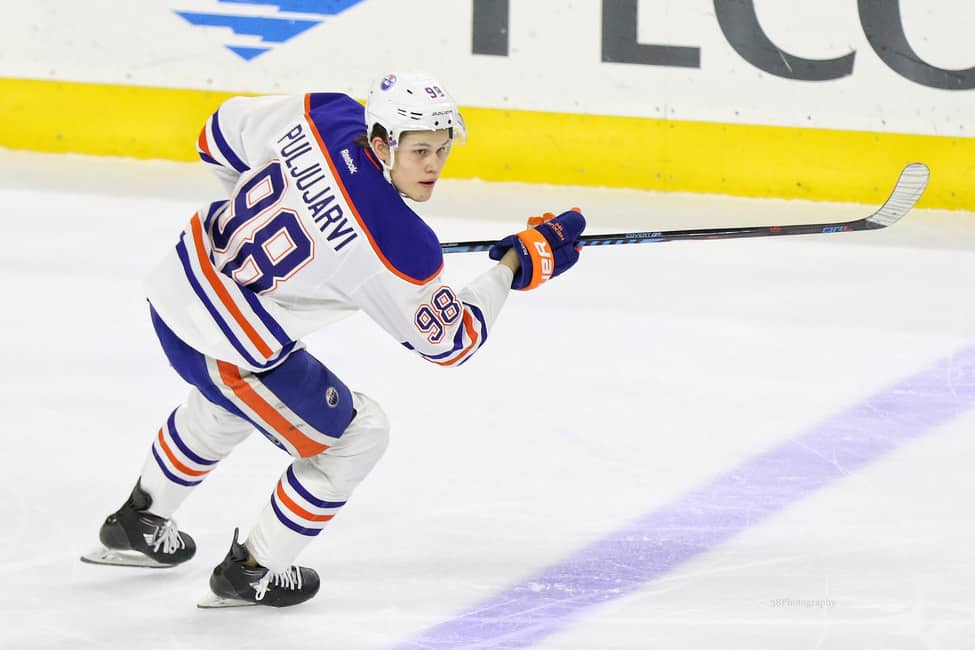 Why not add Ryan Nugent-Hopkins to be that line's left-wing? THAT would be a very dangerous looking line and I have to wonder if that's something we'll see at some point here under Hitchcock?
But let's say Nugent-Hopkins or Puljujarvi aren't those guys, then the team needs to go out and find a team who is looking to make a hockey deal. A team who has cap space that is willing to move a substantial talent on the wings for futures and a bad contract would be preferable.
That is a very tough trade to make.
What About Bringing in a Tank?
Stephen Ground, recently penned an article entitled, "Should the Blues Make a Statement Trade?" and this coupled with the Elliotte Friedman comments on Vladimir Tarasenko, got me thinking about the Oilers bringing in a player like Tarasenko.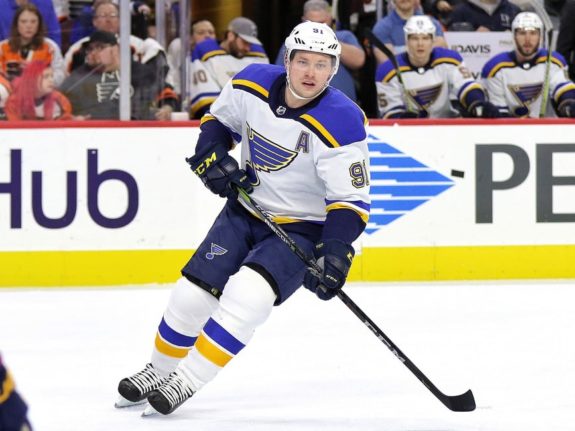 The biggest nails in the coffin for a team looking to acquire a massive talent like Tarasenko are money and clauses. The Blues' talented Russian winger makes $7.5 million per season until the 2022-23 season BUT he doesn't have any sort of no-trade or no-movement clause this season. It kicks in next season.
Ground wrote this of the notion of St. Louis potentially trading its best player,
But Friedman makes one more point, which explains why the Blues might consider trading Tarasenko if they truly are at their wit's end: 'There's no bigger change they could make, if they wanted to.'
What I'd be Willing to Part With
For a winger like Tarasenko, who has scored 30 or more goals four times in seven seasons, I'd be willing to part with some significant talent for that. What that means is everyone is on the board apart from McDavid, Draisaitl, and Evan Bouchard. Those three players are off-limits in my books.
Now, I'm looking at the Blues roster and I'm wondering what their plan is with players like Robert Thomas and Robby Fabbri. Is St. Louis going to keep them on the wings of the second line or would they be available for the right price?
I think Fabbri is a player the Oilers would have interest in for sure.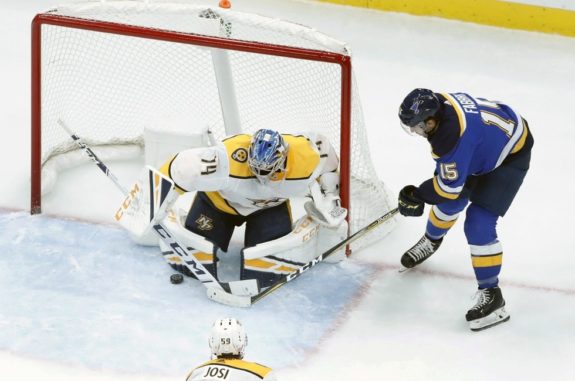 I'm also looking at their first line left wing and seeing Zach Sanford there. Would it make sense to move Brayden Schenn to the top line alongside Ryan O'Reilly in a scenario where Tarasenko was dealt? If it did maybe a player like Nugent-Hopkins could fit right in at second-line center for St. Louis.
In my opinion, the Blues defense and goaltending have taken a step back this year because that group of forwards looks outstanding on paper. To that end, how interested would Blues general manager Doug Armstrong be in someone like Cam Talbot or Darnell Nurse?
It's my belief that the potential for a staggering multi-player trade between the Blues and the Oilers is high. Both teams are struggling at various levels and their GMs are looking to shake up the foundations a bit. I do believe it would be silly for the Oilers to move players like Nugent-Hopkins or Nurse but what about a youngster like the aforementioned Jesse Puljujarvi or highly-regarded prospects like Kirill Maksimov, Kailer Yamamoto, Ethan Bear, or Ostap Safin?
What comes to mind is the trade that brought Chris Pronger to the Oilers for Eric Brewer, Doug Lynch, and Jeff Woywitka. Could it be possible for Edmonton to pull off another similar deal? Say, Colton Parayko for Darnell Nurse, Ethan Bear, and John Marino?
Another option might be sending Jesse Puljujarvi and Ryan Nugent-Hopkins to St. Louis for Vladimir Tarasenko but if you were the Blues GM, would you accept? If you were Oilers GM would you even offer that?
To date, Chiarelli has been very hesitant in moving any prospects of note since rebuilding the Oilers pipeline, but his job is on the line this season and it might behoove him rethink that strategy.
At any rate, any deal that the Oilers make in the future will have to make sense financially unless they feel like digging into Andrej Sekera's IR cushion. If that were to happen, they'd have to make other roster moves down the line when he returns (IF he returns) to balance out the bankbook if you will.
Hey there! My name is BLH and you might know me from such websites as Beer League Heroes or from Oilers Twitter. I'm a diehard Edmonton Oilers fan who lives in Taipei City, Taiwan! I'm originally from a small town outside of Edmonton called Camrose.
I write as a fan for the fans.
When you read my content you're not going to be getting vanilla. I'm going to give you a debateable thought-provoking point of view on the Oilers.