On Friday night, St. Louis Blues goaltender Chad Johnson earned the team's first shutout of the season, stopping all 33 shots aimed at him by the visiting San Jose Sharks. It was Johnson's second straight strong start, as a winning performance against the Carolina Hurricanes earlier in the week convinced head coach Mike Yeo to stick with the hot hand over a struggling Jake Allen.
Now, unless Yeo wants to break seriously with goaltending tradition, Johnson has earned a third straight start against the Minnesota Wild on Sunday. The situation is beginning to sound the notes of a tune all too familiar to Blues fans, who have seen one backup goaltender after another steal playing time from Allen, the supposed starter. While four games is not a lot of evidence for Johnson, it certainly seems that another goaltending controversy is brewing in St. Louis.
Allen Struggles
It was no secret coming into the season that goaltending was one of the few questions surrounding the Blues. Allen had a disastrous 2017-18, particularly in midwinter, culminating in a .906 save percentage and a 2.75 goals against average for the season. But with three years remaining on his contract and no interested buyers, the Blues had little choice but to continue with Allen as starter, and to let Carter Hutton walk to Buffalo (more on him later).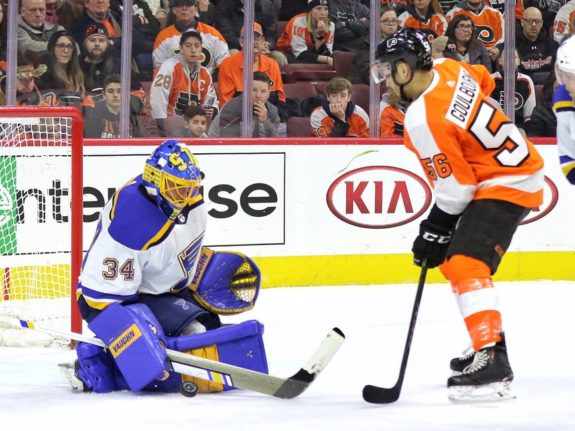 Allen did nothing to assuage fans' fears in the first month of the 2018-19 season. He is league-worst in GAA (3.99) and second-worst behind only Mike Smith in SV% (.879) amongst goaltenders that have started six or more games (both Allen and Smith have started 11). Only four of his 11 starts have been "quality," meaning his SV% surpassed the league average for the season. Most hauntingly, he's had several horrific goals against, most recently this howler surrendered to the Wild's Matt Dumba.
Awful goal by Jake Allen. Dumba's 4th from Granlund…4-1

— Michael Russo (@RussoHockey) November 4, 2018
With Allen in net, the Blues are 4-3-3, far from the strong playoff contender they expected to be at the start of the season. In the past, Allen has often struggled at some point during the season, sometimes for a long stretch of time, but rarely if ever has he looked this bad right out of the gate. Whether there's a brighter future ahead for Allen is uncertain, but in the meantime, the Blues can't afford to dig themselves into any deeper a hole in the standings.
Johnson Shines
Meanwhile, in a tale as old as time, Jake Allen's backup is outperforming him. Chad Johnson has received extremely limited playing time this season, perhaps to avoid just such a controversy as appears to be bubbling at the moment, but in his three starts, he has looked consistent at worst, and, at best, very strong, which is more than can be said for his partner. The shutout against the Sharks is further confirmation that without Allen, many of the Blues' defensive shortcomings are less potent.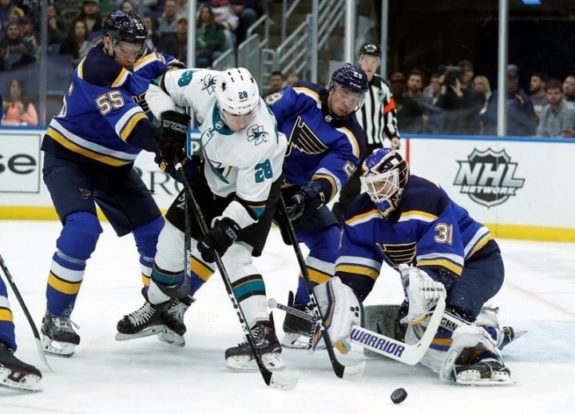 The difference between Johnson and Allen seems to be consistency. Even when he is peppered with shots (Johnson has faced a total of 72 in his last two starts), he simply doesn't allow the same kind of weak goals that Allen has been wont to allow lately. The immediate choice for Mike Yeo seems clear: Chad Johnson gives the team a better chance to win. The problem for Blues' fan is that this whole scene is worryingly familiar.
Brian Elliott, Carter Hutton Redux
The Johnson/Allen debate is a scene that Blues fans have seen rehearsed twice before. Brian Elliott was a struggling goaltender on his very last legs when the Blues gave him an invitation to camp to compete with Ben Bishop. For that reason, the move may have cost the Blues long term, as it resulted in them trading Ben Bishop, but that was only because of how strongly Elliott performed during his tenure in St. Louis.
In five seasons with the Blues, Elliott posted an absurd .925 SV% and 2.01 GAA. He also remains the franchise leader in shutouts with 25. Elliott was never expected to be a long-term solution in net with St. Louis, but he supplanted Jaroslav Halak, forced the team to trade Bishop, outperformed Ryan Miller during his brief stay with the team, and ultimately shared the net with Allen until Elliott was traded to Calgary. Since that trade, neither Elliott nor Allen has been the same.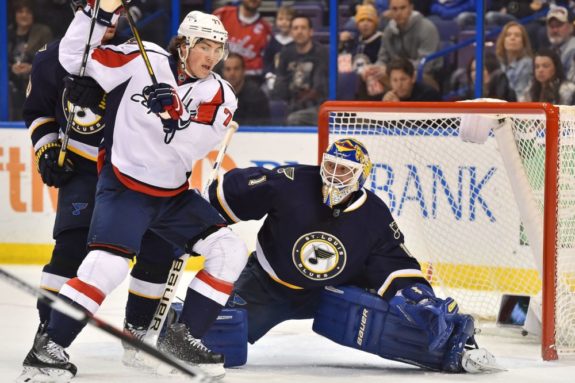 After Elliott was traded, Allen became the presumptive full-time starter, a position which the Blues solidified by signing career-long backup Carter Hutton to be his number two. But Allen looked horrendous in his first season as a starter, which ultimately led to more playing time for Hutton. After the firing of Ken Hitchcock and the addition of Martin Brodeur to the coaching staff, Allen had a tremendous second half, and absolutely stole a playoff series from the Minnesota Wild. It was enough to earn him a four-year contract extension (one that Blues' GM Doug Armstrong may now regret).
But in the second year of Allen and Hutton's shared tenure with the Blues, things got more clouded. Allen struggled yet again, and this time, Hutton exploded in his place. He finished the season with the league lead in both SV% (.931) and GAA (2.09) and earned himself a very nice contract from the Buffalo Sabres. Allen struggled for long stretches all year, including in the final few games, after which the Blues missed the playoffs by only one point.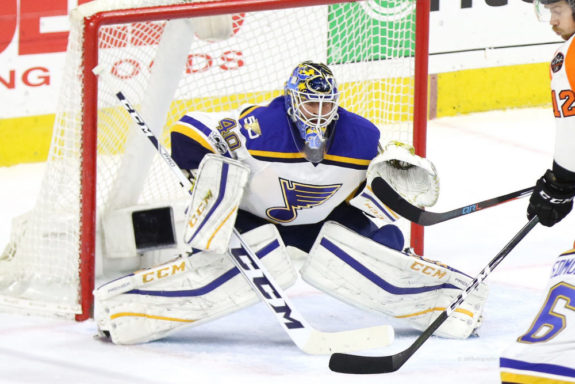 After the season, the Blues decided they couldn't afford to retain Hutton at a starter's salary, but the choice of Chad Johnson as Allen's backup was a strange one. He was one of very few goaltenders in the league with worse numbers than Allen, and there seemed to be very little chance that he could sustain the Blues during long stretches of poor performance, as Hutton had done. But, with the season still young, it looks like that may be exactly where the Blues have found themselves yet again.
The Future of Blues' Goaltending
Barring an unforeseen and strange decision, Johnson should get a start once again on Sunday, his third in a row. As long as he performs well, he will need to get a majority of the starts going forward, until Allen rights the ship. If this season is like past ones, Allen will get an occasional start to test his mettle, but Johnson could see a lot of the net in the upcoming weeks.
That depends, of course, on Johnson continuing to perform at a high level. If he doesn't, and Allen isn't any better, the Blues are in serious trouble. If they have any hopes of making a run this year, they might need to consider a trade for a goaltender, perhaps Craig Anderson or Sergei Bobrovsky, both of whom are on expiring contracts.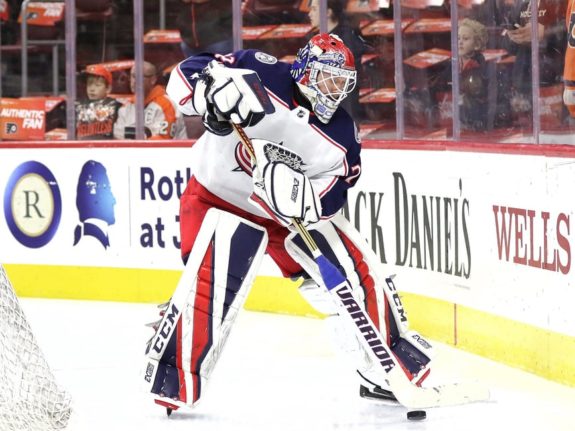 In the meantime, the Blues need to find their way forward with the goalies at hand. Ville Husso, who is tapped to be the goalie of the future, has looked dreadful with the San Antonio Rampage, so he is nowhere near ready for a call-up. It's Johnson and Allen for the foreseeable future, and right now, Johnson has a distinct lead.
Jake Allen fighting off challenges from his goaltending partners is nothing new in St. Louis, but it's a story that's getting old to many spectators. Goalie after goalie has come to St. Louis, played behind their defense, and thrived, while Allen has remained the official starting goaltender and struggled. This season was supposed to be a make or break year for Allen, with Johnson thought to be a suitably unthreatening backup for him to play in front of. But five weeks in, the needle has dropped, and that same old song is starting to play yet again.