The Vancouver Canucks are the highest-scoring team in the Western Conference. Let that sink in a little.
The gang that couldn't shoot straight while finishing 26th overall with 2.66 goals per game last season now has 56 goals in 17 games after defeating the Boston Bruins 8-5 on Thursday night. Heading into Friday's action, Vancouver is just two goals behind the NHL's highest-scoring team, the Tampa Bay Lightning.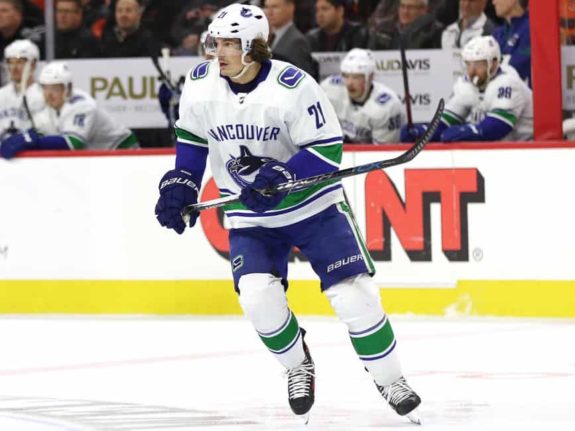 Before this season started, many wondered where the Canucks were going to get their scoring because of the inability to score in recent years combined with the loss of Daniel and Henrik Sedin to retirement. The young, rejuvenated lineup has more than picked up the slack so far.
Granted, no team has played more games than the Canucks through Thursday and their goals per game average ranks 12th overall. But Vancouver's 3.29 goals per game is a huge improvement upon the 2.71 goals they averaged (46 goals) through the first 17 games of last season.
"There is a lot of resiliency in this room," Canucks center Bo Horvat told The Associated Press (via Sportsnet) after he scored his eighth and ninth goals of the season in the win over the Bruins. "We played a pretty good game (Tuesday night) in Detroit and after a tough loss like that to come back shows a lot. In preseason, people didn't think we were going to be that high-scoring of a team, but we keep proving people wrong and that's what we need to continue to do."
The last time the Canucks averaged more than three goals per game over a whole season was 2010-11 (3.15), the year they lost in seven games to the Bruins in the Stanley Cup Final.
Amazingly, the Canucks crushed the Bruins without Brock Boeser, who was sent back to Vancouver to see a specialist for his groin injury, and without a goal from Elias Pettersson. The wonder-rookie leads the team with 10 goals and notched just one assist in Boston to bring his team-leading points total to 17 in 11 games.
Vancouver is getting scoring from up and down the lineup. Jake Virtanen, who scored one goal in Boston, now has six on the season to rank third on the team. Bottom-six forward Antoine Roussel scored his third, and defenseman Ben Hutton notched his fourth of the season against the Bruins.
Loui Eriksson Snaps out of His Slump
You know things are going well when Loui Eriksson scores a pair, as he did Thursday against his former team. A favorite whipping boy among fans because of his low production since signing a six-year, $36 million contract in the summer of 2016, Eriksson has all three of his goals in the past three games.
"It was definitely nice to get the win against a good team," Eriksson told The Province newspaper (from "Canucks Post Game: Horvat hangs in, Eriksson emergences, offensive defence, Roussel arrives" 11/9/18). "I had some puck luck today, probably, even though the first goal off the Guddy (Erik Gudbrandson) shot, the puck just bounced to me. And to play good defensively, has always been an important part of the game for me."
As was the case against the Bruins, the Canucks have been opportunistic and making the most of opponents' mistakes. But Vancouver's speed and aggressiveness are also forcing some of those mistakes. Thursday night was also the first time since Nov. 14, 2009 (vs. Colorado) that the Canucks have scored eight goals in a game.
The @Canucks scored eight goals in a game for the first time since Nov. 14, 2009 at COL. #NHLStats pic.twitter.com/p7dCMM8lOy

— NHL Public Relations (@PR_NHL) November 9, 2018
Yes, it's early in the season, and nobody is confusing the Canucks with the 1983-84 Edmonton Oilers. But the consistent scoring production combined with an aggressive style that makes them difficult to play against has done wonders for the confidence of a team that's relying more on its younger players while it tries to rebuild.
Perhaps most impressively, the Canucks are finding ways to score while dealing with significant injuries to key players such as forwards Boeser, Brandon Sutter and Sven Baertschi and defenseman Alex Edler.
Imagine If the Canucks Had All of Their Regulars
Could the Canucks be even better if they had those core players in the lineup? Plus, they were without Pettersson for six games earlier in the season because of a concussion.
The Bruins game was the second time Vancouver has scored seven or more goals this season (they beat Colorado 7-6 in overtime on Nov. 2). According to ESPN Stats and Information, the last time the Canucks had two games with seven or more goals in a season was 2010-11 when they had three.
Of course, when you rank 24th overall by giving up 3.35 goals per game, you need some offensive firepower to lead the Pacific Division with 21 points. But that's a story for another day.
Realistically, this torrid scoring pace won't continue. But even if this is a short blip it's given Canucks fans some good reason for optimism after three consecutive bleak seasons out of the playoffs.