In today's News & Notes, the New Jersey Devils have signed their 2018 first-round pick Ty Smith to a three-year entry-level contract, the Montreal Canadiens and Calgary Flames made a trade and the New York Rangers have signed Dustin Tokarski to a one-year contract and the NHL Network has released their top-20 NHL winger list (which has already created a debate).
Devils Sign Smith
The Devils have come to terms with Smith, their first-round pick in 2018, to a three-year entry-level contract, the team announced Monday.
Smith was excellent in his second season with the Spokane Chiefs in the WHL in 2017-18, setting career-highs in just about every category with an impressive 14 goals, 59 assists, 73 points and 30 penalty minutes. While plus/minus is an increasingly useless statistic, his plus-44 rating in 69 games was also a career-high.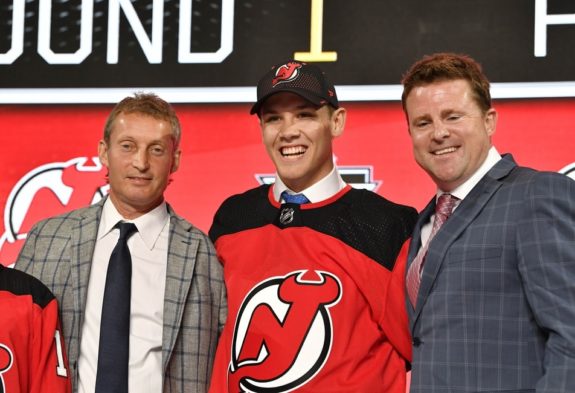 Not only did Smith set career-highs in his draft season but his assist and point totals were also the second-highest among defenders int he WHL last season.
Smith also has experience internationally as he won a silver medal with Canada at the U17 WHC in 2017 as well as a gold medal as an alternate captain for Canada at the 2018 Ivan Hlinka Memorial Tournament. He was also the captain of Team Canada's IIHF U18 World Championship Team.
Related: NHL News & Notes: Ellis, Werenski, Santini
The Devils proved in 2017-18 that they were a far better team than their record suggested just a season prior and will aim to get better in the near future. The addition of Smith will only help that cause, even if his NHL debut is still likely a few seasons away.
Canadiens and Flames Swap Rychel and Shinkaruk
The Canadiens have traded Kerby Rychel to the Flames in exchange for Hunter Shinkaruk.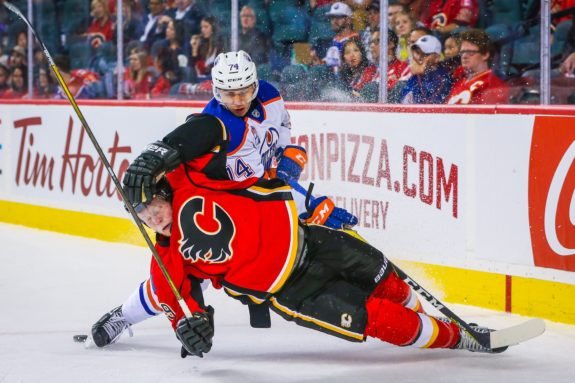 Both Rychel and Shinkaruk were selected in the first round in the 2013 NHL Entry Draft but have both failed to make an impact at the NHL roster as of yet. For Rychel, the Flames will be his fourth team since the Columbus Blue Jackets took him 19th overall and for Shinkaruk, the Canadiens will be his third team, all in Canada, since the Vancouver Canucks took him 24th overall.
Neither player projects to be a top-six impact player the way they were coming out of the WHL but both still have an opportunity to become a serviceable NHL player one day if they put the work in. A change of scenery is always good for players who can't seem to break out. Still, the Canadiens only gave Rychel 16 AHL games (eight goals, 12 points) and four NHL games (one goal, two points) to prove himself.
While he did admirably in his brief time, the Canadiens have ultimately opted to take their chances on Shinkaruk instead. The Canadiens would agree to terms on a one-year, two-way contract with Shinkaruk shortly after the trade was completed.
NHL Network Releases Top-20 Wingers List
Closing out their list of best skaters, the NHL Network has released a list of their top-20 wingers in the league. This list came after the highly-discussed and highly-debated top-20 centers and top-20 defenders lists.
Here are the players that the NHL Network selected for their list:
Nikita Kucherov
Alex Ovechkin
Taylor Hall
Patrick Kane
Brad Marchand
Patrik Laine
Claude Giroux
Jamie Benn
Blake Wheeler
Artemi Panarin
Vladimir Tarasenko
Johnny Gaudreau
Phil Kessel
David Pastrnak
Filip Forsberg
Jakub Voracek
Mikko Rantanen
Rickard Rakell
Brock Boeser
Viktor Arvidsson
As was the case with the other two lists released by the NHL Network, there has been a debate about the order of the players on the list and in some cases, even arguments about the players included on the list. Regardless of who the NHL Network placed on their list, however, it's important to remember that any such grouping of players is widely subjective and while every player included deserves to be there, there can be a case made for many others to also crack the list as well.
Rangers Sign Tokarski
The Rangers made a minor move Monday when they signed Tokarski to a one-year contract. The deal will pay Tokarski $650,000 at the NHL level and $250,000 in the AHL, though he's guaranteed $275,000 regardless of whether or not he plays the full season at the AHL level, CapFriendly announced on Twitter. At the conclusion of this deal, Tokarski will be an unrestricted free agent.
OFFICIAL: #NYR have agreed to terms with free agent goaltender Dustin Tokarski on a one-year contract. pic.twitter.com/fbzOb5AZQz

— New York Rangers (@NYRangers) August 20, 2018
The soon-to-be 29-year-old netminder has played in a total of 34 games at the NHL level since being drafted in the fifth round in 2008, spending time with the Tampa Bay Lightning, Montreal Canadiens and Anaheim Ducks. He's compiled a 10-12-5 record in that time with a 2.84 goals against average and a .904 save percentage at the NHL level.
In 2017-18, Tokarski played in 39 games with the Lehigh Valley Phantoms, the Philadelphia Flyers' AHL affiliate, recording a 20-8-2 record with a 2.65 goals against average and a .915 save percentage. He also played in three postseason games, going 1-1 with a less-than-stellar 4.17 goals against average and a .859 save percentage.
Brandon Share-Cohen has covered the NHL and various professional sports for seven years. Working with The Hockey Writers, Brandon works extensively on covering the Boston Bruins in addition to his role as the News Team Lead.