After the conflict that came in the 2018 Winter Olympics that made men's ice hockey fans seething with rage because NHL players were outlawed from participating, the International Ice Hockey Federation (IIHF) president has spoken as to whether or not the 2022 Olympics will look any different. Long story short, it's unclear. Dr. Rene Fasel, the IIHF President, gave the NHL four options to choose from.
Hosted a panel discussion in Edmonton today with @IIHFHockey president Dr. Rene Fasel. He told the IOC there are 4 options for hockey in the next Olympics:
1. Go with NHL players
2. Use the same player pool as 2018
3. Use under 23 players
4. No hockey
All four are on the table

— Gord Miller (@GMillerTSN) August 10, 2018
On the surface, there's a lot to swallow since there are so many ways to look at each option. What's especially curious about these is how a few months ago Fasel was committed to having NHL players be a part of the equation. But as time has rolled on since then, perhaps Fasel is willing to put the pressure on the NHL sooner rather than later.
But, at the end of the day, the two big things to look at for each of these options is the quality of play and how NHL fans will react.
NHL Players Are Eligible
Quality of Play
This doesn't take much explanation — this option would make the Olympics as competitive as possible. Canada and the US would have greatly improved rosters and Sweden, Finland and Russia would all see moderately improved rosters — they will all be getting great players, but given their successful products in 2018, it's less of an improvement.
The problem that we run into here in terms of quality of play is something we can call the John Tavares Effect. It wasn't too long ago Tavares suffered a season-ending injury in the Olympics and the Islanders suffered because of that.
This option is not a hindrance on the popular Winter Olympic sport, but on the season that most would consider more important. Losing gold because P.K. Subban was injured is much different than not making the Stanley Cup Playoffs because of it.
Fan Perspective
This is what most NHL fans want. They want to see elite hockey with their favorite (and least favorite) players competing head-to-head. This will also increase morale for the United States' fans after a poor run in 2018. If NHL players are sent, we'd see the likes of Patrick Kane, Joe Pavelski and T.J. Oshie as potential members of the roster.
The problem that comes with this is the lack of diversity on the rosters. By that I mean there's less room for the unlikely star, the hidden gem. As discussed in the next section, the 2018 Olympics were a big opportunity for NCAA players vying for spots on NHL rosters. It also impacted the careers of those outside of the NCAA — Brian Gionta signed a contract with the Bruins shortly after the Olympics.
With NHL players being eligible, that's all that you're likely going to get, even if some are not allowed to go. There's plenty of players from each major country that can fill up at least the top-six and top-four spots on offense and defense. If you're a fan of the NHL, it's still great, but it robs those fans of a unique experience.
Amateurs & Former NHLers
Quality of Play
This was the option that caused so much gripe and pain last season that was limited to Canada and the United States almost exclusively. The reason being is that other major hockey countries (mainly Russia, Finland, Sweden) have a competitive (non-farm) professional league within their country not named the NHL.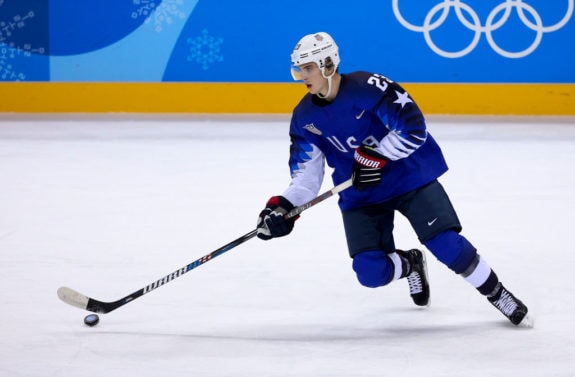 But even then, Canada was able to scrounge up a successful group of former NHL players that bound together to win bronze. When it came to quality of play, the only team it really hurt was the United States. And ultimately, it was their own choices that led to their demise — the system wasn't an issue.
Look at who led the United States in scoring in the Olympics in 2018: Ryan Donato of Harvard University. Right below him is Troy Terry from Denver University. Jordan Greenway, a BU Terrier, appeared slightly lower on the list but still got on the score sheet. All three forwards named to the roster contributed in the points column. Only 12 players in total on the roster had at least one point. Donato, Terry and Greenway were producing nearly 43 percent of the United States' points.
It wasn't as if playing amateurs put the US at a disadvantage. If the United States could beat the Soviet Union with a group of college kids back when the NCAA wasn't producing near the same level of talent they are now, they can easily compete against the big boys now. The lack of success was just chalked up to the US not picking enough young guns to lead their team.
Fan Perspective
And as for the NHL fan perspective, obviously, this one blew up in the faces of the IIHF. Every time the US failed, there was always someone to pipe up and say it was because there were no NHL players — despite there being none on any other team. Point being is that it didn't make for a fun time for a lot of NHL fans.
But this is a unique experience that really holds a lot of value for fans who can look past the fact that Evgeni Malkin isn't dressed for Russia. It's like the World Junior Championships but on a larger scale. Fans of the WJC go absolutely ballistic when they see 18 and 19 (sometimes 17) year-old kids suiting up for their countries every December and January. There's no reason that the Olympics can't present itself as the same kind of experience. Granted, the players won't be as young across the board and there might not be nearly as much future NHL talent, but there's still beauty in cheering for a group of guys you've hardly heard of for the sake of your country.
Basically Team North America
Quality of Play
When the World Cup of Hockey was hosted, there was no team that was more exciting to watch than Team North America. While it took away the ability to be proud of your country because it threw Americans and Canadians in the same group (which is inherently a big red flag because of the rivalry), there was so much to cheer for.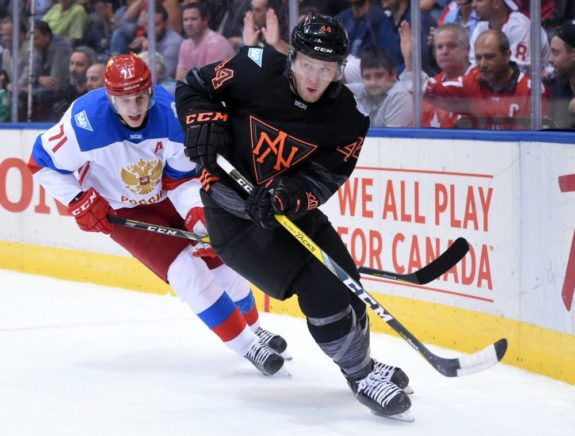 Bring the same aspect back of having young talent but being able to root for your country and you have yourself a nice set-up. Every country has plenty of players that fit this bill and will continue to fit it in 2020. What makes this better is there's some big name talent that will still be eligible come 2020. Almost the entirety of the 2015 NHL Draft will be eligible minus those born in 1996 and those born in January and February of 1997. So sadly, McDavid and Eichel are out of that, but it's not like the rest of the 2015 draft and onward was miserable with no talent in them whatsoever.
But even though players like Patrik Laine, Auston Matthews, Mitch Marner, Jack Hughes and many more will be eligible, it's still unlikely any of them may get to play. The John Tavares effect will still be lingering and any team in a playoff position will be leery of letting their stars go to the Olympics. Not to mention, this would not require a league shut down so teams would be without their young stars. In that case, if you're well in the lead, maybe you'll do it. If you're in the hunt, well, no one's going anywhere.
All this relies upon the idea that these NHL stars would even be eligible. Because of the vagueness, there's assumption that this might still mean players without NHL contracts. In that case, every country but Canada will be able to continue on fine. Canada has a problem because nearly all of their top players commit to playing in the CHL, which only supports players up until the age of 20. Other than that they have university sports, but the level of talent isn't the same as other leagues. Should this option happen, Canada would be stuck putting out something similar to their WJC roster.
Fan Perspective
We're going to assume players with NHL contracts can go for the sake of not repeating the argument over the fan perspective on the 2018 system. That said, with as much hype and support as Team North America did, there's no reason to believe the Olympic rosters wouldn't get the same love. That is if everyone's favorite NHL players can participate.
After 2018, it sounds like the majority of fans will only be happy if they see NHL players. Regardless of how many players with NHL potential play are present, the draw is the players that already wear the logos of Rangers, Flames, Kings and so on.
Because of that fact mixed with the risk of top players not playing at all, this one will be really hit-or-miss with the fans. It will simply come down to who plays and who doesn't. For a fan of national tournaments, they'll eat it up regardless. But for the majority of NHL fans, they could love it or they could hate it.
No Men's Hockey
No need to break down what this means in terms of quality of play and fan perspective because there is none. No hockey whatsoever, and more than anything, it's a poor business choice. There is really no way the IIHF would follow through on this because of the loss in revenue they would suffer.
Keep in mind though, this would have no impact on the ever growing, successful women's teams.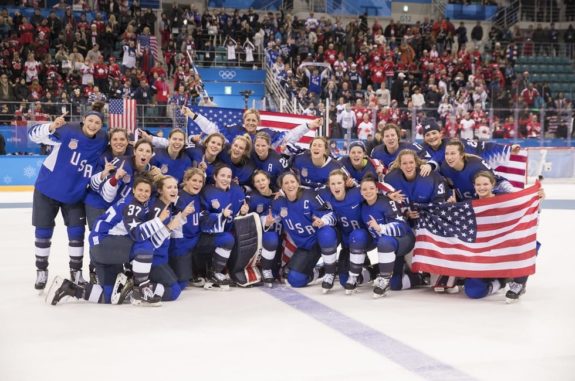 So while it might be a loss in some sense, the underappreciated women of hockey will get the spotlight all to themselves. They experienced that somewhat in 2018, but the attention they would get if they were the only hockey team present would go through the roof. And that wouldn't really be a problem.
While it might appear dreadful on the outside, it really might not be bad to trade in handsomely paid men for women who work day jobs and still win gold.
I am a University of Arizona Pre-Business student with a passion for USA and college hockey. I was previously a sports editor and hockey beat writer at the student publication, "The Daily Wildcat". I enjoy watching film and crunching numbers.