To say the Vegas Golden Knights' 2017-18 season was surprising is an understatement. It was astonishing and flat-out jaw-dropping. Coming into the league as a first-year expansion team and completely shattering expectations was artistry.
Sure, their relentless 100 miles per hour-esque style on offense and rambunctious home-ice advantage played a role. However, the emergence of forwards Jonathan Marchessault and William Karlsson as their top two scorers may have been the most significant contributing factor.
Having a pair of youthful skaters with speed and a scoring touch goes a long way in having long-term success in the NHL. Given their offensive skill sets and young ages, can they become the NHL's next greatest dynamic duo? Below is why this may come to fruition.
Both Recorded 75-Plus Points Last Season
It's one thing to have a forward capable of racking up 75 or more points a season. Possessing a pair of players who can break that statistical plateau is another. The Golden Knights had that exact luxury in their inaugural season with Marchessault and Karlsson, which came as a shock given that one of them could not sniff the 30-point barrier in prior seasons.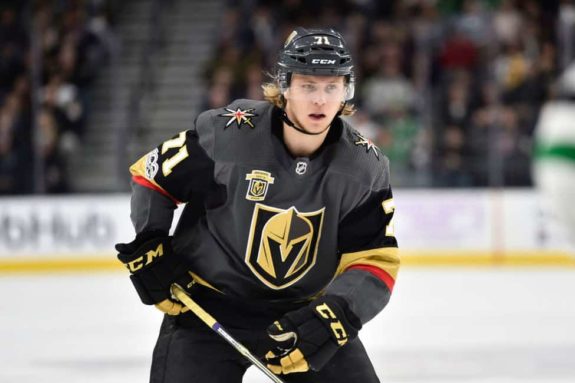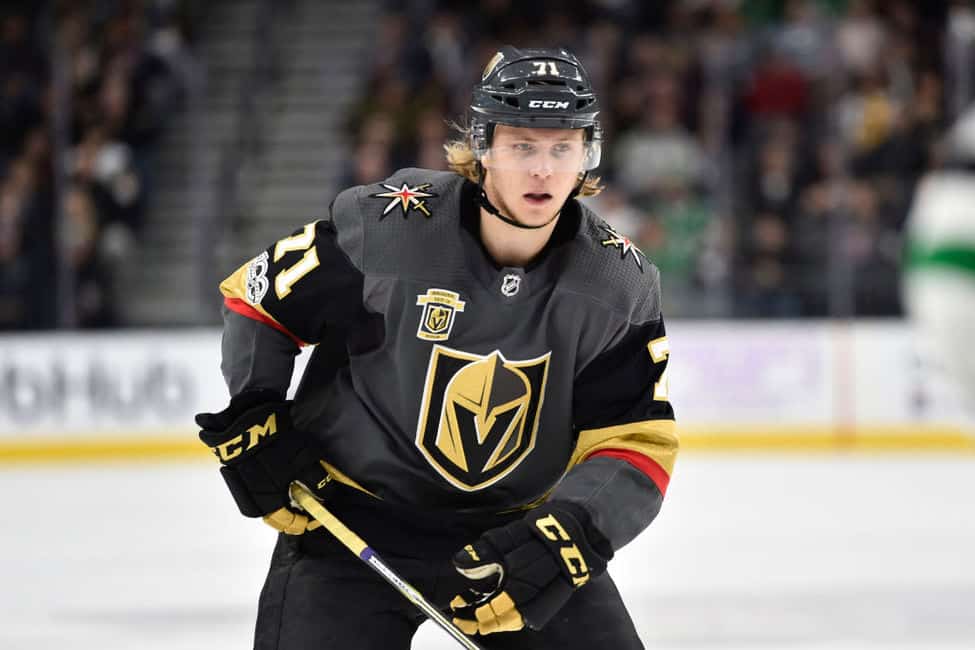 The Swedish-born Karlsson was the anchor of Vegas' scoring machine, as he led the team with 78 points and 43 goals in a full 82-game season. He also registered 35 assists. What's most stunning about his output was that he was a mere role player with the Columbus Blue Jackets the previous season. Karlsson played all 82 games in the 2016-17 season and he recorded just six goals and 19 assists for a career-high 25 points. Breaking the 40-goal mark and nearly reaching 80 points was an unforeseen accomplishment for the 25-year old.
Marchessault was right behind his first-line compadre on the scoring list last season. The Cape-Rogue, Quebec product notched 27 goals and 48 assists for 75 points in 77 games last year. His points and assists numbers were both second-highest on the team, and it's fair to believe he would have racked up 80-plus points had he played five additional matches.
Unlike Karlsson, though, the 27-year old centre displayed flashes of brilliance the season before his arrival in Vegas. During the 2016-17 campaign, Marchessault put up 30 goals and 21 helpers for 51 points with the Florida Panthers. Hovering around the 50-point range at a reasonably young age is always promising, and Marchessault took that potential and elevated his game to another level with Vegas.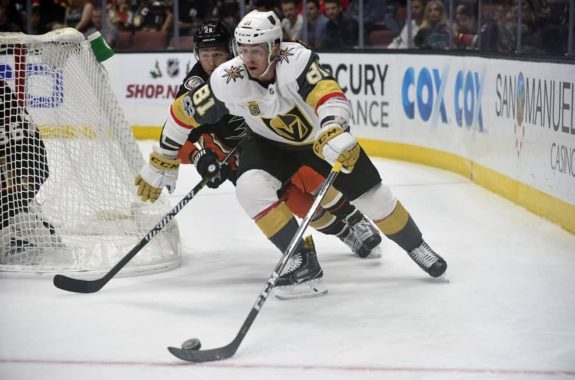 Both players clearly had polar opposite performances the season prior to becoming Golden Knights. But as soon as Karlsson and Marchessault landed in Vegas, their offensive productions skyrocketed simultaneously and they emerged as two of the NHL's top-30 scorers. Not many teams in the league have the privilege of possessing a top-30 overall scorer, let alone two who can rack up 75-80 points in a season. The Golden Knights are one of the lucky ones to have a pair of efficient scorers who mesh really well.
Their Skill Sets Compliment Each Other
Marchessault and Karlsson have both demonstrated an ability to put points on the board and significantly boost their team's offensive output. A club can have a pair of talented forwards with a scoring knack, but if the pair can't gel together, then the flow of the offense becomes clunky. Vegas does not have that flaw because Karlsson and Marchessault compliment one another in a smooth manner when they share the ice. And when the pair is clicking on all cylinders, the Golden Knights have one of the NHL's most explosive attacks.
Last season, the Swedish-born winger cultivated into Vegas' premier goal-scoring option, while the former Florida Panther materialized into a stout playmaker. And when the pair took the ice together, it was a common sight to see Marchessault moving the puck accurately in Karlsson's direction to set up a goal.
Out of Karlsson's 43 scores, 18 of them were assisted by his Quebec-born linemate. But the two forwards did not completely stick to their primary roles, as Karlsson would occasionally step into a playmaking position. The 6-foot-1 winger assisted on 11 of Marchessault's 27 goals. It is important to note that the two offensive specimens were not linemates to begin the year, so its easy to conceive how outstanding their chemistry could have been for a full season.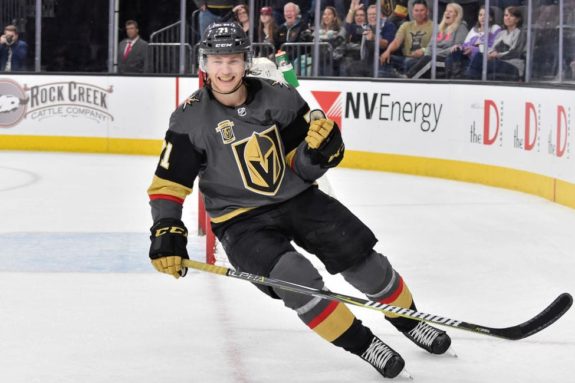 Establishing a solidified passer-to-scorer concept is vital for a solid first-line duo, but having the ability to switch those responsibilities around can be truly difference-making on a night-to-night basis. Both Marchessault and Karlsson pack some above-average speed in their skating, which fits perfectly with Vegas' relentless, end-to-end style of offense. Defenses already struggle to contain this duo because of their skills as scorers, puck movers, and quick skaters. Do not be surprised to see defensemen across the league continue to strife when competing against this combo, as their ages allow them to only enhance their chemistry.
Both Players Are Quite Young
Karlsson and Marchessault are both younger than 30 years old and have yet to enter their prime. That should strike collective fear into the hearts of all NHL defenseman and goaltenders. Entering his fifth season as a pro, Karlsson is currently 25 years old and will turn 26 on Jan. 8, 2019. The former Florida Panther is two years the elder of his teammate at 27, and will 28 on Dec. 27 of this year. Needless to say, both forwards have a significant amount of hockey playing years left in the tank. Sure it's not the Toronto Maple Leafs' trio of Auston Matthews, William Nylander, and Mitchell Marner who are all under the age of 23, but Vegas' duo is nowhere close to the end of the road.
Having a multitude of seasons with the dynamic pairing is a huge benefit for the Golden Knights, as well as for the duo itself. Karlsson and Marchessault can only elevate their chemistry to higher levels given their youthful age and increased amount of time sharing the ice. They already have one season of excellent production under their belt, so building on that success is inevitable. There's no denying some of the great dynamic duos in the game were assembled at younger ages. Pairings such as the Chicago Blackhawks Jonathan Toews and Patrick Kane and Pittsburgh Penguins Sidney Crosby and Evgeni Malkin were formed whilst in their early 20s.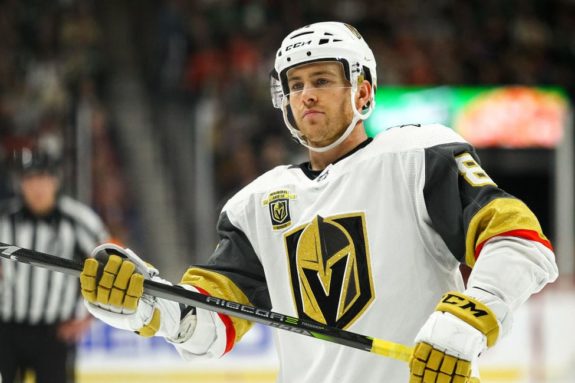 However, the electric duo of Steven Stamkos and Nikita Kucherov in Tampa Bay truly blossomed the season at ages 24 and 27 respectively. The one-two punch in Central Florida is relatively similar to Karlsson and Marchessault in the age department, which means a spectacular pairing does not always need to be curated before the 25-year-old mark.
When looking at their success together last season, complimentary playing styles, and reasonably young ages, the duo of Karlsson and Marchessault is already one of the most enticing in the NHL. But with an abundance of seasons left together, do not be surprised if this explosive pairing becomes one of the premier duos in the NHL a year or two down the road.