Most NHL teams actively try their hardest to avoid player arbitration. Last season Nate Schmidt and the Golden Knights were the only one out of 30 potential cases to make it before an arbitrator. Now the Golden Knights look destined to wind up back at the table when William Karlsson's case comes on Aug. 4. Both sides seem to be on opposite ends of the spectrum when it comes to an agreement, but one way or another, Karlsson will be getting a new contract before August is up.
Golden Knights Want to Keep It Short-Term
Vegas general manager George McPhee would love to avoid the arbitration hearing, but there is actually a benefit to letting the contract dispute go in front of the third-party arbitrator, as the contract is guaranteed to be no more than two years. The Golden Knights need to keep this contract short in order to keep the team as successful as possible in the future. If they were to reward Karlsson now for his career season they'd be foolishly buying high on the otherwise unproven center.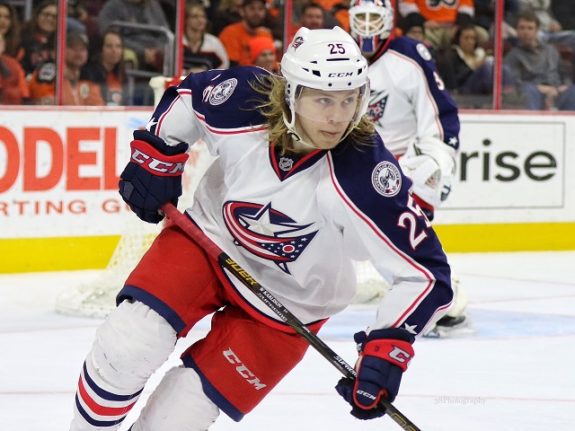 Last season Karlsson was a fantastic player at both ends of the ice and a certifiable first-line center. However, the chances he repeats a career season like he just had are low. His shooting percentage of 23.4 percent is the third-highest any full-time player has had in a season during the past 20 years behind Mike Ribeiro's 25.2 percent in 2007-08 and Curtis Glencross's 23.6 percent in 2011-12. Karlsson is no doubt part of the future of this organization, but giving him a bridge deal will allow the team to lower the value to a more sustainable price assuming some regression next season.
Short-Term Comparable: Brock Nelson
While Nelson had nowhere near the amazing season of Karlsson, he has been more consistent overall. Nelson has scored 188 points in 398 career games with the New York Islanders, good for 0.47 points per game compared to Karlsson's 0.48 points per game. But the real comparison here is the contract.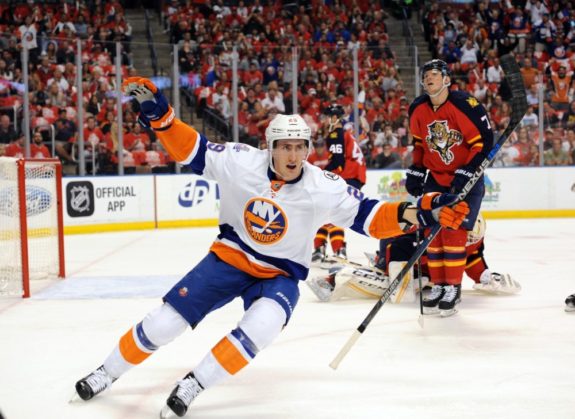 Nelson and the Islanders avoided arbitration with a one-year, $4.25-million bridge deal for the player to prove he deserves long-term money. The Golden Knights are looking to give Karlsson a similar contract in order to see whether or not his season was an anomaly before diving head-first into a rich long-term contract.
Karlsson Wants to Cash in Long-Term
After putting up a remarkable season, Karlsson would like to turn his success into guaranteed stability. However, it is clear the team and player were on a different page as soon as Karlsson and his agent filed for player-elected arbitration.
WILD season

for

WILD Bill

— Vegas Golden Knights (@GoldenKnights) July 6, 2018
Unlike for the team, there really is no gamble in arbitration for Karlsson. He either gets a long-term deal before the hearing or settles for a bridge deal and looks to repeat his play next season. While a short-term deal will likely cause him to miss out on a larger contract next offseason, he had no choice but to go through arbitration if the Golden Knights were refusing to entertain signing him for more than a season or two. But most teams try their hardest to avoid the hearing, giving Karlsson plenty of pressure to put on the organization in the meantime.
Long-Term Comparable: Jason Zucker
Plenty of long-term deals can still be struck out in the days leading up to arbitration; see Winnipeg's Connor Hellebuyck or Calgary's Elias Lindholm, who both signed six-year deals before their hearings. More recently, Jason Zucker signed a five-year, $27.5-million contract with the Minnesota Wild after he broke 30 goals and 60 points for the first time in his career.
Related: Niederreiter & Zucker and Playoff Scoring
Each player's scenario is a little different, but their main arguments are the same: last season was not a fluke. And while Zucker has more history on which to back up his stats on, Karlsson was much more important to his team's success. Karlsson received enough votes on the Selke Trophy ballot to place sixth in the league for best defensive forward and spent over a full minute more per game on the penalty kill than Zucker while being matched up against opposing team's top lines all season long. Karlsson also vastly outplayed Zucker during the playoffs, posting 15 points in 20 games compared to the Wild winger's zero points in five games.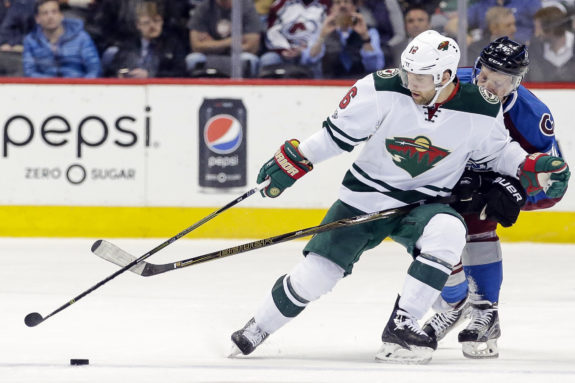 Using Zucker as a comparison, Karlsson can get away with asking for $6.5 million per season at a minimum for five or six years. Regardless, it is up to the Golden Knights whether Karlsson gets a long-term deal or not. If the team doesn't feel comfortable taking a gamble all they have to do is wait for the arbitration hearing.
Sustainability Is the Question for Karlsson
Obviously, the big stumbling block in this negotiation for the Golden Knights is whether or not Karlsson can repeat his success. That is why the team is looking for a bridge contract in a time when bridge deals are becoming rare around the league. They can't be caught with a massive contract if Karlsson's season was a one-off success.
Related: NHL Bridge Deals Are Falling Down
Unfortunately for Vegas, if he does show a repeat in success next season, that following contract is only going to get bigger. McPhee has to hedge his bets on what is best for the team. It may not be worth bartering with Karlsson for a shorter contract if his demands are reasonable. Jonathan Marchessault led the way for his team by signing a six-year, $30-million contract in January despite being worth more on the free agent market. If Karlsson is willing to sign a similar contract to stay on the team, the Golden Knights have to jump on that despite their trepidations.
Prediction: Golden Knights Will Get Their Wish
As of now, there has been little news on the status of negotiations. It is looking like Karlsson's arbitration hearing won't be avoided with a last-second contract like many others have been. On one hand, the Golden Knights will get their short-term contract, but any arbitration hearing is bound to further divide the player from his team; just ask Tommy Salo.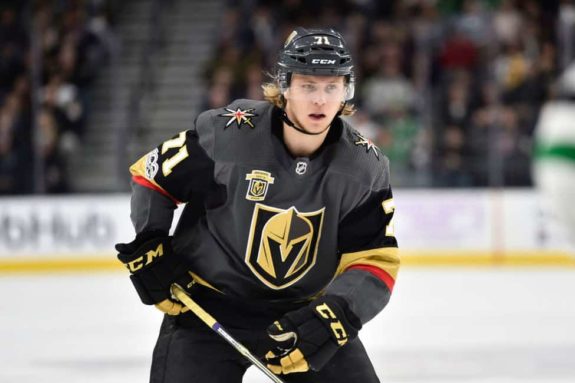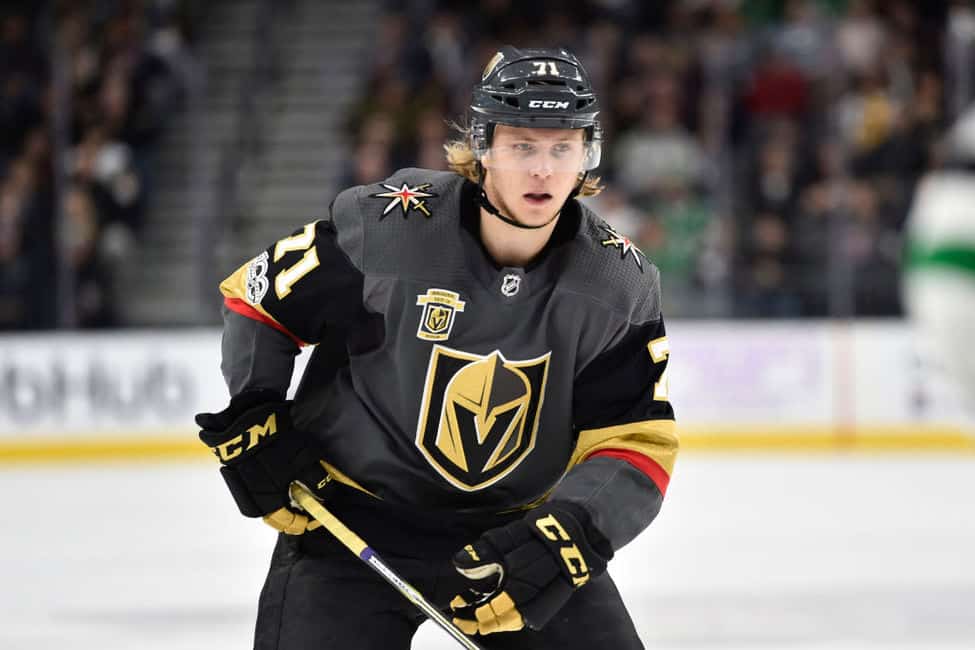 With most of the stats on their side, the arbitrator will be siding closer to the team than the player once all is said and done. We have not heard yet what either side is asking for, but my prediction would be a one-year, $4-million contract being the end outcome of the meeting. While the contract will certainly be low for a player coming off a season in which he was third in the league in goals scored, Karlsson will have to prove that what he did was no fluke. If he comes back next season and pots another 40 goals, the Golden Knights will be more than happy to reward the efforts of their number-one center.