A third generation hockey player is a rarity. For a women's hockey player, it is perhaps even more so. Standout Syracuse University forward Logan Hicks is one of those very few – in addition to being an up-and-coming talent herself. Hicks' grandfather Wayne had his name inscribed on the Stanley Cup with the 1960-61 Chicago Blackhawks and was a first year player for both the Pittsburgh Penguins and Philadelphia Flyers during the 1967-68 NHL season. Her father Alex – an assistant coach with the Arizona State University Sun Devils men's hockey team – played five seasons in the NHL and was a teammate of Mario Lemieux, Ron Francis and Jaromir Jagr in Pittsburgh. It would be an understatement to say that the younger Hicks comes from a strong hockey pedigree – she absolutely does.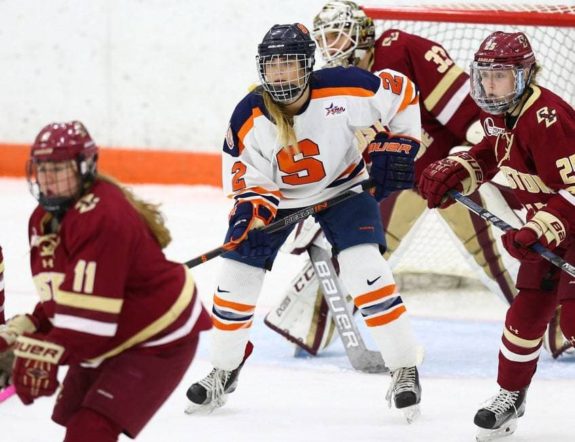 THW had an opportunity to speak with Hicks one-on-one and discuss her NCAA hockey career through her first two seasons at Syracuse. With her junior and senior seasons left to go, she has some definite goals in mind as to what she would like to accomplish both academically and out on the ice. While her family is certainly proud of her achievements already, they will be even more so by the time her career at Syracuse is wrapped up.
Life Growing up in Arizona
Hicks is a native of Scottsdale, Arizona. While hockey roots may run very deeply in her family, the sport is still not readily found in this neck of the United States. Opportunities to play at an elite level needed to be sought elsewhere, but more than anything else Hicks' time spent training with her father is what really helped her blossom into the player that she is today.
"Growing up I obviously spent a lot of time at the rink," Hicks recalled. "I played with boys pretty much my whole life leading up until I played with the Lady Blues. So I spent a lot of time in my home rink, Oceanside Ice Arena. I did practices there pretty much everyday of the week in the summer. I did a lot of extra skills sessions with my dad at the rink. I definitely spent a lot of time there."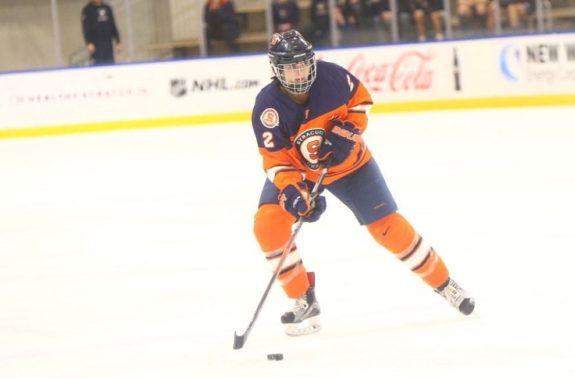 Hicks played her high school years in St. Louis with the Lady Blues U16 and U19 teams. In her last season of play before college, she appeared in 24 games for the U19 Lady Blues, chipping in a pair of goals and a pair of assists. Given the climate of Arizona, it is not one truly conducive for prolonged physical activity outside. Hicks enjoyed her spare time playing recreational sports with her dad and the rest of her family, as well as cooling off in the more elevated parts of Arizona.
"I spent a lot with my family," Hicks said about growing up in Scottsdale. "At home me and my dad played ping-pong all the time. Just competitive games. We played pool, ping-pong, stuff like that. In Arizona, everyone has a pool so I swam a lot. It's too hot to be outside," she laughed, "so that's pretty much only when I go outside. I had a cabin up in Show Low, Arizona. We'd go there for a couple weeks at a time. There's a lot of cool stuff to do there. I went golfing a lot, played tennis, fishing, went to different lakes and went on rope-swings. There are a lot of lakes in Arizona, so it was always fun to go up and get to do stuff that other people get to do in the summer because it's a little bit cooler and nicer out."
Finding a Home With the Syracuse Orange
In a matter of weeks, Hicks' junior year at Syracuse University will commence, as will her final two seasons of NCAA hockey. Attending the well-known school in the western-central part of New York State has become a second home for her. It is a school rich with sports success, which is something that endeared her to the school in the first place. Hicks ascertained early on that playing for the Orange was meant for her.
"I was going to a tournament in Stony Brook," she remembered. "I had went to national camp earlier in the year. They (Syracuse) got to watch me play, and had reached out earlier that year. I told them I was going to be at Stony Brook, so they said 'Well if you're nearby, it's only a few hours away – definitely stop by for a visit.' and so I did. I was with my mom, and so we got a tour of the campus and got a look around the facilities. I honestly was pretty young, but I knew really quick that it was the type of school I wanted to be at."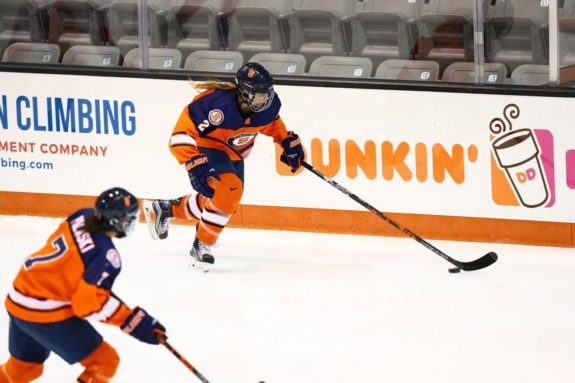 The Syracuse women's ice hockey team was first established in 2008. The team competes in the College Hockey America (CHA), an NCAA Division-I women's ice hockey conference. Presently the CHA is comprised of six teams. In addition to Syracuse, women's teams from Robert Morris University, Mercyhurst University, Lindenwood University, Penn State, and the Rochester Institute of Technology (RIT) make up the competition. The conference has traditionally been stacked with talent, as many of the women's players have represented their respective national teams and/or have gone on to play professionally. From Hicks' perspective, there is no better program to be a part of than what Syracuse provides for its athletes.
"Obviously this campus is incredible, it's beautiful," she went on to say. "The facilities here are unreal. I really love the coaching staff and just the aspect of Syracuse how it's a big school, a big sports school. It really has everything that I was looking for. Even at a young age, I always really knew what I wanted. It definitely fit the criteria. When the offer came around, I obviously discussed it with my family but I was pretty sure that it was the place I wanted to go. I've had no regrets, and have had the best times at the best school for me for sure."
Hockey Knowledge and Support From Her Family
Hicks' father Alex played 258 regular season games in the NHL, spending time with the Penguins, Florida Panthers, Mighty Ducks of Anaheim, and the San Jose Sharks. He also played professionally in Germany for six seasons as well. Now he coaches at the NCAA-level and truly knows the college game in and out. Likewise, her grandfather Wayne played 115 regular season games of his own for the Blackhawks, Flyers, Penguins, Boston Bruins, and Montreal Canadiens. In addition to having his name on the Stanley Cup with Chicago, he also played parts of 17 years in the best minor leagues throughout North America. Hicks' father and grandfather are a wealth of hockey knowledge which she relies upon to this day.
"I definitely wouldn't be playing hockey if it wasn't for them," Hicks said with great appreciation. "Growing up in Arizona, it's not a hockey-hotbed by any means. I was introduced to the sport by my dad and my grandfather. Growing up here there's not elite competition so I got most of my experience and most of my reps in just by doing one-on-one type things with my dad. We worked really hard in the summers. Getting shots in, working on different skills."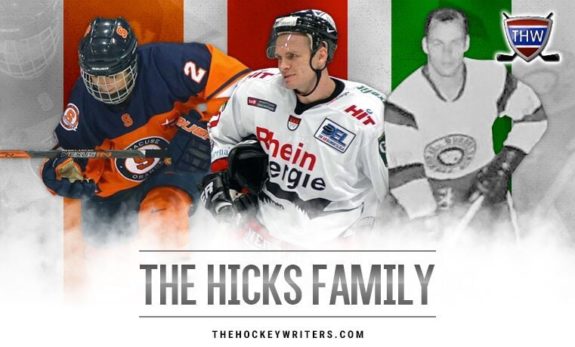 Alex Hicks is one of the few NHL players from his generation that ended up making it to the league after playing four years of NCAA hockey. Not only does he have the coaching knowledge from his work at Arizona State, but he also has the firsthand experience from a player's perspective after four seasons at the University of Wisconsin Eau Claire in the late-1980s and early-1990s. Now that his daughter's college hockey days are well underway, he has always been just a phone call away for both guidance and support.
"But probably the most influential part that he's given me is his wisdom and his hockey knowledge," Hicks went on to say about her father. "He's a really smart guy, and so is my grandpa. They just really know a lot about the game, and they also know a lot about sports in general. Just the mental ability to play sports at a high level. Even since I've been at Syracuse they're always people that I can call and talk to to get advice on situations but also have encouragement. My dad is probably my biggest supporter. He's always been. He's really my rock. I call him whenever I need anything. But especially in hockey he's really been the main person that has impacted my career for sure."
Hicks' Own Successes With the Orange
Through her first two NCAA seasons at Syracuse, Hicks has played in 60 games total. After playing 24 contests during her freshman campaign, she really started to hit her stride in her sophomore year. Playing 36 games this past 2017-18 season, Hicks scored her first goal of her college career on Nov. 17, 2017 against RIT. The very next day in a followup match against RIT she tallied her first career assist. Hicks has grown a great deal while getting these first two seasons under her belt. There is good reason to think that her third year will be her finest one yet.
"Going into my junior year it's definitely two years having gone by and I have way more experience," Hicks explained. "I remember coming my freshman year and being super timid and super nervous. I definitely have a lot more confidence now coming back. Super excited to be back on campus in a couple weeks."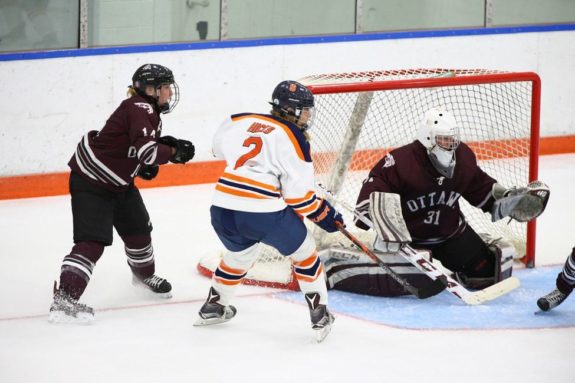 Hicks certainly recognizes that she has come a long way. Furthermore, she has developed a sincere love and appreciation for what Syracuse provides her. When speaking with her, one can tell she that pours her heart and soul into this team, and that she is allowing the program's positivity to envelope her in return.
"I think that what I've learned overall is how much I love this school and how much I love the team. These past two seasons, even though they haven't always gone our way and haven't been what we wanted out of them, it definitely has been really a great experience for me nonetheless. I've made such great friends from my two past teams, and just learned so much from my coaches and from my teammates. That's what I take most out of it – that it's just a lot of learning lessons. There's so much more that we're capable of, and that we're just really excited to have a good season this year."
Talking About Attributes and Goals
Hicks is also a sizable skater. Standing at 5-foot-9, she blocked 15 shots during the 2017-18 season. Separately, Hicks does not hesitate in shooting the puck either. Playing a full 36 contests, she averaged a shot a game this past year with 36 of them. During a 3-2 Orange win over Penn State on Jan. 19, 2018 she alone fired six shots on net. Hicks hustles with regularity and does her utmost to get the job done.
"My work-ethic," she stated when asked about her best attributes as a hockey player. "I really pride myself on working hard. Coming everyday to the rink or to the gym. Pushing myself and pushing my teammates. I'd say probably that. Always pushing myself and training. Trying to get better every single day. I pride myself on being good defensively. I really hope that I can just build off of that this year, and work more on everything else. Just use that to my advantage, and try to help our team as much as I can."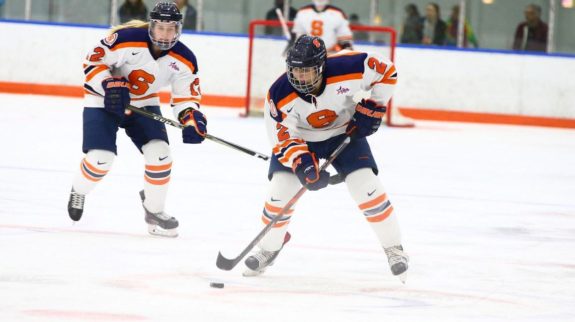 While Syracuse has been a runner-up on multiple occasions, they have not yet won a CHA Conference Championship. A few of their shortcomings have been extremely close over the years, as they have been on the receiving end of both overtime and double-overtime losses for the CHA championship. Hicks knows that in order to win the CHA – and furthermore, have a shot at an NCAA national championship – it takes a series of smaller victories and little achievements that ultimately brings about the bigger, more spotlighted ones.
"In hockey, obviously the main goal is to win the National championship," Hicks stated. "That's always been our goal, but that comes with a million different mini goals. To start, our first goal for the season will be to have a really great start to the season. Finish strong at winter break, and then come back and finish off our season well. Win our first CHA Championship, which would be amazing for our program. We've been so close these past couple years, so getting that done I know would add so much confidence to our team. After that, in the NCAA tournament just take it game by game and really try to bring out our best hockey at that time of the year. Once it's down to the Frozen Four it's anyone's game – it's just who shows up that day. I know that we're definitely capable of doing that, and that would be an amazing thing for our seniors. It sucks that we didn't get that done last year or the year before for our seniors. That's something I really want to do for them. To make it that far would be really cool."
The Thought of Playing Professionally Someday
There is the obvious professional hockey history that runs through her family. Separate from that, women's hockey is presently at the strongest that it has ever been. Most recently this stems from the success of Team USA winning the gold medal over Canada at the 2018 PyeongChang Winter Olympics. It also coincides with both the NWHL and CWHL starting to gain more of the attention that they deserve. Hicks certainly sees the value and importance over the success that women's hockey is experiencing right now.
"It's really great to see," she said. "I love watching the Olympics. It's really fun for our team to be able to be together and watch that. We're definitely competitive on our team. We have Can-Am games during (Syracuse) practices or during lifts. Our American team, we went undefeated this year so it was good for us in an Olympic year. I think it's great for the sport. I love to see women's sports grow in general, but it's also really cool to see women's hockey grow as much as it has these past few years with these new leagues. It's really cool. And it's been fun watching some of our alumni go and getting success there. I know that they've enjoyed it a lot."
Syracuse alumni such as Jacquie Greco, Jessica Sibley, and Heather Schwarz have all made the jump from playing for the Orange in college to playing professionally in the NWHL. Considering that former Syracuse players have done it, and that both her father and grandfather played at that level, is playing professional something that Hicks herself is eyeing?
"In regards to myself," she explained, "I'm not really sure where I'm going to be at in two years. If it's an option and I have the opportunity, then I would obviously consider it. It's a great opportunity, and something I've always imagined myself as a player doing. I guess I would just have to see time-and-place, if it worked out. I'm definitely considering going to grad school after college. So I think if it worked out in that aspect, then yeah, I would definitely consider it. I would just have to see where I'm at at that point."
Note to a Younger Self
Hicks is obviously kindhearted and well-spoken, but she also takes her sport very seriously. Of her own admission, there were times in her life that she took hockey too seriously. When things like that happen, something we love can start to pass us by without the full enjoyment that it ought to bring us. At 20 years old, Hicks is likely wise beyond her years. She has grown a lot and believes that if she had any advice to give her younger self it would be to enjoy hockey by not taking the fun out of it.
"I'm kind of a perfectionist, "Hicks told us, "and I've always taken hockey really seriously. Which is definitely a good thing, but it also has its drawbacks. Taking it really serious, and almost sometimes take the fun out of it, because I've just rushed the process or never really took the time to enjoy the process. Now as a college athlete I'm really enjoying the process because I'm having a lot fun at Syracuse, and it's what I've been working for my whole life. Thinking back when I was 11 years old, I would want myself to know that it's fun at every stage. You're not going to be playing hockey forever. You're going to be done in a few years, so just maybe take those steps each step at a time and really enjoy it. Not wish it away."
What Hicks Has Learned From Her Dad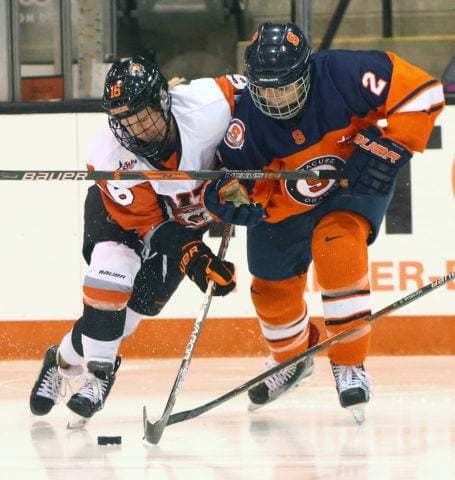 Perhaps a lot of the reasoning behind Hicks being able to self-reflect and being able to understand hockey on a very personal level is because of her father. Alex Hicks has taught his daughter many things about this sport. While all of them are valuable, some have rang more truer to her than others. The younger Hicks reflected on some of the more important things she has learned from her father.
"It's a lot about mindset for me," she said. "Hockey is a mental game. I think one thing I've learned from him is just having that confidence. Using confidence in your game and really trusting yourself as a player, as a person, and as a teammate. That for me has made a big difference, especially coming to college he reminded me a lot of that. Act like you belong. Know that you belong. You've earned your way there. Have confidence, and play with confidence. That has made a huge difference for me, especially in the last couple of years at Syracuse, but through my life as well."
Coinciding with having confidence in herself, Logan Hicks also understands that there is a proper balance between being self-assured and being there for others. So while she believes in herself the way that her family has helped foster in her, she also plays the game to be of service to others. Hicks garners respect and promotes it within the locker room. Soon to be a junior for the upcoming 2018-19 season, she is one of the Orange's leaders now. A player such as herself is capable of impacting the atmosphere and the dynamics of her team in a most positive way. Something that Hicks does quite well. Again, she attributes this ability back to her father.
"Another thing he's taught me is just to always be a good teammate. Whether things are going good or bad for me, the most important thing is just be a good teammate and support your teammates. If things are going bad for your whole team, you have that ability to make a difference and really spike the change on the team."
General Manager of the Buffalo Beauts (NWHL). Hockey history writer "The Hockey Writers". Credentialed media for the NHL Combine and 2018 IIHF World Junior Championships in Buffalo, NY, USA. Born and raised in Buffalo, NY. Lifelong hockey fan for over 40 years. Proponent of the women's game.