Widely considered one of the best lines in hockey last season, the Boston Bruins' leading offensive unit had eyes on them throughout the 2017-18 campaign. Consisting of Brad Marchand and David Pastrnak on Patrice Bergeron's flanks, the three players tallied a combined total of 228 points. The line was a huge reason why Boston found themselves in a duel with the Tampa Bay Lightning for the top seed in the Eastern Conference heading into the playoffs. They are a line no Bruins fan would like to see broken up, but that just may happen this season.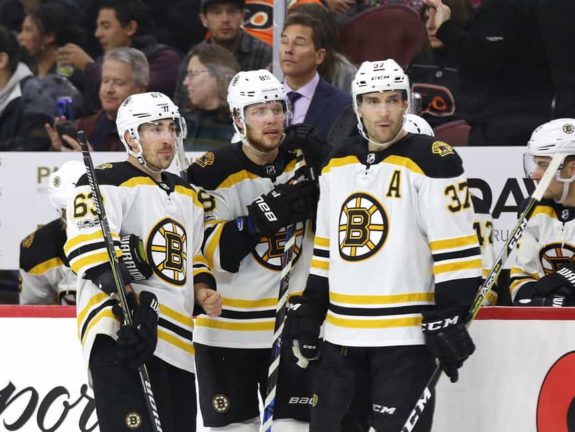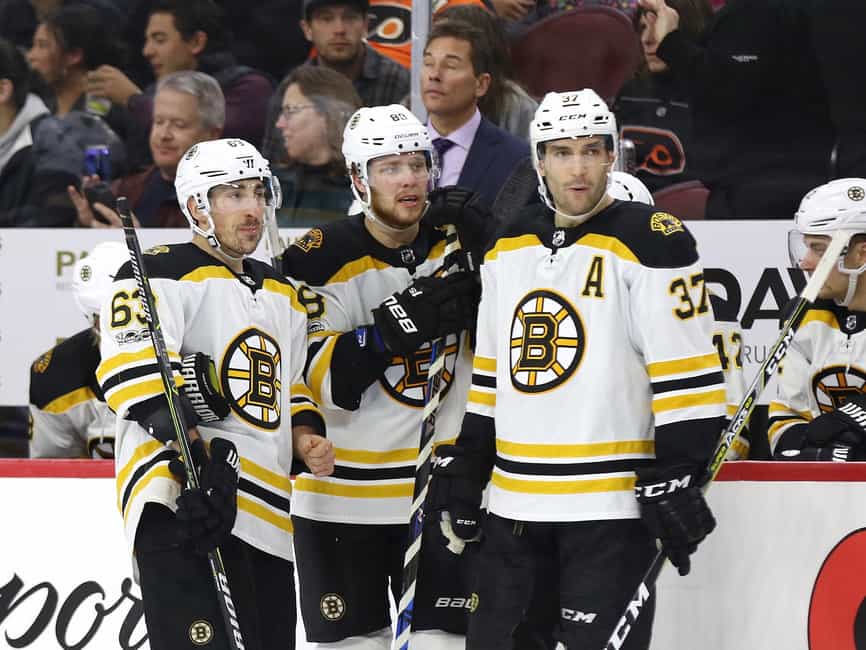 While this unit was lethal by all definitions of the word, head coach Bruce Cassidy may seek some more well-rounded scoring. Splitting up Marchand and Bergeron would not make much sense considering the chemistry they have built up over the course of their tenures with Boston. This leaves the option of sinking Pastrnak to the second line on the table, at least for a portion of the season.
Krejci's Needs
Jake DeBrusk and David Krejci are shoe-ins for the second line to start the season. The underperformance of David Backes, since being signed to an expensive deal, indicates that he will not find himself in a top-six role — which seemed to be Sweeney's original thought process when bringing him to the Bruins. Filling that gap with a guy like Danton Heinen, who ranked fifth in Boston's production last season (16 goals and 31 assists), could work out for the Bruins. So could Anders Bjork, who was only able to suit up for 30 games during the 2017-18 campaign due to an injury.
These would be solid jumping-off points for Cassidy's lineup, but it may not pan out. Wedging Krejci between two young wingers may bode well for the inexperienced players, but perhaps not for the 32-year-old centerman. As the highest-paid man on the roster, Krejci produced 44 points in 64 games during the 2017-18 season. It was a decent year for him, but Krejci has been prone to streakiness throughout his career. While he should be meeting expectations no matter his winger, this hasn't been the case — at least not consistently.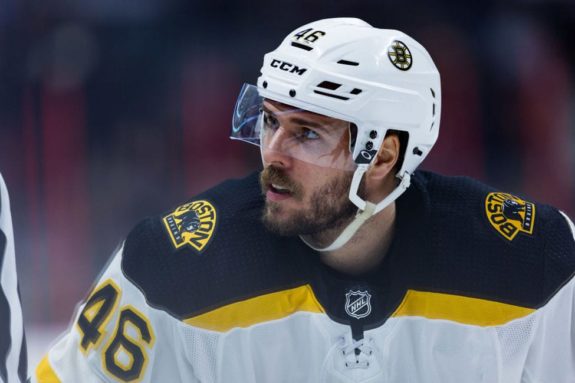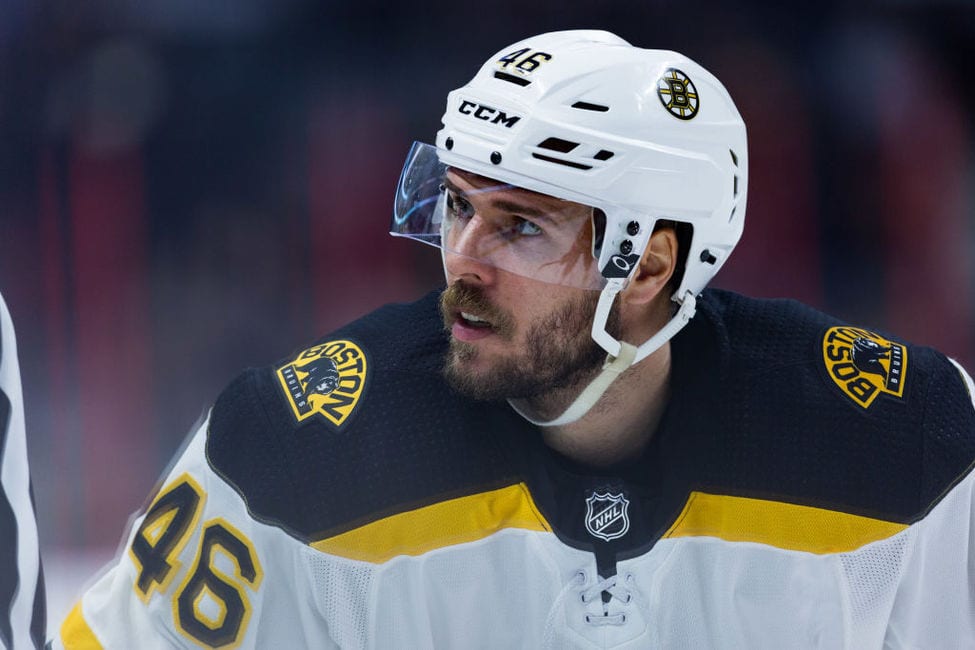 Some years Krejci performs very well, such as the 2008-09 season when he put up 73 points in 82 games. In others, he is simply lacking, such as his performance in the 2016-17 season which resulted in 54 points in 82 games. It seems Krejci needs a lethal goal-scorer for Boston to take his play-making abilities to the bank. This is the primary reason Krejci has been the subject of trade rumors this offseason, and may force Cassidy's hand in sending Pastrnak to the second line if forwards like Heinen and Bjork fail to bring the best out of the team's second-line center.
The two Czech natives found chemistry in past years. Reconnecting the two will most certainly result in an uptick in Krejci's production. That is especially the case if DeBrusk is to stay on the left wing, which is more than likely. The 21-year-old came up with 43 points in 70 games last year, and onlookers can expect an increase in those statistics whether or not Pastrnak comes down to play alongside him.
Bruins' First Line
The case for No. 88 falling to the second line is for more well-rounded scoring. Cassidy can start with other combinations, and could always reunite the Marchand-Bergeron-Pastrnak line, but without adding another piece, the first-round pick of the 2014 NHL Entry Draft may just have to be subtracted from the first-line equation. It would not be as much of a demotion for Pastrnak as much as it is a compliment — he would become the frontman of Boston's second line. However, this is a hard move to make, especially from the Boston faithful's perspective.
The combination of Pastrnak, Marchand, and Bergeron carried Boston through their 2018 playoff run. Pastrnak potted six goals and 14 assists, while Marchand netted four goals and 13 assists, each making 12 playoff appearances. Bergeron, who appeared in 11 games, registered six goals and 10 assists. The line combined for 53 points against the Toronto Maple Leafs and Tampa Bay. What led to Boston's downfall, in the end, is that nearly 25% of their first line's production came on the man advantage, and when their opponents failed to hand them the power play, the Bruins found themselves struggling for goals.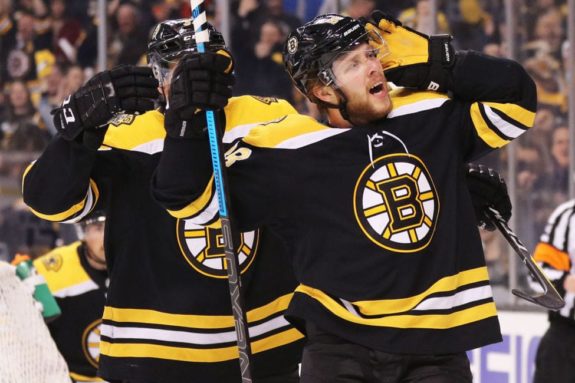 If Pastrnak is sent down to the second line, at least for a chunk of the 2018-19 campaign, Heinen is a likely candidate to soak up those first-line minutes. Bjork is also in the running, and training camp will have a huge say in that decision, but Heinen has earned the role. He moved up and down the top-nine this past year and still exceeded expectations. It would be interesting to see what he could come up with if he is given consistent top-six minutes.
Bjork may be best suited in a third-line role to start the year. Placing him alongside the likes of Sean Kuraly and Backes would give him enough minutes to prove his worth and potentially hand him the opportunity to hop up into the top-six in the wake of a teammate's injury.
It's important to remember that a hockey lineup is never permanent, especially with a coach like Cassidy, who has never shied away from juggling the lines mid-game let alone before puck drop. Even if Pastrnak falls to the second line, he will likely rise back to the first unit if the Bruins need to score in the final stages of a game. Boston relied on their first line — arguably too heavily — last season, so it may be in the team's best interest to pursue a more well-rounded lineup this year.
I cover the Boston Bruins and NCAA Hockey here at The Hockey Writers. Born and raised 10 miles north of Boston, I developed a love for the game of ice hockey at a very young age. There's really nothing better than this sport, though steak is a close second.