Line juggling isn't an exact science as proven by the best lines in the NHL. Coaches sometimes load their top talent on one line, hoping that the superstars will carry the team. Other coaches mix highly-skilled players with role players. Then, there are coaches who strike gold with an unlikely trio of linemates.
All three of these coaching styles are among the NHL's top forward trios. Here are the best from the 2017-18 regular season.
8. Philadelphia: Jakub Vorachek – Sean Couturier – Claude Giroux
As a line at even-strength: 24 Goals For, 10 Goals Against, 70.6% Goals-For Percentage
Much to the dismay of Philadelphia Flyers fans, you have to credit Dave Hakstol for making bold moves to form this line. It's not very often that a coach moves his number one centre to the wing but that's exactly what Hakstol did when he created this unit.
Sean Couturier had primarily been used as a shutdown centre prior to the 2017-18 season. He had shown his offensive potential but had never topped 39 points, partly due to two injury-riddled campaigns. But Couturier broke out for 31 goals and 75 points in 2017-18 with an increased offensive role alongside Jakub Vorachek and Giroux, who were both productive after what some would consider a down season in 2016-17.
The trio of Couturier, Giroux and Travis Konecny was also a candidate for one of the best lines and scored more goals together (33), but the Vorachek-Couturier-Giroux unit had the second-best goals-for percentage at even-strength. They also outchanced the Konecny line by about six scoring chances per hour. Their chemistry was evident, both at evens and on the power play.
7. Calgary: Micheal Ferland – Sean Monahan – Johnny Gaudreau
As a line at even-strength: 39 Goals For, 24 Goals Against, 61.9% Goals-For Percentage
After playing together more than almost any line last season, the Micheal Ferland, Sean Monahan, Johnny Gaudreau line will be no more. Ferland's was traded to the Carolina Hurricanes which means that the Monahan-Gaudreau duo will be looking for someone to ride shotgun in 2018-19.
Even though Ferland had a career year with Monahan and Gaudreau, the organization considered him replaceable. There was also the comfort of having a big body who can score playing alongside one of the smallest players in the league in Gaudreau.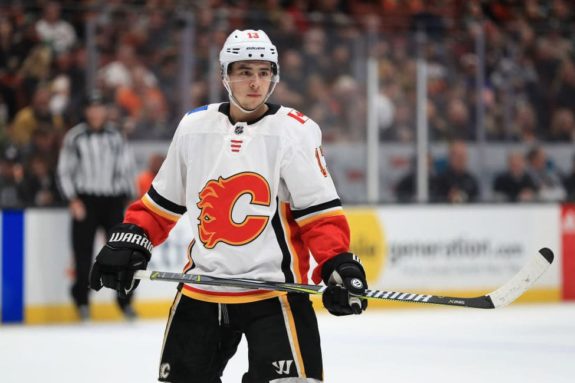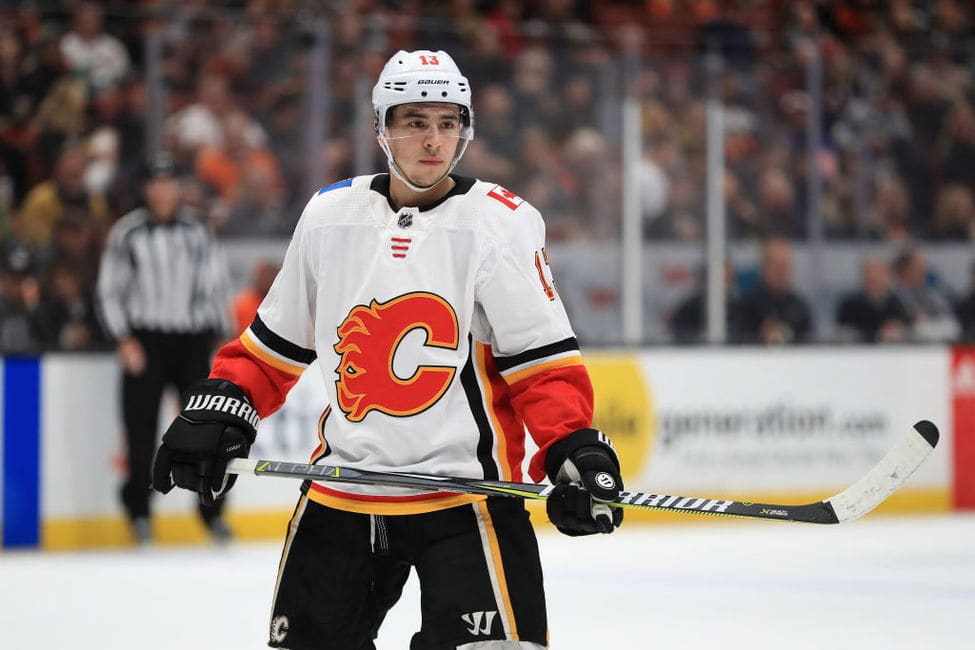 The Flames missed the playoffs this season but you can't fault the top line for that. As a unit they scored the fourth-most goals together at even-strength. They didn't always dominate possession, but they were effective at getting chances and finishing them. By the end of the season, Ferland (41), Monahan (64) and Gaudreau (84) all finished with a career-high in points.
6. Dallas: Jamie Benn – Tyler Seguin – Alexander Radulov
As a line at even-strength: 38 Goals For, 21 Goals Against, 64.4% Goals-For Percentage
You might raise an eyebrow at some of the line combinations on this list, but this was a unit that was destined to wreak havoc. When Alexander Radulov signed a five-year deal with the Dallas Stars last summer, many believed he was the perfect fit to play alongside Dallas's superstars. They didn't disappoint. All three players crested the 70-point plateau, and Seguin enjoyed the first 40-goal season of his career.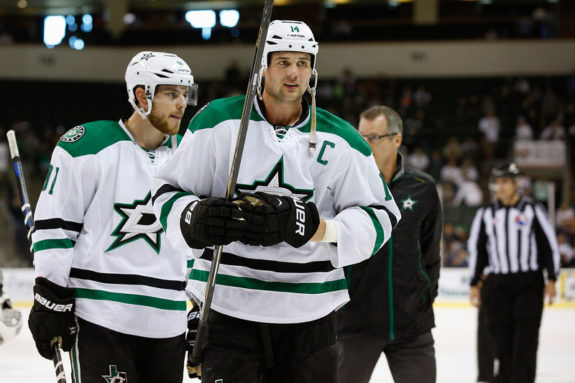 They have an interesting dynamic. Many successful lines use the centreman as their playmaker, while the wingers are the triggermen. On this line, Radulov makes the sweet dish to his teammates, allowing Benn and Seguin to use their blistering wrist shots to bury the puck.
Similar to the Flames, the Stars rode one great line and didn't get much help from elsewhere. The team only had three other forwards who topped 30 points: Mattias Janmark (34), Radek Faksa (33), and Devin Shore (32).
5. Nashville: Viktor Arvidsson – Ryan Johansen – Filip Forsberg
As a line at even-strength: 33 Goals For, 15 Goals Against, 68.8% Goals-For Percentage
The JoFA line, as they're known as in Nashville, has grown into one of the best trios in hockey. They began to make a name for themselves in the 2017 playoffs carried that success into 2017-18. Not only are they clinical on offence, but the trio is solid at both ends of the ice.
Of the three, Arvidsson has always been the surprise star, not just on the line but on the team. After he enjoyed a breakout season last year, he's now a valuable member of one of the most exciting lines in hockey.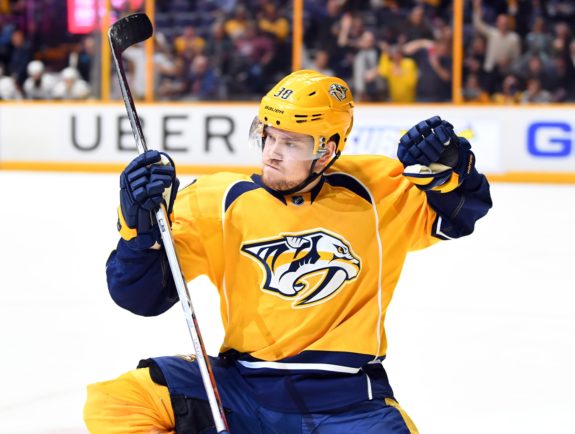 While Dallas and Calgary were plagued by a lack of scoring depth, the JoFA line enjoyed having another one of the best lines in hockey swap shifts with them. The Kevin Fiala, Kyle Turris and Craig Smith unit was arguably one of the most underrated lines this season, with 32 goals for and only 13 goals against at even-strength. However, the Turris line was primarily used in the offensive zone, whereas the JoFa line took on more defensive responsibilities. Although both lines are top notch, it's the JoFa line that leads the team.
4. Toronto: William Nylander – Auston Matthews – Zach Hyman
As a line at even-strength: 44 Goals For, 23 Goals Against, 65.7% Goals-For Percentage
You can see why Toronto Maple Leafs GM Kyle Dubas is so intent on keeping the trio of Auston Matthews, William Nylander and Mitch Marner locked-up long-term. Marner has been extremely successful but Nylander and Matthews have formed one of the best duos in hockey over the past two seasons. Head coach Mike Babcock has also pinned the responsible Zach Hyman to their line, and he hasn't looked out of place.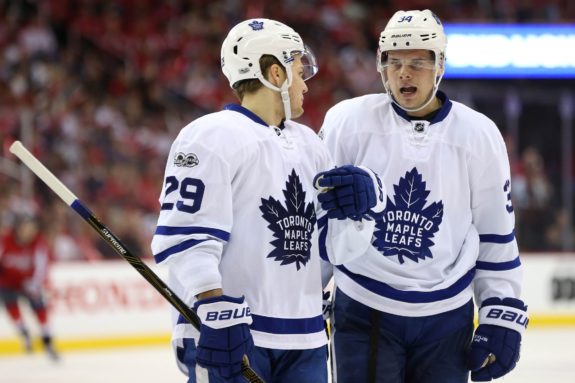 Since the Leafs' young talent took over the roster in 2016-17, they've become one of the most exciting teams in hockey. Nylander and Matthews' chemistry is evident as they combined for some sweet goals during the 2017-18 season.
If there's one complaint, it would be for them to give up fewer chances at even-strength. Part of that is the defence's responsibility but Freddy Andersen helped the line allow fewer goals. The Matthews line holds a 0.938 save percentage at even-strength but the line is talented enough that they can offset any goals against by scoring.
3. Boston: David Pastrnak – Patrice Bergeron – Brad Marchand
As a line at even-strength: 27 Goals For, 16 Goals Against, 62.8% Goals-For Percentage
To think that this line only had 51 regular season games together. Had they been a trio for the full campaign, they could have been the highest scoring line in hockey.
Overall, they didn't score the most goals as a line but they improved as the season went on. Heading into the playoffs against the Toronto Maple Leafs, they were the hottest line in hockey and carried that over to their first-round matchup, outplaying the Matthews-Nylander-Hyman unit.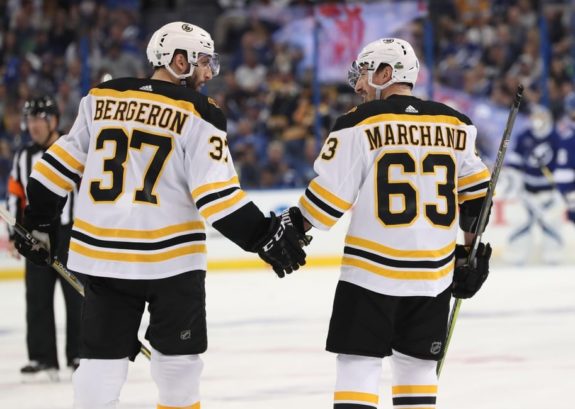 Even though Patrice Bergeron missed 18 games and Brad Marchand missed 14, they still ended up with the 14th-most goals as a line. Marchand, in particular, was the star here with 85 points despite playing only 68 games.
2. Colorado: Gabriel Landeskog – Nathan MacKinnon – Mikko Rantanen
As a line at even-strength: 47 Goals For, 26 Goals Against, 64.4% Goals-For Percentage
After the Colorado Avalanche suffered through one of the worst seasons in post-lockout history, they came back with a vengeance in 2017-18. Led by the first overall pick in 2013, who probably should have won the Hart Trophy, Nathan MacKinnon was a bonafide star for his team, spearheading their surprising return to the playoffs. He was their leading goal-scorer, top playmaker, and finished the season with a career-high 97 points.
Gabriel Landeskog has been captain for some tough seasons in Colorado but he rediscovered his game in 2017-18. He eclipsed the 25-goal, 60-point mark for the first time since the 2013-14 season. Mikko Rantanen blossomed as an unknown superstar this season. You can't only credit MacKinnon for the 29 goals and 84 points that Rantanen buried in his sophomore campaign.
As a line, they tied for the most goals together at even strength. They weren't always stellar defensively, but they were lethal in the offensive zone.
1. Vegas: Reilly Smith – William Karlsson – Jonathan Marchessault
As a line at even-strength: 47 Goals For, 23 Goals Against, 67.1% Goals-For Percentage
So far we've either seen lines with three stars or units with two stars and a complementary piece. However, in typical Vegas Golden Knights fashion, this is the only top NHL line with three surprise superstars.
This trio of castoffs didn't just lead the Golden Knights to a Stanley Cup Final berth, they formed one of the best lines in hockey. With one of the most unlikely first-line centres as the glue of the trio, Smith, Karlsson and Marchessault tied for the most goals at even-strength together during the regular season.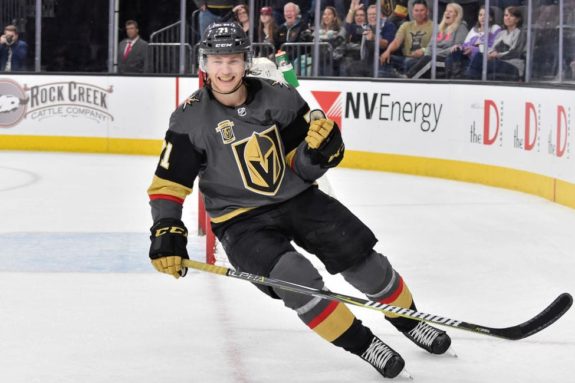 Vegas's leading trio scored 3.98 goals per 60 minutes at even-strength. The fact that three castoffs scored almost a goal every 15 minutes at even-strength is insane. Then again, so is the whole Golden Knights season.
Even though they tied for first in even-strength goals with the Landeskog-MacKinnon-Rantanen line, they accomplished that in less games and held better possession numbers at even-strength. For that, the unlikeliest of trios was consistently the best line in the NHL last season.
Honourable Mentions: Dustin Brown, Anze Kopitar, Alex Iafollo (Los Angeles), Claude Giroux, Travis Konecny, Sean Couturier (Philadelphia), Kyle Connor, Mark Scheifele, Blake Wheeler (Winnipeg Jets), Evgeni Dadonov, Aleksander Barkov, Nick Bjugstad (Florida), Vladimir Tarasenko, Brayden Schenn, Jaden Schwartz (St. Louis), Kevin Fiala, Kyle Turris, Craig Smith (Nashville)
Don't agree with the list? Who do you think the best line in hockey was last season?
Stats courtesy of Left Wing Lock and Natural Stat Trick.
KPU Journalism Graduate. Trevor has been writing for The Hockey Writers since October 2014. He has contributed articles related to the Ottawa Senators, Vancouver Canucks, and other issues/stories regarding the game of hockey. Trevor currently lives in White Rock, B.C.